Tyler, the Creator Reveals He's Never Voted, But Now He's Seen the 'Light'
Tyler, The Creator took to social media today to encourage his millions of followers to "pull up" to the voting booth. In a video, the Odd Future rapper admits he's never voted before, but he will be doing so this year and wants his fans to follow his lead.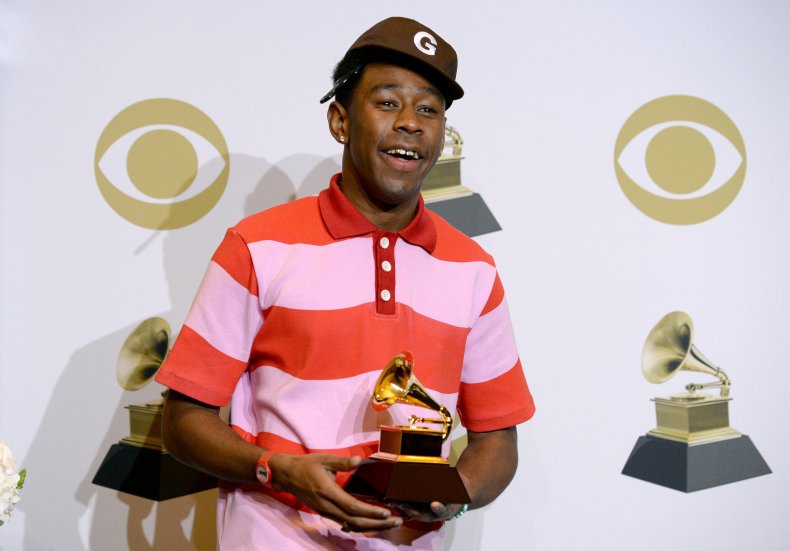 The video, first posted on his Instagram page and then on Twitter, called on young people specifically. While saying this will be the first election in which he participates, he admits, "I see the light." The Grammy winner called on more education reform, making the arts accessible, and protecting the rights of women and the LGBTQIA+ community.
"Yo, it's T. Look, I know I'm the last person you should ever take advice from but I'm reiterating what everyone else is saying and please, please if you're young and your back don't hurt, go to them polls and cast a f**kin' vote," he implored his followers.
Tyler, the Creator first came to prominence with the alternative hip hop group Odd Future, of which he is often referred as the leader. As a solo artist the 29-year-old found critical and commercial acclaim with his fifth album, 2019's Igor. That release was hailed by critics and went on to win Best Rap Album at the 2020 Grammy Awards this past January. Tyler made headlines following the Grammy win while speaking to the press area backstage when he called winning an award while the Grammy committee categorizes music like his as rap or "urban" was a "backhanded compliment." (The Grammys took the critique to heart by rebranding the "Best Urban Contemporary Album" category as "Best Progressive R&B Album.")
Igor was also enthusiastically embraced by fans, and in its first week of release, it debuted at number one on the US Billboard 200. Though Tyler admitted in his recent pro-voting video that he's never been all that political, "Vote Igor" merchandise was tied to his 2019 release.
Tyler encouraged people to physically go to the polls to make sure their votes get counted in November's election, saying that people in the political process will "try and call fraud" with mail-in ballots. When imploring people to show up in person, he added, "...I know them lines gonna be long and it's gon' be hot, but please, do that."
For anyone needing helping about how to use mail-in voting or where and how to go in person, Tyler directed his followers to vote.converse.com.