Tyler Doyle Search Continues As Wife Has GoFundMe Page Shut Down
Search efforts are continuing for a 23-year-old South Carolina man who went missing in late January.
Duck hunter Tyler Doyle has been missing since January 26, when his small boat took on water and sank near the Little River jetties.
One person who was on the boat with Doyle was found and rescued from the north jetties, the North Myrtle Beach Rescue Squad said, but Doyle's whereabouts remain unknown.
His wife Lakelyn Doyle, who is reportedly pregnant, posted a picture of herself with Tyler Doyle on Facebook last week with the words "Don't stop praying" on it.
The South Carolina Department of Natural Resources (SCDNR) said its officers began searching for Tyler Doyle after receiving the report.
"Due to the conditions of the ocean and the current, the search shifted north to the area of Brunswick County," the department said in a tweet on Tuesday.
In an update on Wednesday, the SCDNR said its officers and the Brunswick County Sheriff's Office in North Carolina are continuing to search for Tyler Doyle by boat. The Holden Beach and Sunset Beach police departments, which are both in North Carolina, are searching beaches during daylight hours.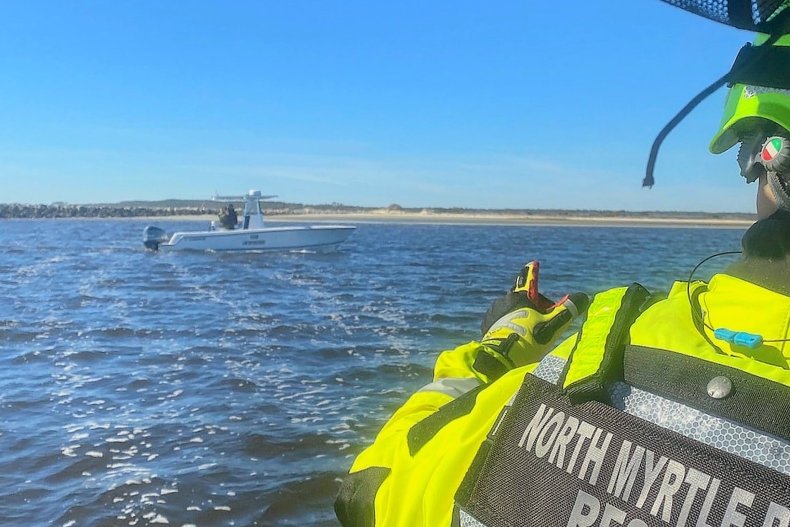 The SCDNR said Wings of Hope Search and Rescue, a nonprofit group that specializes in aerial and underwater search and rescue, has also joined efforts.
Greg Lucas, a spokesperson for the department, told the Myrtle Beach Sun News that the agency will continue searching for Tyler Doyle until he is rescued or his body is recovered.
Bad weather "has been a constant challenge for search and rescue personnel," Lucas said.
Tyler Doyle's wife reportedly said items belonging to her husband had been found near Ocean Isle beach in a post on Facebook last week.
The post, which is no longer visible, said waders (waterproof boas or overalls) and photos of what appears to be Tyler Doyle's license were found about two miles east from the area, the Sun News reported.
Meanwhile, the Surf City Police Department in North Carolina said in a recent Facebook post that duck decoys had been near Sunset Beach and Ocean Isle Beach.
That post was later deleted, a police spokesperson told media, because it "became an outlet for people to argue about what may have happened."
Meanwhile, a GoFundMe page to raise funds to support Tyler Doyle's wife amassed more than $30,000 in donations.
But the organizer wrote in an update on February 4 that the wife had requested it be shut down because of rumors that are circulating.
"Thanks again for all the donations, but as a woman 30 weeks pregnant she can't handle everyone's opinion and stress on her body for the baby's sake," the organizer, Hannah Faulk, wrote.
Newsweek has contacted Tyler Doyle's family and agencies involved in the search for further comment.