Though he was a basketball jonesin' teen up in Torrance, California, Tyler Harvey never played on an Amateur Athletic Union (AAU) team. Harvey, who stood 5-foot-4 at the start of his freshman year at Bishop Montgomery High School, never took part in a basketball summer camp—and he was certainly never invited to one.
A model student with a 3.7 grade-point average, Harvey did eventually sprout up to 6-foot-1 and started for his high school team, but he failed to make the Rivals 150 prospect-ranking list. And when Harvey, a left-handed shooter, completed his senior season, a year in which he averaged 18 points per game, he was not one of the 1,200 or so fortunate 'ballers offered a Division I scholarship.
No AAU. No camps. No recruiting lists. No scholarship. Hence, four years later, it is not difficult to ascertain why even Harvey finds it difficult to fathom that he is the leading scorer in major college basketball. After a practice in early January Harvey's coach at Eastern Washington University in Cheney, Washington, Jim Hayford, pulled the now 6-foot-4 redshirt junior aside to deliver some shocking and happy news. "You are the leading scorer in college basketball," he said.
"Are you serious?" Harvey replied.
There are still magnificent surprises such as Tyler Harvey to be found in college basketball recruiting, even in an increasingly corroded ecosystem in which the nation's top-ranked junior, Josh Jackson, transfers to a school that, as the headline reads, "doesn't yet exist." From an environment in which one of the nation's perennial high school powers, Findlay Prep, is not actually a high school; in which Rivals, the nation's top recruiting site, recently announced that it has begun to monitor sixth graders; in which LeBron James recently bemoaned the fact that his oldest son, LeBron James Jr., has fielded scholarship offers because, after all, he is already 10 years old.
Each recruiting cycle involves a meticulously plumbed trove of talent, a search that extends to multiple continents and both hemispheres. So how does a player of Harvey's talent who hails from the megalopolis that is Los Angeles go unnoticed? Does the wondrous possibility exist that the entire globe has not yet been Google-mapped, or at least not all of its denizens?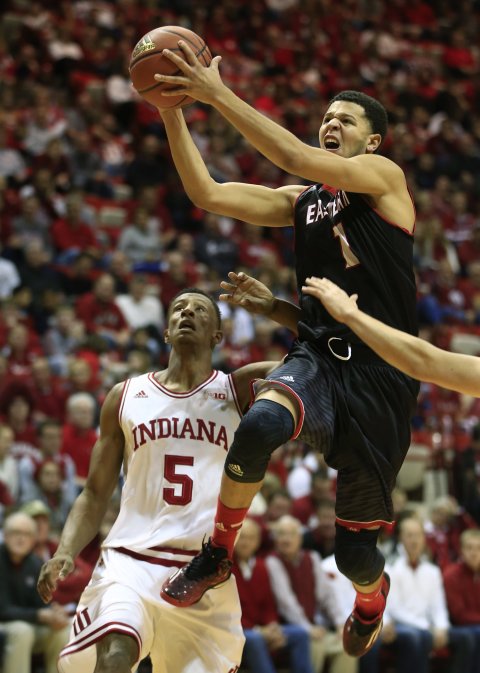 Before we get too far ahead of ourselves, let's return to that 5-foot-4 boy on the cusp of pubescence who just wanted to play hoops. In the summer before his freshman year at Bishop Montgomery, Harvey attended the school's open gyms (read: informal tryouts) and played in pickup games. Each week the freshman coach would select 10 boys to participate in summer league contests and almost every week Harvey would not be chosen. "I'd be disappointed," recalls Harvey. "I remember going home and talking to my dad about it. Then I'd go outside and shoot all summer."
Tyler's father, Frank Harvey, encouraged his son to play basketball, but Frank, who like Tyler's mother, Susan Raya, stands 5 feet 7 inches tall, never concerned himself with where the game would take his son. "A couple of times that summer Tyler would get picked to play and they'd put him in at garbage time," says Frank. "His head was down. He would come home and he would literally shoot outside for hours."
Sometimes Tyler would ask Frank to rebound for him. The two would head down to the local 24-Hour Fitness at midnight or 1 a.m., when the court had cleared out. " 'Is he serious? He wants to go at midnight?' I'd think" says Frank. "But we'd go for an hour or two and just shoot or work on drills."
Still, for a 5-foot-nothing adolescent to work on his game solo while his peers networked via AAU ball and elite summer camps, well, Tyler Harvey was hugging the shoulder of the freeway while they were in the HOV lane. "We are a very humble family," says Frank Harvey. "Those AAU games? They play every Sunday. We attend church every Sunday."
Besides, Tyler was short, just like his dad. If Frank was unable to provide his son an assist in terms of genetics, he was able to offer him an invaluable one in terms of perspective. See, throughout young Tyler's life Frank had sprinted up and down basketball courts with some of the greatest talents in the college game: Kevin Love and Russell Westbrook of UCLA, and James Harden of Arizona State, just to name a few. For the past 18 years, Frank Harvey has been a Division I college basketball referee.
That is to say, if any college basketball coach had ever wanted to recruit a kid who would one day be leading the nation in scoring (currently at 22.8 points per game), he might have started by speaking to the undersized zebra working his game. No one ever did.
"I've never coached or played the game at a high level," says Frank, "but all of my years as a referee helped me help Tyler. I watch teams or individuals go through pregame drills. I see what traits the better players have."
A second type of perspective Frank was able to offer his son was his own unlikely foray into college hoops. When Frank was a teenager, he watched an episode of the 1970s sitcom Good Times in which one of the sons, Michael, decided to pursue a job as a basketball referee. "I thought to myself, If Michael can do it, why can't I?" says Frank.
And so Frank began attending officiating clinics. He studied the game, studied other officials. Still, it was more than two years before he landed a regular gig as a high school referee. "I'd get a game in inner-city Los Angeles and leave my regular job and drive an hour or so to work it," recalls Frank. "You'd get paid $32 a game."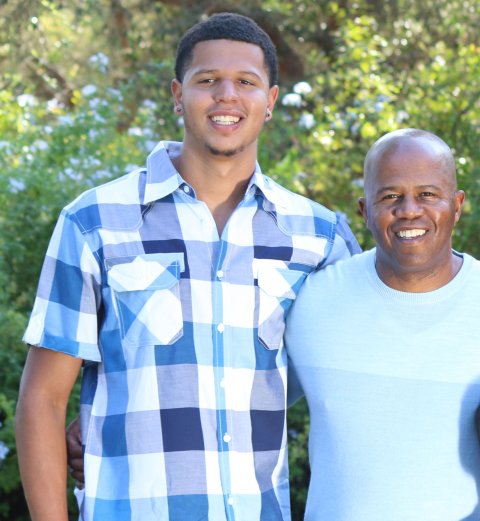 The elder Harvey persevered, though, and by the late 1990s he was working college games. Currently, he works 40-minute blocks in the five Division I conferences located west of the Rockies: the Big West, MWC, Pac-12, WCC and WAC.
As Tyler's Bishop Montgomery years progressed, his growth somewhat miraculously exceeded his hoops ambitions. While he did not make the school's varsity until his junior year, by the end of his senior season he stood 6-foot-1 and was his team's leading scorer. In fact, Tyler's growth spurt came upon him so suddenly that, as he says, "I had to take a couple of months off from basketball because the pain was so bad."
During the winter of Tyler's senior year, Frank boarded a plane in Spokane, Washington, bound for San Francisco. He had just worked the San Diego State–Gonzaga game. In the cabin Frank recognized Jim Hayford, then the head coach at a Division III school in Spokane, Whitworth University. Hayford had embarked on his coaching career in southern California in the early 1990s, back when Frank was working NAIA-level games. The two had even attended clinics together at Hayford's alma mater, Azusa Pacific University.
"I've got a son who's a pretty good basketball player.…" Frank said.
Hayford smiles at the memory. "In my job, I get 20 to 30 parents a week contacting me about their sons," says Hayford. "But I trust Frank because I realize he knows better than most dads what it takes to play at the college level."
Hayford told Frank to send him a tape of his son playing, which Frank did. And then, despite Tyler being a rail-thin 150 pounds, Hayford offered him a spot at Whitworth. Then Hayford got offered the job at Eastern Washington. He still wanted Tyler to play for him, but he had no scholarships available that year.
"My dream was to play Division I basketball," says Tyler. "I grew up watching March Madness, and it's always been my dream to be a part of it."
Tyler redshirted his freshman year at Eastern Washington. Late at night, he'd wander over to Reese Court, the school's basketball arena, as if it were his L.A. Fitness back home in Torrance. "I like to shoot late at night," says Tyler.
The following season Harvey was on scholarship, albeit warming the bench as a redshirt freshman. During a mid-February game at Northern Arizona University, the Eagles were trailing by 13 points with 3:42 to play. Hayford sent Tyler, who to that point in his collegiate career had totaled 17 points in 13 games, onto the floor.
The referee's son seized the moment, scoring 14 points as the Eagles rallied to win in overtime. Inserted into the starting lineup in the final seven games of that season, Tyler averaged 16.5 points per game as a starter. Last season, having shot up to 6-foot-4, he averaged 21.8 points per contest. This season, his 22.8-point average leads the nation, although it should be noted that the last time anyone led Division I in scoring averaging fewer than 24 points per game was in 1949, when Yale's Tony Lavelli averaged 22.4.
Lavelli's place in sports lore is firmly fixed not due to his deft long-range hook shot, but rather to the fact that his first love was the accordion. As a member of first the Boston Celtics and then the New York Knicks, he provided halftime entertainment playing such favorites as "Lady of Spain." Lavelli quit the NBA after two seasons to attend Juilliard.
Meanwhile, back in the present in Cheney, Washington, Harvey has led the Eagles to a 21-7 record and into a three-way tie for first place in the Big Sky conference. While EWU is considered a mid-major, Harvey scored 31 points against Cal earlier this season, 25 in a win at Indiana and 24 in a loss at No. 22 SMU. Hayford says every NBA team has contacted him about the most intriguing 6-foot-4 southpaw from the West since James Harden—who, as you may know, currently leads the NBA in scoring.
Harvey is also the only player in the country averaging four three-pointers made per game. Eastern Washington will probably need to win its conference tournament to secure a berth in the NCAA tournament, but if it wins the regular-season it would host that tourney. "We keep talking about wearing that blue patch," says Frank, alluding to the "NCAA" patch that adorns the uniforms of both players and officials during March Madness. "It's all about that blue patch."
These are heady times for college basketball's most intriguing and unlikely father-son combination. On February 26, Tyler, who has a 3.63 GPA and is majoring in communications, was named a first team Academic All-American. Come Saturday afternoon, February 28, he will suit up on his home court as the nation's leading scorer while the Eagles host Montana State. Frank has been officiating NCAA tournament games since 2012. NCAA rules prohibit him from working one of his son's games.
Frank Harvey will be in the stands at Reese Court, watching his son. Five hours later and 20 miles up the road, Frank will be working a nationally televised game in Spokane pitting Brigham Young at No. 3 Gonzaga. Tyler Harvey may be the nation's leading scorer, but many more college hoops fans will see his dad running up and down a court on TV this weekend.