What Did Tyler Joseph Say? Twenty One Pilots Singer Apologizes For Apparent BLM Twitter Joke
Singer Tyler Joseph of the band Twenty One Pilots has been forced to apologize to fans after a joke he tweeted did not go down well.
The musician came under fire after posting a joke about platforms which has been deemed insensitive.
The tweet in question features two photos of the 31-year-old wearing extremely high platform sneakers, with the caption: "you guys keep asking me to use my platforms. feels good to dust these bad boys off."
The joke, which is a play on the word 'platform' went down like a lead balloon as many fans felt he was dismissing genuine requests for him to address social issues such as the Black Lives Matter movement.
Joseph's name and the hashtag #TylerJosephIsOverParty began trending on Twitter a few hours later with more than 60,000 tweets on the topic.
One response reads: "no that's actually not what we mean. we would like you to speak up on the injustice in this country."
While another fan replied: ":( it's disappointing to see you joke about this dude."
Another person wrote: "This ain't it dude! Maybe don't mock your followers who want you to use your social platforms responsibly."
Joseph went on to tweet a series of tweets about mental health and initially seemed to double down on not apologizing for his joke, writing: "his isn't a notes app moment. i'm doubling down on my platform tweet. it was fantastic."
The backlash has seen Joseph forced to issue an apology to reiterate his sincerity as he backpedaled about making fun of the notion of using one's platform for good.
And he does have quite the platform—with more than five million Instagram followers, his personal Twitter account boasts over two million followers with an additional four million following the Twitter account for his group, Twenty One Pilots.
"my tweet wasn't suppose to be about human rights. so in case you are wondering where i stand: Black Lives Matter," Joseph tweeted.
"i just wanted to take a moment to raise awareness about something else that has meant a lot to me for a long time. but now I see there is no room for that right now."
He added: "im truly sorry if it hurt anyone. here is a link with a lot of great info that i stand by."
Joseph included a resource for people to help out the Black Lives Matter movement.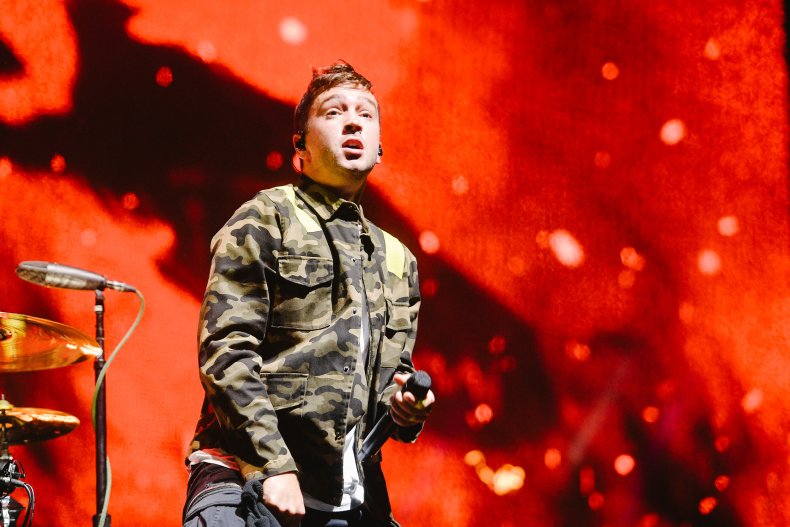 Twenty One Pilots previously drew ire for seemingly wading into politics when they played a concert in Belfast, Northern Ireland in 2019 wearing balaclavas. The outfits saw the duo accused of "glamorizing" terrorism in a country that was plagued by violent ethno-national conflict for three decades.
Traditional Unionist Voice leader Jim Allister said at the time, per NME: "Balaclavas are the stock-in-trade images of terrorism in this part of the world. So to don them at this sort of event inevitably has the consequence of sanitizing or glamorizing that with which they are associated in this part of the world, namely terrorism."
He continued: "Whatever they thought they were doing, this is hardly the sort of imagery that Belfast needs."