Tyler Perry gave back to the people of his hometown in Atlanta this Thanksgiving with a huge food giveaway that saw a line stretch for five miles.
The powerhouse actor, writer and director arranged the giveaway through his production company Tyler Perry Studios. The event, billed as #TPSGiving, took place Sunday morning.
Non-perishable food items and gift cards were distributed to 5,000 local families in need.
"First come, first serve of 5,000 families while supplies last," a poster for the event read. "We wish that we could feed everyone in need."
Volunteers dressed in protective equipment distributed the food and gift cards.
The studio revealed it ran out of food after two hours. Local news outlets reported that the line started on Saturday night and at one point stretched for five miles south of downtown Atlanta.
Fox 5's Emilie Ikeda tweeted a video of the traffic, explaining that "the first car in line got here at 3 p.m... YESTERDAY," and that the queues caused "back-ups on Langford Pkwy and I-20."
"I've been blessed in where my job has allowed me to work from home, but still I've had other family members that have lost jobs and had to move in," one woman in line, named Jeanette Walton, told the Daily Mail. "That's really why I'm here because when you have to take on the burden of others, you find yourself in need yourself."
This extravagant display of generosity from Perry comes after the billionaire paid for groceries for high-risk and senior shoppers at a number of Winn-Dixie and Kroger stores in Louisiana and Atlanta.
The Madea filmmaker, 51, was named Wall Street Journal Magazine's Entertainment Innovator of the Year this month.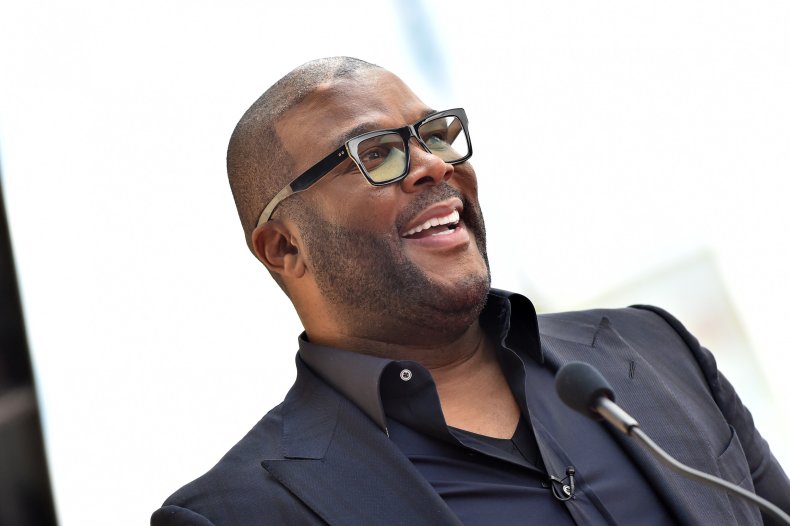 Speaking about continuing his empire amid the pandemic, he said: "Even after everything that's going on in the world—the pandemic and the racial inequality and police brutality—I have to remain hopeful. It lives in me."
"Here's what you have to understand, I work with a lot of Black and brown people," he said. "So when you say 'weighing heavily,' this is our daily lives."
He continued: "But we have to find a way to keep going and find the strength to fight another day. Hope grows inside of people like me, and it's very, very hard to kill, because from childhood we were always hoping just for something great."