Tyler Posey Announces He's on OnlyFans With This Nude Serenade
Tyler Posey fans, today is your lucky day. The actor is the latest celebrity to sign up for OnlyFans. The Teen Wolf star announced on Monday that he has joined the salacious subscription site with a 49-second clip on Twitter and an improvised tune.
"I did it. Join me ;)" he wrote.
The montage includes clips of him on Teen Wolf (the show which made him a household name), riding in a convertible, performing onstage, along with other behind-the-scenes footage. "OnlyFans presents actor, director, musician, Tyler Posey," the video reads, before cutting to him all smiles, shirtless.
"Hey guys. Welcome to my OnlyFans," he says in the clip, showing off his muscles and tattoos, before breaking into song.
"Welcome to my OnlyFans. I play guitar in my bare a**. Hang with me and we'll be best friends!" he sings while strumming on a guitar perched on a stool, nude.
Along with Teen Wolf, Posey has appeared in Maid in Manhattan, Jane the Virgin and Scream: The TV Series.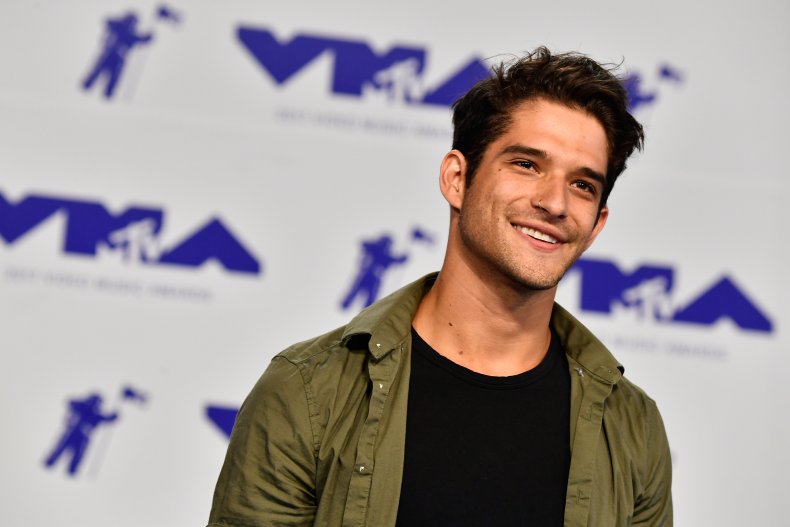 As per Posey's page on OnlyFans, it will cost folks $14.99 a month to see some exclusive content from the musician/actor.
He's also posted five times since Saturday, so anyone who signs up right away won't have to wait for some exclusive content.
"I noticed many of my fans commenting on my Instagram photos saying that I should join OnlyFans," Posey said in an official statement regarding the debut of his account, via Pride.
"I saw it as a really cool opportunity to get even closer with my fans and be more real with them. I get to talk about things on OnlyFans that I maybe wouldn't get to otherwise and connect with more people like me," he continued. "I want to accomplish creating unique content and collaborating with my friends to bring a fun experience to my fans."
Cardi B, Blac Chyna, Dorinda Medley, Ruby Rose, and YouTuber Tana Mongeau are among other celebrities who offer subscriptions for their fans for X-rated content that may be too racy for your typical social media platform.
Users can also monetize from OnlyFans, and the site became increasingly popular during the coronavirus lockdown. Along with monthly fees the thousands of users charge for their content, they can also receive one-off tips.
OnlyFans came under fire recently, however, due to Bella Thorne's activity on the service. The Disney Channel alum made $2 million in less than a week after joining the service in August. She charged users $20 per month for her content. She also charged $200 for a pay-per-view nude picture, and subscribers were upset when they received the photo to find her clothed, as per The New York Post.
After the Thorne debacle, the company decided to cap tips at $100 and pay-per-view posts at $50. In some countries, the waiting period for the funds made on OnlyFans could be as long as 30 days. Folks who used OnlyFans as a major source of income blamed Thorne for what happened.
Updated, 9/28/2020 3:31 p.m. EST: This article has been updated to provide further context about Tyler Posey's OnlyFans account.