Typhoon Hagibis Surges in Northern Pacific, Will Affect Guam, Mariana Islands and Possibly Japan
Areas in the northern Pacific Ocean, including the United States territories of Guam and the Northern Mariana Islands, are under threat of a potent "super typhoon" equivalent to a category 4 hurricane that is likely to grow stronger and possibly affect Japan, according to the National Weather Service.
Super Typhoon Hagibis intensified rapidly over the weekend, with winds that increased from 60 mph at 8 a.m. on Sunday to 160 mph at the same time on Monday, the Weather Channel reported.
"That means Hagibis intensified from a tropical storm to a Category 5 equivalent in just 24 hours," according to the Weather Channel.
A typhoon and a hurricane are precisely the same weather phenomenon — a tropical cyclone, according to the National Oceanic and Atmospheric Administration (NOAA). A tropical cyclone is called a hurricane if it originates in the "North Atlantic, central North Pacific and eastern North Pacific," whereas typhoons occur in the Northwest Pacific.
NOAA states that a super typhoon is equivalent to a category 4 or 5 hurricane, with "maximum sustained winds of at least 150 miles per hour."
The islands of Saipan, Tinian, Alamagan and Pagan, which are part of the U.S. territory of the Northern Mariana Islands, have been issued a typhoon warning by the National Weather Service. Two other islands in the territory, Rota and Agrihan, have been issued tropical storm warnings.
Guam, another U.S. territory, is also under a tropical storm warning from the NWS. The island will likely see both "damaging winds" and "numerous showers and thunderstorms" Monday night and Tuesday as a result of the typhoon, according to a forecast from the NWS.
The areas are expected to see coastal flooding, according to the Weather Channel.
Meteorologists predict that Hagibis will turn to the northwest and then northward after affecting Guam and the Northern Mariana Islands, the Weather Channel reported. This would put mainland Japan in its path.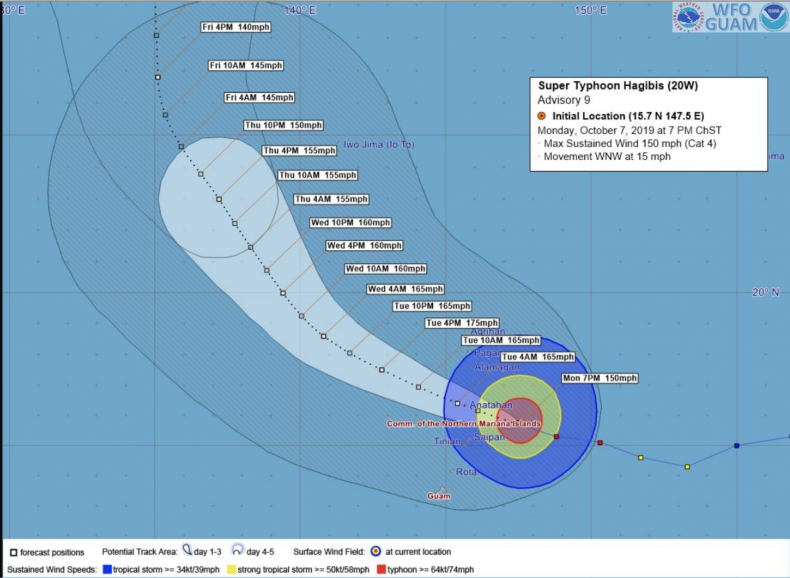 Though Hagibis has not yet made contact with any Japanese islands, forecasts of its effects are already affecting things there. The Irish rugby team is set to face off against Samoa in the city of Fukuoka on the island of Kyushu this Saturday, according to the Guardian, but may have to move the location of the game because the island is currently in the path of the typhoon.
Hagibis is the nineteenth named storm in the Western Pacific in 2019, according to Digital Typhoon. Despite Hagibis' strength, Hurricane Dorian remains this year's most powerful storm, said Weather Network meteorologist Tyler Hamilton.
Hamilton also said that the typhoon's strength is such that it could perhaps influence weather conditions in mainland North America.
Correction: This article has been updated to state the Irish rugby team are playing Samoa on Saturday. The original article said Ireland would be playing Japan in Fukoaka.