Typhoon Jebi: Aerial Photos Show Scale of Storm Devastation in Western Japan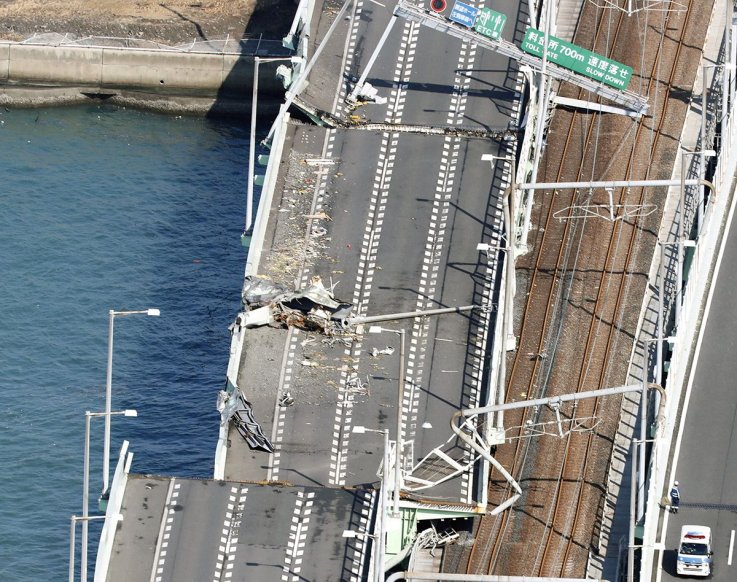 A powerful storm killed 10 people in western Japan and left more than a million homes without power. Typhoon Jebi was briefly a super typhoon and is the most powerful storm to hit Japan in 25 years. It follows heavy rains, landslides, floods and record-breaking heat that killed hundreds of people this summer.
Aerial photos show the scale of the devastation along the coast of western Japan. Tides in some areas were the highest since a typhoon in 1961, with flooding covering one runway at Kansai airport near Osaka, forcing the closure of the airport and leaving about 3,000 tourists stranded.
The strong winds and high tides sent a 2,591-tonne tanker crashing into a bridge connecting the airport, built on a man-made island in a bay, to the mainland. The bridge was damaged and closed, but the tanker was empty and none of its crew was injured, the coast guard said.
Television footage showed waves pounding the coastline, sheet metal tumbling across a parking lot, cars turned on their sides, dozens of used cars on fire at an exhibition area, and a big Ferris wheel spinning around in the strong wind.
The storm made landfall on Shikoku, the smallest main island, around noon. It raked across the western part of the largest main island, Honshu, near the city of Kobe, several hours later, before heading into the Sea of Japan in the evening.
The center of Jebi was about 100 km west-northwest of Sado in Niigata prefecture, central Japan, and heading north-northeast. Evacuation advisories were issued for more than a million people at one point, the Fire and Disaster Management Agency said. Wind gusts of up to 208 km/h (129 mph) were recorded in one part of Shikoku.
Around 100 mm (3.9 inches) of rain drenched one part of the tourist city of Kyoto in an hour, with as much as 500 mm (20 inches) set to fall in some areas in the 24 hours to noon on Wednesday.
Nearly 800 flights were canceled, along with scores of ferries and trains, NHK said. Shinkansen bullet train services between Tokyo and Okayama were suspended and Universal Studios Japan, a popular amusement park near Osaka, was closed.
Some 1.6 million households were without power in Osaka and its surrounding areas. The capital, Tokyo, escaped the center of the storm but was set for heavy rains and high winds.
Jebi's course brought it close to parts of western Japan hit by rains and flooding that killed more than 200 people in July but most of the damage this time appeared to be from the wind.
— Reuters.