Typhoon Jebi Japan Forecast Update: When Will Typhoon Jebi Hit Japan?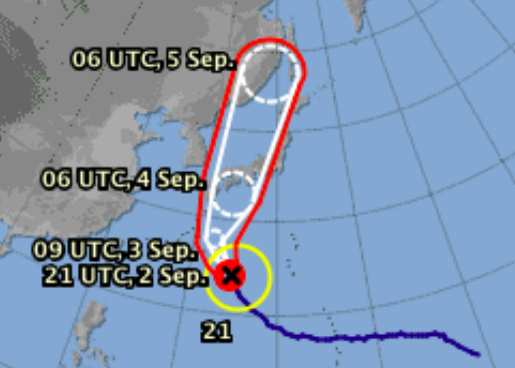 Japan's main island, Honsho is in Typhoon Jebi's track and a direct hit is expected early next week, according to the latest forecast updates.
Typhoon Jebi's path shows the storm striking the Chugoku region, including the Hiroshima, Okayama, Shimane, Tottori, and Yamaguchi prefectures.
When will Typhoon Jebi hit Japan? The latest track updates from the Japan Meteorological Agency said odds are high that Jebi will make landfall on the island of Honsho early Tuesday morning, bringing major impact and risk.
The weather agency has issued warnings for Jebi's approach, saying the storm could deliver high waves, flooding and landslides to southern Honshu. Typhoon Jebi is expected to approach Japan as the country's strongest storm this year. Already, the area where Jebi is expected to make landfall has suffered from flooding and landslides in July that killed more than 200 people, making it one of Japan's worst weather disasters in years.
Typhoon Jebi currently has winds of more than 150 miles-per-hour, according to the latest forecast update. The storm is expected to weaken some before making landfall at Japan on early Tuesday, but models show it will still be a category 1 or 2 storm, with winds of around 100 miles per hour.
"Maintaining its very strong power, the typhoon is forecast to approach western and eastern Japan," the JMA said in its forecast.
Japan was hit by Typhoon Cimaron on August 23, but this storm is expected to have much more impact. Jebi's arrival follows a storm late this week in Nagato, Yamaguchi Prefecture when thousands were evacuated for heavy rains and flooding.