Dozens of people have died in the northern Philippines following a series of devastating landslides triggered by Typhoon Mangkhut.
The superstorm swept over the northern island of Luzon this weekend, causing severe flooding and landslides. It made landfall Saturday with the same force as a Category 5 hurricane, battering residents with wind speeds of up to 127 miles per hour.
In Itogon town, Benguet province, dozens of miners were caught in a series of sudden landslides. Part of a mountain slope collapsed, crashing down on houses below. The BBC reported that 33 miners had been confirmed dead, while many more were still missing.
Itogon Mayor Victorio Palangdan told local journalists the landslides had blocked roads in and around the mountain town, making rescue efforts even more challenging. "I can't begin to accept this, but it looks like the casualties here are going to go up to at least 100," Palangdan said, according to the Indo-Asian News Service.
The houses buried were built at a steep angle, making rescue even more difficult. Soldiers had been deployed to assist in the rescue effort. Most of those buried are thought to be small-scale miners in the nearby mountains.
At least 65 people were confirmed dead in the Philippines after Mangkhut swept over the nation into the South China Sea. Around 87,000 people had been evacuated from at-risk areas on Luzon island and warned not to return home until the danger passed, Sky News said.
The storm has since moved to China, sweeping south of Hong Kong before making landfall in southern China. More than 2.4 million people were evacuated and 889 flights canceled as the typhoon brought winds of 125 miles per hour and storm surges of 10 feet. Trees were uprooted, windows smashed and high-rise cranes brought down in densely populated Hong Kong.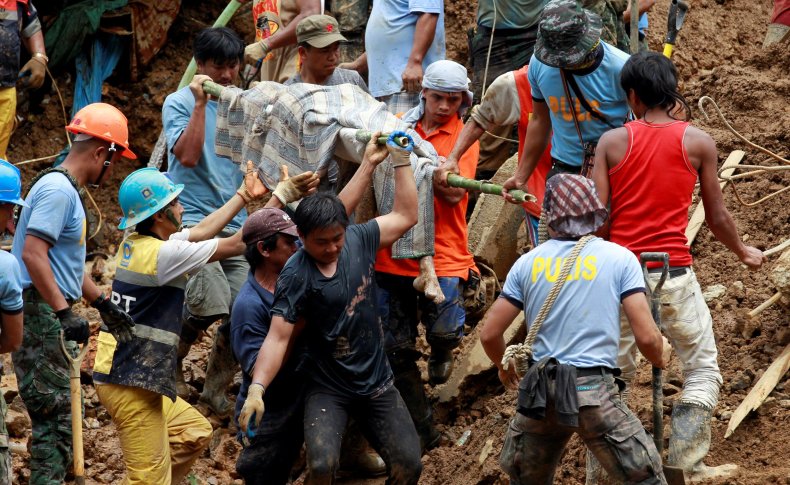 The Hong Kong Hospital Authority said 213 people had sought treatment for injuries suffered during the typhoon. Transport services on the island and ferries to mainland China were suspended.
Authorities in southern China issued a red weather alert, the most serious warning possible. The BBC said two people had died so far in the areas affected by the storm. The Guangdong region has borne the brunt of the onslaught, but Guizhou, Chongqing and Yunnan are all expected to be affected before Mangkhut dissipated.
Though Mangkhut has now weakened to a tropical storm, it is expected to persist until Tuesday, bringing strong winds and heavy rainfall.