Typhoon Mangkhut: Photos of Trail of Devastation Across Philippines, Hong Kong, Macau and China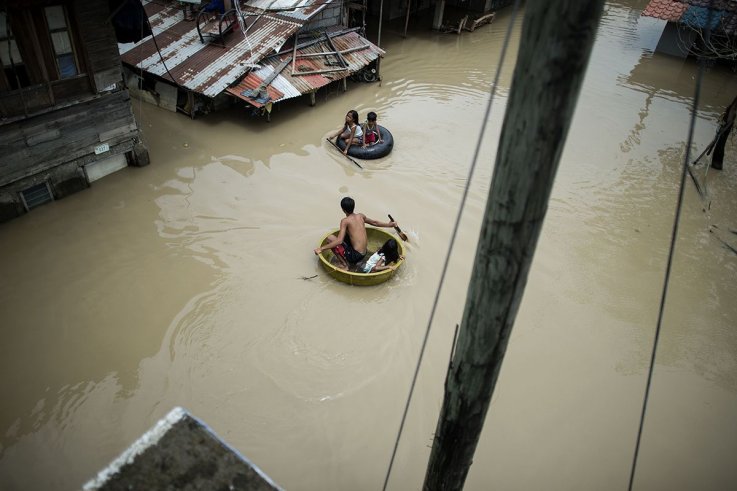 Super Typhoon Mangkhut left a trail of destruction across the Philippines, Hong Kong, Macau and southern China, causing flash floods and landslides that killed at least 64 people.
Philippine authorities said most of the casualties were killed by landslides, with at least 13 more people missing, but feared many more are unaccounted for.
In the mountainous town of Itogon, authorities recovered at least 11 bodies from the rubble after a mining camp was buried by landslides. Rescuers believe that dozens more may be trapped under the mud in the mining camp .
Packing hurricane-force winds well over 124 miles per hour, the storm barreled past the northern tip of the Philippines, then skirted south of Hong Kong and the neighboring gambling hub of Macau, before making landfall in China. As many as 2.45 million people in Guangdong province were relocated ahead of the storm, the official Xinhua news agency reported.
Dubbed "King of Storms," Mangkhut is one of the 10 biggest storms to hit southeast China since 1949, according to the country's meteorological administration. It weakened after making landfall in south China's Guangdong Province, which bore the brunt of the storm along with neighboring Guangxi Zhuang Autonomous Region and the island province of Hainan.
In Hong Kong, authorities are scrambling to clear roads of debris, including toppled trees and bamboo scaffolding. Some buildings, including the One Harbourfront office tower, had many windows smashed.
These photos show the trail of devastation left by the storm on its path across the Philippines, Hong Kong, Macau and mainland China.
— Reuters.