Typhoon Mangkhut/Ompong Track and Death Toll Sunday Update: Giant Storm Crashes into Hong Kong, Makes Path to China
A super-typhoon that devastated the Philipines, killing at least 25 people, has struck Hong Kong and is heading towards the Chinese mainland's coast.
Authorities in Hong Kong said that 100 people had been injured when the Typhoon Mangkhut struck, and landslide and flash flood warnings are in place in the region as the city is battered by torrential rain, reported AFP.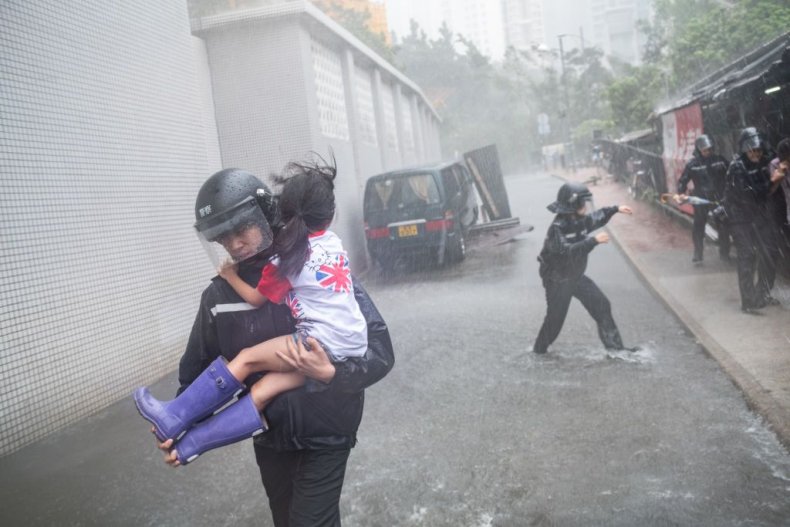 Residents were urged to stay indoors to avoid debris sent flying by 110 mph winds, after the Hong Kong Observatory issued its highest possible T10 storm signal Sunday morning.
Tens of thousands of travelers had plans disrupted after Hong Kong's international airport, a major regional hub, canceled most flights. Airlines such as flagship carrier Cathay Pacific already canceled many flights last week.
The Chinese port city of Guangdong and the gambling resort of Macau are also on lockdown, with authorities issuing a red alert as the storm approaches Sunday evening.
China has ordered about 6,000 boats to return to harbor, and evacuated thousands of offshore oil platform workers, the state news agency, Xinhua, said.
Ports, oil refineries and industrial plants in Guangdong have been shut. Power to some areas could also be reduced as a precaution, say grid operators.
The storm has fueled concern about Guangdong's sugar output, with China sugar futures rising last week on fears for the cane crop. Guangdong produces about 1 million tonnes, or a tenth of the national sugar output.
The airport in the boomtown of Shenzhen has been shut since midnight, and will be closed until 8:00 a.m. on Monday. In Guangzhou, scheduled flights between noon on Sunday and 8:00 a.m. on Monday have been canceled.
More than 400 flights have also been canceled in the neighboring island province of Hainan.
Last year, typhoon Hato, one of the strongest in recent years, pummeled the region, causing nine deaths and damage in Macau, sparking criticism that authorities had not been well prepared.
This time, authorities have been more cautious, with Macau officials saying they will shut casino gambling operations late on Saturday and China's People's Liberation Army put on standby for any disaster relief assistance.
"The suspension is for the safety of casino employees, visitors to the city, and residents," the government of the world's largest gambling hub said in a statement.
It is the first time in the city's history its famous casinos have been shuttered.
Tropical cyclone Mangkhut is considered the strongest to hit the region this year, packing gale force winds of more than 125 mph, equivalent to a maximum Category 5 "intense hurricane" in the Atlantic.
Philippine authorities said at least 25 people were killed, including a baby and a toddler, most of them in landslides in mountainous areas that left at least 13 missing.
"The landslides happened as some residents returned to their homes after the typhoon," disaster response coordinator Francis Tolentino said on DZMM Radio, adding that 5.7 million people had been affected and most were prepared.
"No matter how prepared we are, there is really some limitation."
Mangkhut's northwesterly track will bring heavy rain and winds to the autonomous region of Guangxi early on Monday, before the storm weakens into a tropical depression to reach southwestern Yunnan on Tuesday.