Typhoon Mangkhut/Ompong Path Saturday Update: Deaths As Storm Batters Philippines and Continues on Track to China
Typhoon Mangkhut, which is locally known as Ompong, hit the Philippines early on Saturday, reportedly killing three people, including two rescue workers, as it brought heavy rains, flooding and landslides to the country.
The typhoon hit the Philippines as a Category 5-equivalent hurricane, according to the World Meteorological Organization, with winds as strong as 210km/h (130m/h) before making its way towards southern China and Vietnam.
The Philippines national meteorological service, PAGASA, said the typhoon made landfall at 1:40a.m. local time in the northern Cagayan province.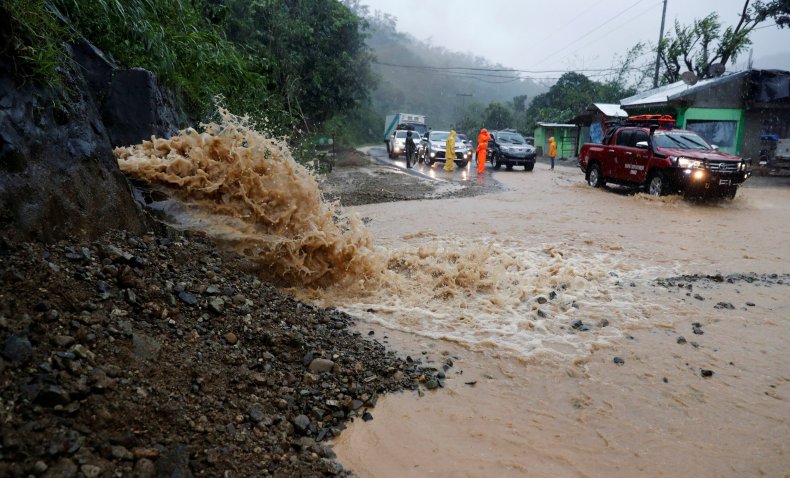 The two rescue workers reported dead were killed trying to help people trapped in a landslide in the Cordillera Region, civil defense head Ricardo Jalad, told Reuters.
Police said a third person had been found dead in a river in Manila.
The WMO has declared Typhoon Mangkhut the strongest tropical cyclone of the year, in terms of strength.
The typhoon is one of the strongest to hit the Philippines since Haiyan, which struck the country in November 2013 and resulted in the deaths of more than 7,000 people.
China prepares for landfall
Mangkhut is expected to make landfall again on Sunday evening in western Guangdong, China.
Hong Kong is also readying for the typhoon, which could be one of the strongest storms to strike the city in more than six decades.
Macau's Meteorological and Geophysical Bureau has warned that the typhoon could also "pose a serious threat" to the Pearl River Delta, where the city is situated.
Ten people died in the autonomous region as a result of Typhoon Hato just last year. The storm was the strongest to strike the city in more than five decades.