Typhoon Rai Batters Philippines With 127 MPH Gusts, Leaves at Least 12 Dead
A massive typhoon hit the central Philippines this week, leaving at least 12 people dead and hundreds of residents trapped.
Typhoon Rai came ashore on Thursday and, despite being weakened by the landfall, brought destructive winds of 93 miles per hour and gusts up to 127 mph. The typhoon also brought heavy rain and flooding, causing massive damage to villages in one of the strongest storms to reach the country in years.
"I have never experienced such ferocity of the wind in my life and we were not even directly hit, central Iloilo Mayor Jerry Trenas said to The Associated Press.
Crews are currently assessing the damage and have confirmed that at least 12 people were killed in the storm. One resident was killed by a cluster of bamboo, according to Trenas. Most of the 11 other victims were hit by fallen trees or crushed under debris. Seven villagers are currently missing. Furthermore, many buildings and houses were severely damaged in the storm, forcing residents to trap themselves on their rooftops for support.
"Hundreds of families are trapped on the rooftops right now," said Bohol province Governor Arthur Yap to DZBB radio. "We need first responders. What's important now is to save lives."
USAID, a government humanitarian relief fund, told Newsweek that it is committed to providing support for those affected.
"Through existing programs, USAID's Bureau for Humanitarian Assistance is supporting the government of the Philippines to mobilize emergency response and relief supplies for communities impacted by heavy rains, widespread flooding & power outages caused by Typhoon Rai," USAID said a statement.
"USAID has disaster experts in the Philippines and in the region who are coordinating with the government of the Philippines and humanitarian partners to monitor the impacts of Typhoon Rai. USAID stands ready to provide additional assistance if requested by the government of the Philippines."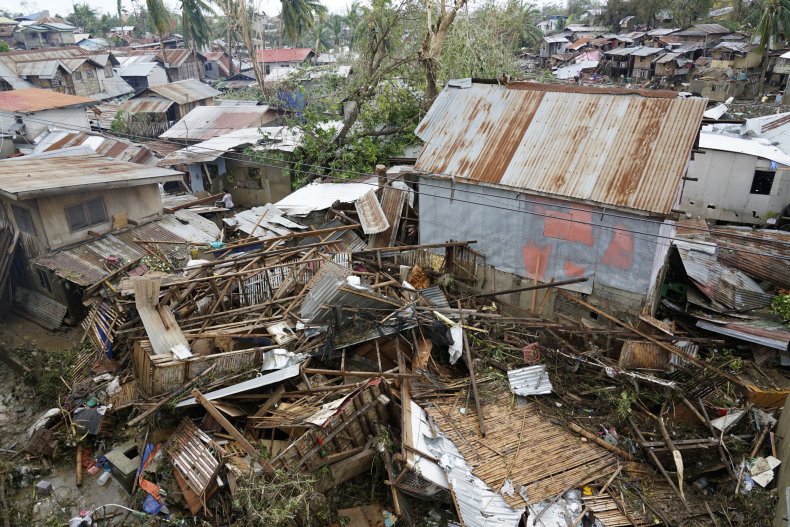 Workers were clearing roads in the coastal city of nearly half a million people, which remained without power and struggled with erratic cellphone signals, he said.
Yap said many residents remained trapped on their roofs by floodwater for a second day in the riverside town of Loboc, where his own house was swamped by water up to the second floor. Yap pleaded for volunteers from other regions to help save residents, saying he and other officials were struggling to find a way to deploy rescue boats to Loboc.
It was unclear what happened in other towns in the hard-hit province, which still had no electricity, Yap said.
Presidential spokesman Karlo Nograles said more than 332,000 people were evacuated as the typhoon approached, including nearly 15,000 who were brought to evacuation centers. Crowding in those centers complicated efforts to keep people safely distanced after authorities detected the country's first infections caused by the Omicron variant of the coronavirus. Vaccination campaigns were also halted in provinces lashed by the typhoon.
The coast guard grounded all vessels in dozens of ports, stranding more than 4,500 passengers and ferry and cargo ship workers. An international airport in central Cebu province was closed and several mostly domestic flights were canceled while schools and workplaces were shut in the most vulnerable areas, Nograles said.
At least 62 cities and towns either lost power entirely or were experiencing disruptions.
About 20 storms and typhoons batter the Philippines each year. The archipelago is located in the seismically active Pacific "Ring of Fire" region, making it one of the world's most disaster-prone countries.
The Associated Press contributed to this report.