Typhoon Trami Track: Storm Hits Okinawa, Moves Toward Tokyo, Japan
Typhoon Trami was making its way toward mainland Japan this weekend, bringing winds of up to 134 mph. Trami hit Okinawa on Saturday and was expected to hit mainland Japan on Sunday and into Monday.
The storm's projected track showed it moving northwest through Osaka and near Tokyo in the coming days. Trami was expected to hit mainland Japan early Sunday, bringing winds of up to 115 mph—the equivalent of a Category 2 hurricane.
Trami injured at least 18 people when it hit Okinawa, battering the region with winds and rain. Around 600 people were evacuated from the region, while more than 121,000 homes lost power, the Japan Times reported. The number of injured could rise as more information is collected.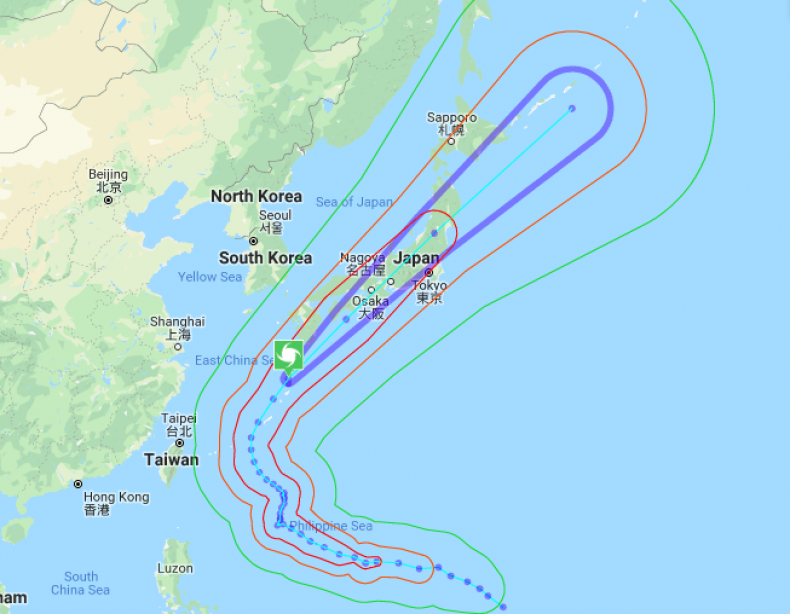 Authorities urged people on mainland Japan to be prepared for the storm. Airports and train stations were closed in preparation, and residents were urged to stay indoors to avoid debris from winds.
"The typhoon is feared to bring record rainfalls and violent winds over large areas," Meteorological Agency official Yasushi Kajiwara said, according to the Japan Times. "Please stay on alert, evacuate early and ensure your safety."
Trami will likely bring rainfall of up to 12 inches, with localized amounts of more than 19 inches in certain places, CNN reported. Almost 800 flights scheduled for Sunday were called at airports in Kyushu, Shikoku and Kinki, according to broadcaster NHK.
Earlier in September, Typhoon Mangkhut slammed the Phillippines and China, killing at least 66 people and leaving a trail of destruction in its wake. The storm set off landslides in Itogon, where many were left dead and others missing.