Typhoon Phanfone Path, Forecast: 'Ursula' Christmas Storm in Philippines Prompts Evacuations, Strands Travelers
Typhoon Phanfone, also known as Typhoon Ursula, made landfall in the Philippines, bringing with it potential storm surges and mudslides and stranding people on the island.
The typhoon made landfall on Tuesday over Salcedo, located on the eastern central islands of Eastern Visayas around 5 p.m. local time, according to The Weather Channel. A category 1 storm, the typhoon's heavy rain and strong winds could cause landslides and damage structure.
The coast guard banned sea travel along the storm's projected path and about 24,000 people were stranded in seaports, Bloomberg reported. About 1,700 people in flood- and landslide-prone areas were ordered to move to safety, according to Agence France Presse, but given the timing of the storm, some didn't want to leave.
"Some families are reluctant to evacuate because they want to celebrate Christmas at home, but local officials will force them out if they refuse to heed our warnings," regional civil defense official Reyden Cabrigas told AFP.
Although there is potential for heavy damage to homes made of wood, straw or bamboo, AFP reported there have not yet been any reports of fatalities.
After making landfall, Ursula moved towards the Tacloban-Palo area, east of Salcedo. By 8 p.m. local time on Tuesday, the southern portion of Eastern Samar and Samar and the northern portion of Leyte were experiencing "violent winds," according to the Philippine Atmospheric, Geophysical and Astronomical Services Administration (PAGASA).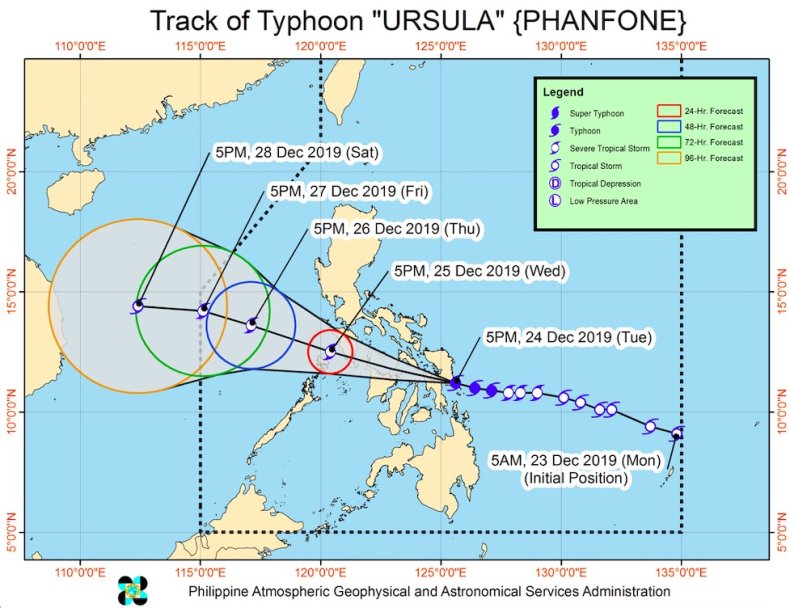 As of Tuesday evening, PAGASA reported Ursula had maximum sustained winds of about 80 miles per hour at the center and gusts of about 111 miles per hour. At these speeds, rice and corn crops could suffer "heavy losses," homes could be unroofed or destroyed completely and there could be widespread disruption of electrical power and communication.
Along with heavy rain and strong winds, PAGASA advised residents that coastal areas of Eastern Samar, Northern Samar and Leyte could see storm surges of up to six feet.
PAGASA advised residents in impacted areas to take "appropriate measures" to reduce the risk of landslides and flooding and protect themselves from potential risks caused by the typhoon. Anyone in a low-lying area and riverbanks was encouraged to move to higher ground and stay in an evacuation center or a strong house.
After moving across the central Philippine islands on Christmas Day, the storm was expected to move out to the South China Sea.