Typhoon Yutu: Latest Path and Forecast as Storm Hits Philippines, Heads for China
Powerful typhoon Yutu struck the Philippines Tuesday morning local time, bringing strong winds and the threat of heavy rain, storm surges, flooding and landslides.
Called Rosita in the Western Pacific nation, Yutu tore through the Mariana Islands last week at category 5 intensity—the strongest storm to hit any part of the U.S. in 2018.
The storm, which hit the Philippines at category 2, made landfall in the municipality of Dinapigue in Isabela, on the northern island of Luzon, The Weather Channel reported. Roughly 5,000 people live in the region, according to a 2015 census.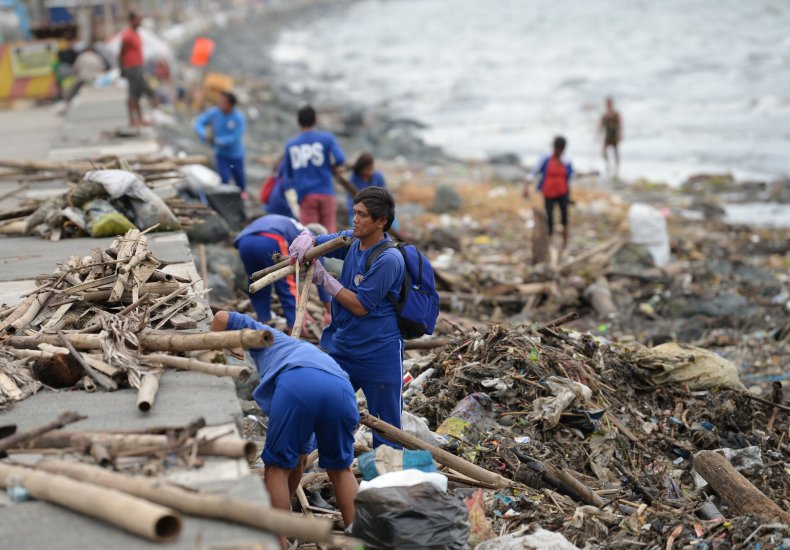 Thousands of locals evacuated their homes ahead of the incoming storm, which hit Luzon wielding sustained winds of 93 miles per hour and gusts of up to 130 miles per hour, Filipino station ABC-CBN reported. Some 2,000 travellers were grounded on the island as numerous passenger ferries were cancelled, the station said.
Provinces Ifugao, Nueva Vizcaya, Benguet, Mountain Province, Ilocos Sur, Pangasinan and La Union are all affected by the storm, the Philippine Atmospheric, Geophysical and Astronomical Services Administration (PAGASA) warned at 2:00 p.m. local time (2:00 a.m. ET).
PAGASA warned residents the storm will cause very dangerous travel conditions, uproot trees and disrupt communications. Locals are battling maximum sustained wind speeds of up to 17 miles per hour, and gusting of up to 142 miles per hour. As of the 2:00 p.m. bulletin, Yutu was moving westwards at 12 miles per hour.
Yutu is predicted to leave the Philippines Wednesday, careening some 170 miles west of Sinait in the northwestern province of Ilocos Sur. On Thursday it should be 280 miles west northwest of Laoag City, Ilocos Norte, on the northern tip of Luzon, before skirting west of the region Friday morning, local time, PAGASA reported.
Over the weekend, Yutu will move towards southeastern China or Taiwan towards the end of the week, The Weather Channel stated. Although it is expected to weaken over the week, it may yet intensify again.
Classed as a super typhoon when it hit the Northern Mariana Islands, Yutu delayed elections, outed power and sent tourists running from the U.S. territory, The Associated Press reported.
The storm was also "one of the most intense storms" on record for the entire globe, atmospheric scientist Michael Lowry noted on Twitter. "This is an historically significant event."