Old Clips of 'America's Next Top Model' Surfaced on Twitter And People Are Dragging Tyra Banks
There are a number of titles that can be used to describe Tyra Banks: supermodel, former Victoria's Secret Angel, actress, producer, businesswoman, reality show host, talk show host, two-time Emmy winner, author, mother and—according to Time magazine's annual list—one of the most influential people in the world (on multiple occasions). Now, however, there seems to be a new title inching up Banks' resume: Villain.
You may be wondering how a woman who has advocated for anti-bullying campaigns, spoken out against the fashion industry's toxic body image standards and helped launch the careers of plenty of aspiring models on her long-running reality TV series, America's Next Top Model (ANTM) could possibly be considered a villain? Well, according to Twitter, ANTM is perhaps the best possible example of her actual wickedness.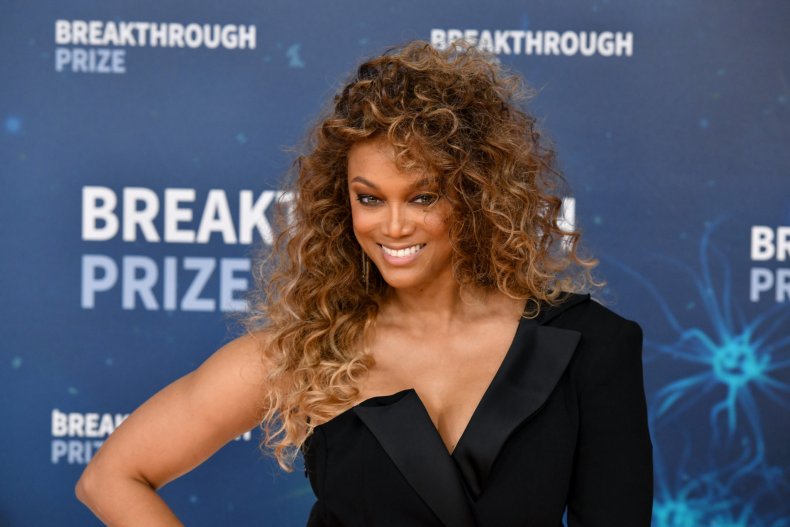 Banks found herself in the center of a critical firestorm on social media after old clips of ANTM went viral on Twitter on Monday, including one particular moment when Banks pressured Cycle 6 contestant Danielle Evans to get dental surgery and have her gap closed in 2006.
It's an excruciating throw-back to watch as Banks condemns Evans for refusing dental surgery. She asks the young, beautiful brown-skinned model, "Do you really think you can have a Cover Girl contract with a gap in your mouth?" and goes on to audaciously tell Evans that her gap-tooth smile is "not marketable." This is despite the fact that Lauren Hutton—one of the industry's most successful models, who is white—flashed her wide gap-tooth smile on dozens of Vogue covers during her heyday and landed a Revlon contract in 1973 that made her the highest-paid model at the time.
Nonetheless, it feels just as irksome and gross to watch Banks' controversial policing of the black contestants of the show now as it did 14 years ago. So, naturally, when the clip appeared online, the backlash began almost instantly. And let's just say, sis got dragged.
"I remember watching this as a young woman & I felt extremely discouraged to be on TV bc of this scene. I was disappointed in Tyra then... She ended up pressuring this girl to get dental surgery to be 'marketable.' Also my gap & TV contract say 'HI!'" Nina Parker, E! News correspondent and Nightly Pop co-host, wrote on Twitter on Monday.
Another Twitter user recalled how watching the scene made her second-guess her own unique features. "11 year old me, with a gap in my mouth, watched this and I became obsessed with closing my gap. Glad I never closed it but Tyra was deadass wrong for this," she wrote.
Mostly, people were disappointed in the way Banks and other fashion elites on the show seemed to push black models into the narrow definition of what a model is supposed to look like, which has historically been based on beauty standards that amplify whiteness.
On more than a few occasions throughout ANTM's 25 seasons, black models were condemned for standing up for their individuality, features and style—which were heavily influenced by their rich, melanated culture—while their non-black competitors were able to push the boundaries of what was deemed beautiful and interesting. Case in point being nine ANTM cycles later when Chelsey Hersley—a white contestant who appeared on the show in 2010—was advised to undergo dental surgery to widen (that's right, widen) her small gap to give her a more edgy and unique look.
"While Danielle was made to feel ugly for her gap, 6/7 cycles laters Tyra widened a white contestant's gap because of how high fashion, unique and captivating it would be," one Twitter user wrote. ''Not marketable' is Tyra speak for hating dark skin girls."
And the conversation just spiraled from there with more people sharing memories of Tyra's questionable and problematic rhetoric on the show, from encouraging a Cycle 4 contestant to pose in a grave after receiving news of her best friend's death, ridiculing Yaya DaCosta for choosing to wear a cowboy hat over a hat made of kente cloth and—how could we ever forget—the many white women she put in blackface for photoshoots.
It wasn't all criticism for 46-year-old Banks though. Some people did defend the model magnate and reminded everyone that Banks was only enforcing the same industry standards she had to follow to become successful in her career field. And there were those who thought the opportunity to cancel Banks because of her distasteful regulations directed towards the black models on ANTM had long passed. If people weren't upset all those years ago, why should it matter now?
Then, of course, there were the folks who claimed Banks' presumed life-long nemesis, supermodel Naomi Campbell, warned everyone of Bank's alleged villainy years ago.
Check out a few more tweets about Banks below.