Tyra Banks Is One of Only Three Black Women Ever to Grace the Cover of 'Sports Illustrated'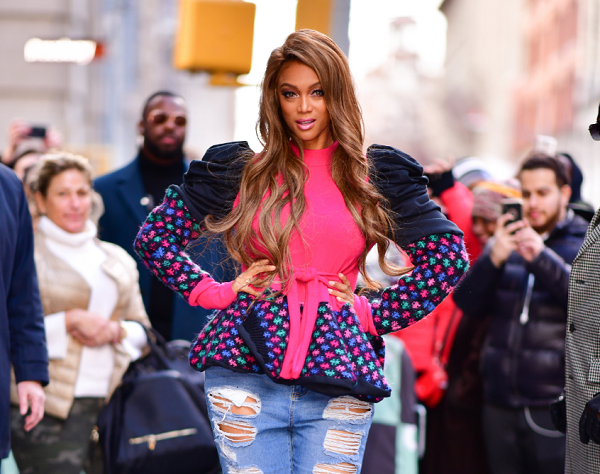 Tyra Banks has done it once again. The businesswoman and supermodel graced the latest cover of Sports Illustrated, released on Wednesday, after becoming the first black woman to ever achieve the feat more than 20 years ago.
Banks' cover marks her third for Sports Illustrated as well as her big modeling comeback after retiring from the industry more than a decade ago.
The 45-year-old first made history as the first black woman to appear on the cover for the magazine's iconic Swimsuit issue in 1996 alongside model Valeria Mazza. She landed a solo spot on the cover the following year wearing her famous pink polka-dot bathing suit.
The only other black women to ever appear on the cover of Sports Illustrated are Beyoncé, who appeared in the magazine in 2007, and last year's cover girl, Danielle Herrington.
Banks said producers were hoping to recapture the photo that catapulted her modeling career with her 2019 cover, similarly photographed in Great Exuma, Bahamas, by Laretta Houston. "We couldn't find the exact one in the archives—it was the polka dot bikini so we recreated that bikini," Banks said on Good Morning America on Wednesday.
"I recreated it [the shoot] 25 pounds heavier," she added.
Along with her entrepreneurial ambitions, Banks' prowess for busting model stereotypes and body image stigmas motivated her decision to get back in front of the camera. Banks credited her mother for inspiring her to live in her truth and encourage other girls that looked and were shaped like her.
"There was one Milan season when my body had begun to change and eight designers didn't want to use me anymore because my body was getting curvy. It's like I had an expiration date," Banks said in an interview with New York Times, released on Wednesday. "A lot of the time, passion comes from pain, I always say—and in that case, my mom put me in front of a pizza and made me write down a list of businesses and companies I could represent as the real authentic me."
Not only did the effort lead to Banks' affiliation with Victoria Secret, but it also resulted in her historical cover. "That first Sports Illustrated cover was huge. It was explosive. It changed my life overnight," Banks said.
"You have to think back to remember what that did for an appreciation of black beauty to have a black girl, a girl next door type, on the cover of one of the most mass mainstream magazines of our lives. It was a societal statement, a political statement and an economic one," she continued.
Banks' avocation of realistic and authentic beauty standards opened the doors to her entrepreneur career, primarily her own directed and produced reality competition show, America's Next Top Model, which launched the careers of several models since its 2003 premiere.