Tyre Nichols Body Cam Video To Be Released as Memphis Police Admit Failings
Body camera footage from the officers who arrested Tyre Nichols, who died in hospital days after he was detained in a traffic stop in Memphis, is set to be released to the public soon, as the city's police chief calls for the expected protests to remain peaceful.
Cerelyn Davis, the head of Memphis Police Department, issued a video message on January 26 admitting failings in how the incident had been handled. She pointed out that five officers had already been fired after being found "directly responsible for the physical abuse of Mr Nichols."
The 29-year-old was stopped on January 7 on suspicion of "reckless driving," according to an earlier statement, but an apparent confrontation led him to flee the scene on foot. Five officers—Tadarrius Bean, Demetrius Haley, Emmitt Martin III, Desmond Mills Jr. and Justin Smith—followed and apprehended him after another confrontation.
Nichols then "complained of having shortness of breath" and was taken to hospital via ambulance "in a critical condition," the earlier statement explained. Nichols died of his injuries on January 10.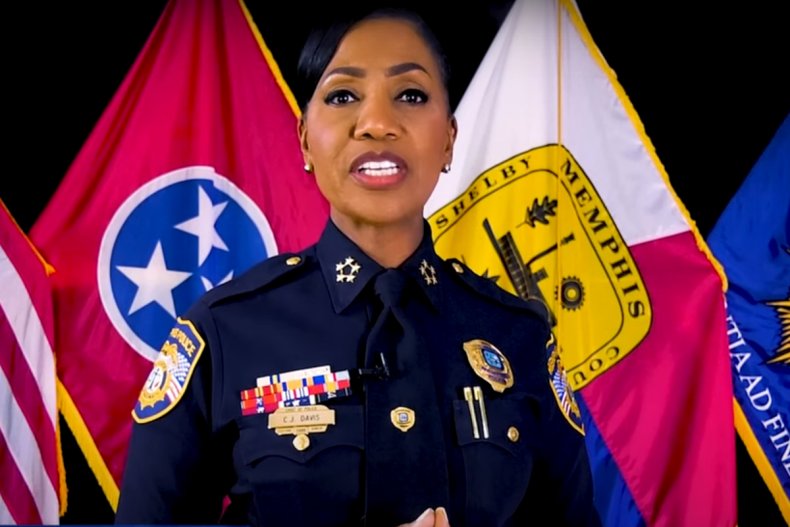 "These officers were found to be directly responsible for the physical abuse of Mr Nichols," Davis said in the video statement. "Concurrent within that investigation, other MPD officers are still under investigation for department policy violations. Some infractions are less egregious than others."
The incident is being separately investigated by the Tennessee Bureau of Investigation, the Department of Justice and the FBI.
Davis pledged "full and complete co-operation" with those investigations, as well as the Shelby County District Attorney's Office, "to determine the entire scope of facts that contributed to Tyre Nichols' death."
She added: "Those five officers and others failed our community and they failed the Nichols family, and that is beyond regrettable." She also promised a "complete and independent" review of all Memphis Police Department specialized units to ensure they were abiding by policy.
Days after Nichols' death, his family staged a protest in which they carried a placard with an image of him in hospital on oxygen, appearing bruised.
"This is not just a professional failing, this is a failing of basic humanity toward another individual," the Memphis police chief said. "This incident was heinous, reckless and inhumane; and in the vein of transparency when the video is released in the coming days, you will see this for yourselves."
According to a letter sent by Jeff Bledsoe of the Tennessee Sheriffs' Association to the National Sheriffs' Association, which was published by News Channel 5, the body cam footage will be released in the afternoon of Friday, January 27.
Bledsoe added that the Nichols family had viewed the footage on Wednesday, before a press conference, and officers were also anticipating an update on judicial proceedings this week.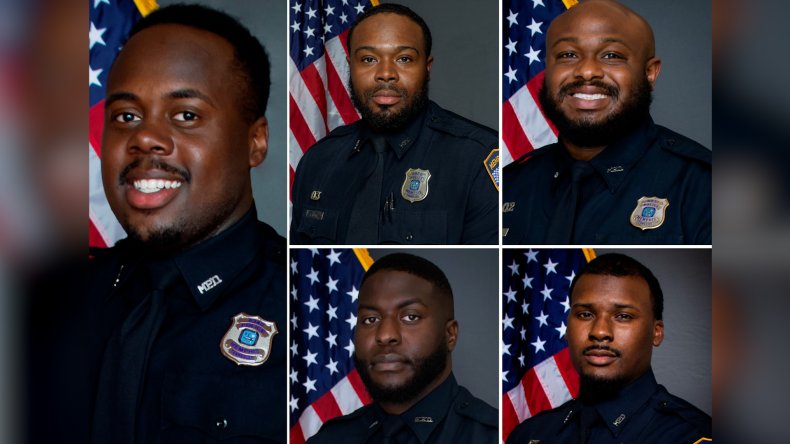 "What I saw on video today was horrific," Nichols' stepfather, Rodney Wells, said at the press conference. "No father, mother should have to witness what I saw today."
"My son was a beautiful soul," said his mother Rowvaughn Wells. "Nobody is perfect, nobody, but he was damn near."
Davis said she had met with Rowvaughn and Rodney Wells to offer her condolences, and Rodney had publicly urged activists to protest peacefully. Benjamin Crump, the family's attorney, said initial autopsy results suggested Nichols had suffered from extensive bleeding caused by a severe beating.
"I expect you to feel what the Nichols family feels," Davis said. "I expect you to feel outrage in the disregard of basic human rights, as our police officers have taken an oath to do the opposite of what transpired on the video.
"I expect our citizens to exercise their First Amendment right to protest, to demand action and results—but we need to ensure our community is safe in this process. None of this is a calling card for inciting violence or destruction on our community or against our citizens."