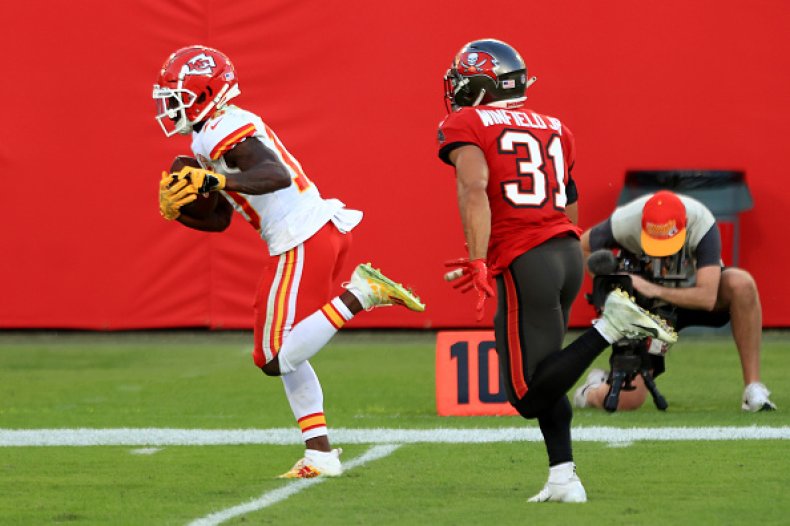 Kansas City Chiefs wide receiver Tyreek Hill had enough stats during the first quarter on Sunday that would normally be plenty for any NFL player. Here's what Hill accomplished in the first quarter against the Tampa Bay Buccaneers, as the Chiefs led, 17-0.
7 catches
203 yards
2 touchdowns
He would be on pace to catch for 800 yards and eight touchdowns should those averages keep up through the game—which is very unlikely.
Fantasy football players who have Hill in their lineup loved it, and those who didn't dreaded it.
Per ESPN's Stats & Info, "Tyreek Hill finished the 1st quarter with 203 receiving yards. That's the most by any player in a quarter since Lee Evans had 205 in the first quarter of a 2006 game against the Texans. Hill's 203 receiving yards are the most by any player in an entire GAME this season."
The defending Super Bowl champion Chiefs, playing Sunday in the stadium that will host this season's Super Bowl, took an early 3-0 lead. That's when the Patrick Mahomes to Tyreek Hill show began.
Hill caught a pass way downfield and outran Bucs defenders for a 75-yard touchdown catch to make it 10-0 at the 6:49 mark. Mahomes then connected again with Hill, this time for a 44-yard pass in which Hill caught the pass, outran one defender, juked another and then did a backflip as he entered the end zone. That made it 17-0 with 1:32 remaining ... in the first quarter.
The reactions on Twitter were almost as spectacular as Hill himself.
First, here's the video of Hill scoring the touchdown and doing a backflip at the goal line, courtesy of NFL's Twitter.
Here's the view from the back of the end zone, courtesy of ESPN's Twitter.
As for the game itself, The Chiefs only scored 10 more points over the next three quarters, holding on to a 27-24 win over the Tom Brady-led Buccaneers. Tyreek Hill had a game-highs of 13 catches for 269 yards and three touchdowns. Mahomes connected with Hill for a 20-yard touchdown pass in the third quarter to give the Chiefs a 27-10 lead. Brady found Mike Evans for two Buccaneers touchdowns in the fourth quarter, but it wasn't enough in the end.
The Chiefs improve to 10-1 on the season, which is one game back from the undefeated Pittsburgh Steelers in the AFC. The Bucs fall to 7-5, second behind the New orleans Saints in the NFC South.
An in the end on Sunday, it was Hill who was still the talk of the NFL.
Basketball great LeBron James, considered one of the best ever in his sport, even gushed at Hill's feats.
"My GOODNESS CHEETAH!!! Insane G! @cheetah," James tweeted.
About the writer
Scott McDonald is a Newsweek deputy night editor based in Cape Coral, Florida. His focus is assigning and writing stories across all topics, from news to politics, business, weather, sports and international news. Scott joined Newsweek in 2018 after a lengthy career of print journalism in Texas, including The Dallas Morning News, where he was a sportswriter, and he's a voter for the Heisman Trophy. He has been a newspaper editor-in-chief and also a newspaper publisher. He is a graduate of The University of Texas at Austin. You can get in touch with Scott by emailing s.mcdonald@newsweek.com. Languages: English