Tyson Fury Adviser Daniel Kinahan Sanctioned Over Organized Crime
An adviser to champion boxer Tyson Fury, Daniel Joseph Kinahan, has been named as a leader of an organized crime gang by the U.S. government after an international investigation.
The U.S. State Department announced it was offering a $5 million reward for any information leading to Kinahan's arrest after he was described as running "the day-to-day operations of the organization."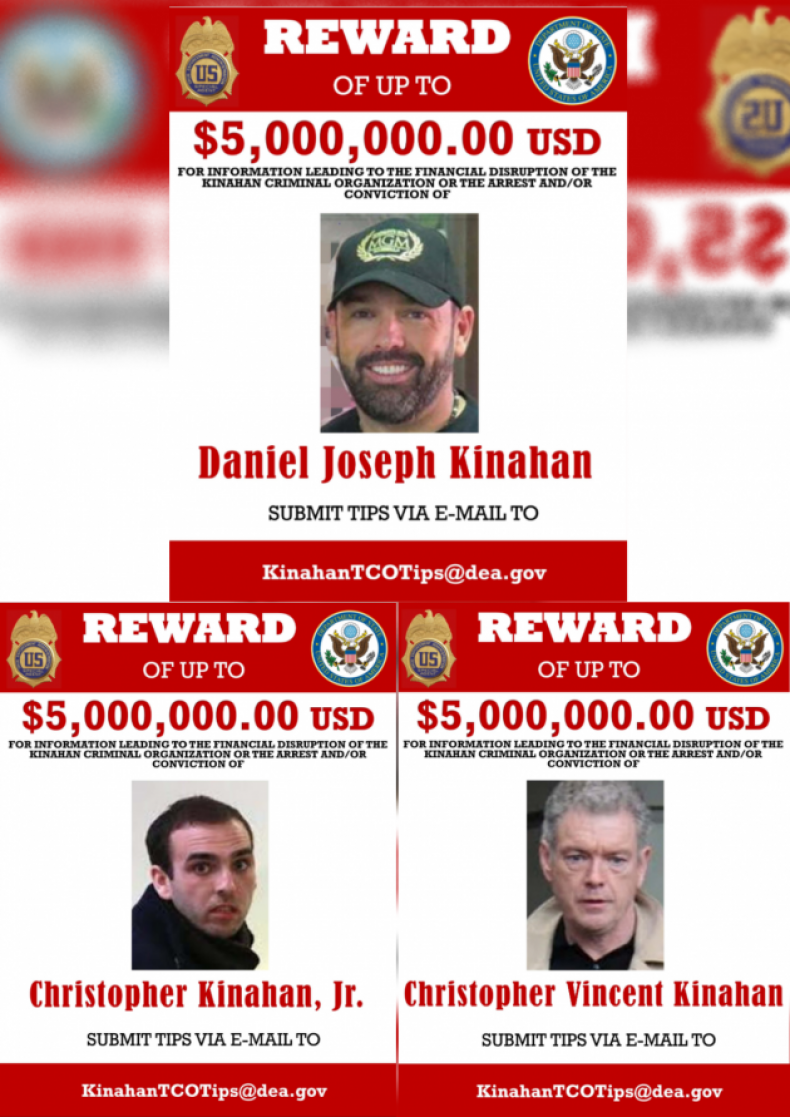 The Kinahan Organized Crime Group (KOCG) was placed under sanctions by the U.S. Treasury Department's Office of Foreign Assets Control (OFAC) on Monday, along with "seven of its key members, including its Irish leaders".
It said Irish courts had found that the gang was "a murderous organization involved in the international trafficking of drugs and firearms."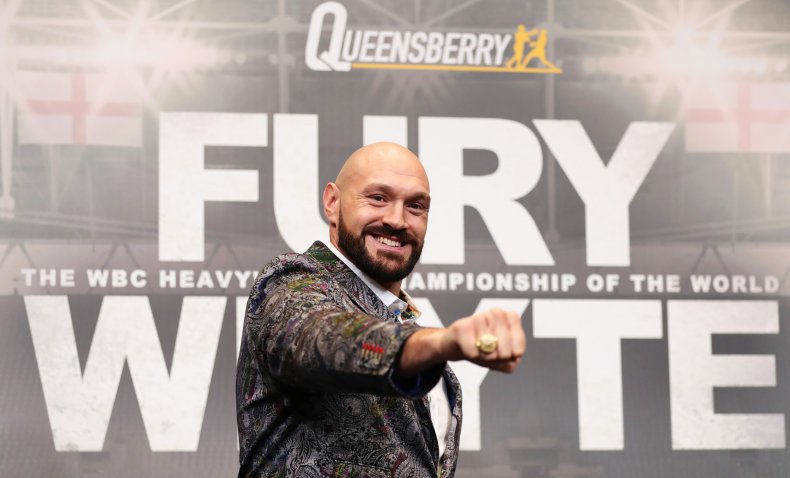 Kinahan co-founded MTK Global which boasts a number of boxing stars on its roster, including "Gypsy King" Fury, the current WBC heavyweight champion.
Kinahan is no longer involved in MTK Global's operation after cutting ties in 2017, according to British newspaper The Sun. But Fury publicly thanked him last year for trying to organize a fight with then world champion Anthony Joshua, and the newspaper reported Fury was pictured posing with Kinahan as recently as February. Fury has previously described Kinahan as a "key adviser."
Newsweek has contacted MTK Global and Fury's boxing promoter Frank Warren for comment.
Christopher Vincent Kinahan Sr., and his sons Daniel Joseph Kinahan and Christopher Vincent Kinahan Jr. are all currently based in Dubai, according to the Treasury Department.
The U.S. State Department offered rewards of up to $5 million for information leading to the arrest or conviction of each of the three men "for participating in, or conspiring to participate in, transnational organized crime." The reward is offered jointly with the Irish police and the National Crime Agency of the United Kingdom.
Claire Cronin, U.S. ambassador to Ireland, revealed details of the rewards and unveiled a "wanted" poster at a press conference, with footage of the event shared on Twitter.
In a statement, U.S. Under Secretary for Terrorism and Financial Intelligence Brian E. Nelson, said: "The Kinahan Organized Crime Group smuggles deadly narcotics, including cocaine, to Europe, and is a threat to the entire licit economy through its role in international money laundering.
"Criminal groups like the KOCG prey on the most vulnerable in society and bring drug-related crime and violence, including murder, to the countries in which they operate. Treasury is proud to have coordinated so closely with our international counterparts, and the U.S. government will continue to use every available resource to dismantle these criminal networks."
Discussing Daniel Kinahan, the Treasury said: "Irish national Daniel Joseph Kinahan (Daniel Kinahan), currently based in Dubai, was designated for acting or purporting to act for or on behalf of, directly or indirectly, the KOCG. Each member of the KOCG reports to Daniel Kinahan, who is believed to run the day-to-day operations of the organization.
"Daniel Kinahan has instructed KOCG members to send money to a variety of individuals serving prison sentences, including a person convicted of attempted murder on behalf of the KOCG, and an individual imprisoned for murder on behalf of the KOCG.
"Daniel Kinahan, who sources large quantities of cocaine from South America, plays an integral part in organizing the supply of drugs in Ireland, and is attempting to facilitate the importation of cocaine into the United Kingdom. Daniel Kinahan is known to have used false identity documents."
As a result of the designation and sanctions, "all property and interests in property of the designated individuals or entities that are in the United States or in the possession or control of U.S. persons must be blocked and reported to OFAC."
Four other Irish men allegedly linked to the group were put on the Treasury's sanctions list, including Sean Gerard McGovern who was described as "Daniel Kinahan's adviser and closest confidant", Ian Thomas Dixon, Bernard Patrick Clancy, and John Francis Morrissey.
Also put under U.S. sanctions were three companies said to be associated with the gang; Nero Drinks Company Limited, a UK-based alcoholic beverage company; Hoopoe Sports LLC, a UAE-based sports management company, and Ducashew General Trading LLC, a UAE-based business management consulting company.
Under the sanctions, the seven men's U.S. credit and debit cards will be blocked and any money they currently have in U.S. banks will be frozen.
The Treasury document adds: "OFAC's regulations generally prohibit all transactions by U.S. persons or persons within (or transiting) the United States that involve any property or interests in property of designated or otherwise blocked persons."
Speaking at a news conference in Dublin, Irish police Commissioner Drew Harris praised the move. He said: "What was implicit is now absolutely explicit. If you deal with these individuals who have been sanctioned, or these entities which are being sanctioned, you are involved in a criminal network."
The Kinahan cartel emerged during the 1990s in Ireland. Media reports have claimed it controls the entire import of Peruvian cocaine into Europe, and controls around a third of the subsequent trade. Since 2016, the group has reportedly been involved in a bloody turf war with a rival group, known as the Hutch gang, that has resulted in at least 18 deaths.
The Treasury referred to these deaths in its statement, and said the killings included those of "two innocent bystanders".
The sanctions were the result of joint work by "the OFAC, the Drug Enforcement Administration, the U.S. Department of State, U.S. Customs and Border Protection, Ireland's national police force (An Garda Síochána), the United Kingdom's National Crime Agency, and the European Union Agency for Law Enforcement Cooperation," the Treasury said.
Update. 04/12/2022 9:45 a.m. ET. This article was updated with additional comments and background.