U.K. Journalist Vows To Boo Prince Harry and Meghan Markle at Coronation
Prince Harry and Meghan Markle could be booed by a prominent U.K. columnist if they attend King Charles III's coronation.
The Duke and Duchess of Sussex's conflict with the British press is among major themes in his book, Spare, which includes some quite personal descriptions of journalists whose articles he objects to.
Relations do not look likely to improve any time soon after Allison Pearson wrote in her column for The Daily Telegraph that she would boo the couple if they came to the coronation, on May 6, 2023.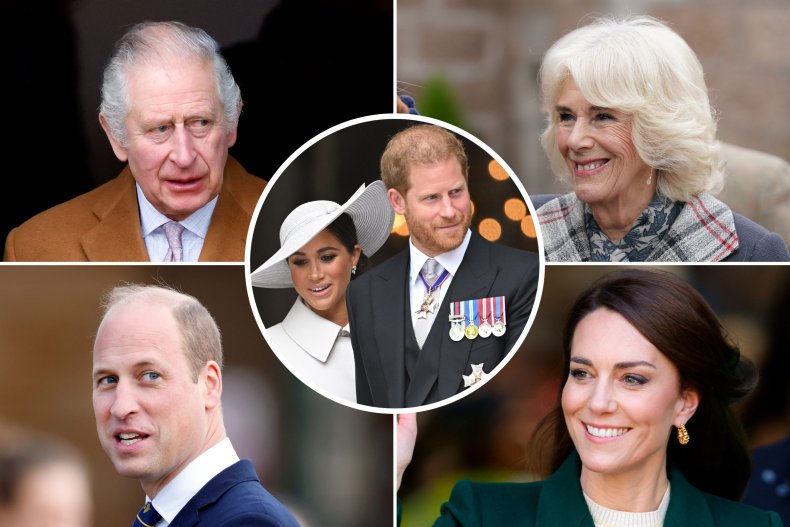 She wrote: "The damage they have dealt to the U.K.'s reputation in the U.S. with their now oddly-muted accusations of 'racism' is incalculable.
"Selling your own grandmother is supposed to be an example of unthinkable ruthlessness, not a business proposition, but Harry did it anyway.
"On no account do we want to see him and Madam made welcome on a landmark date in our country's history. The idea is repellent.
"I'd certainly be among the thousands booing them if they had the nerve to show up."
Pearson recently wrote in a separate January column: "I would far rather have a world full of Jeremy Clarksons than Meghan Markles."
It followed Grand Tour host Clarkson writing a widely condemned article calling for Meghan to be paraded naked through the streets while the public throw excrements at her, which he subsequently apologized for. Harry and Meghan's spokesperson accused Clarkson of spreading "hate rhetoric, dangerous conspiracy theories and misogyny."
Prince Harry and Meghan may still choose not to attend the coronation but there have been reports in the British media, including The Mail on Sunday, suggesting Charles is eager for the couple to be there.
Harry told ITV in January: "There is a lot that can happen between now and then. But, you know, the door is always open, the ball is in their court.
"There's a lot to be discussed and I really hope that they are willing to sit down and talk about it."
Similar debates popped up around the time of Queen Elizabeth II's Platinum Jubilee in June 2022.
Harry and Meghan did attend but were not permitted a spot on the Buckingham Palace balcony, keeping them out of the limelight on the opening day, the Trooping the Colour military parade.
They were only invited to one additional event at St Paul's Cathedral, where there were both cheers and boos, on June 3.
Since then, however, the couple's criticisms of royal family members have accelerated and their U.K. public approval ratings have slipped even lower.
Pearson argued Prince William and Kate Middleton were "clearly doing their level best to help steer the Windsor ship through uncharted, post-Elizabethan waters."
"Yet, now," she continued. "They face the already daunting prospect of the coronation being turned into a nerve-wracking and embarrassing ordeal by the presence of Prince Harry and his wife.
"The King has reportedly asked the Archbishop of Canterbury to broker some kind of peace deal that would enable the Duke and Duchess of Sussex to be present at the ceremony.
"This initiative arises from the dubious belief that the Sussexes' absence would cause a greater distraction than their presence."
"For a sense of the excruciating awkwardness that awaits if the Sussexes do attend the Coronation," she wrote. "Cast your minds back to Harry and Meghan's final appearance as working Royals at a Commonwealth Day service in March 2020.
"It wasn't quite Murder in the Cathedral, but the extended clan was looking daggers at them. The then Cambridges could hardly bring themselves to acknowledge the Sussexes.
"Sophie Wessex pretended to be incredibly interested in the Order of Service, bless her.
"Meghan did her 'I'm so glowing and compassionate, me' routine with a receiving line of enraptured clergymen when she noticed Prince William come in and hastily scuttled along.
"No love lost there. And that was before she told Oprah that Kate made her cry. Things are a hundred times more acrimonious now."