Mother With U.S.-Born Teen With Leukemia Refused Entry at U.S. border, Told to 'Pray to God That He'll Take The Cancer Away'
A 14-year-old girl born in Raleigh, North Carolina, has been left to battle leukemia at Duke University Hospital without her mother at her side, after U.S. Customs and Border Protection (CBP) agents denied her mother entry into the country, reportedly telling her to try praying to god to "take the cancer away" instead.
Ixcell Sandoval Perez was living in Chiapas, Mexico, when she was diagnosed with leukemia, according to ABC 11.
Hoping to receive life-saving treatment in the U.S., she and her mother, Dalia Perez, traveled to the border, where they expected to be allowed to cross.
Despite Ixcell being a U.S. citizen, however, the family told rights group Solidarity Now that they were denied entry after being "detained and treated with callous disregard for two days."
"They took everything away from us," Dalia says in a video produced by Solidarity Now.
"They took us into a room. In the afternoon, they left us in a cold room but it was so cold and my daughter was feeling so sick," she said. "I pounded on the door and shouted for them to open it, but no. My child was so thirsty but no one would listen to me."
According to Solidarity Now, a relative living in the U.S. was able to travel to the border and get Ixcell across.
Dalia, however, was not allowed to enter the country, which Solidarity Now said was yet another case of the Trump administration separating a child from their parent at the border.
Now, Ixcell is reportedly receiving treatment at Duke University Hospital in Durham, North Carolina. However, she has had to do so without her mother at her side.
"It's not easy to be here without her," Ixcell says in the Solidarity Now video. "It's not easy to have her so far away."
After learning about the family's situation, Democratic North Carolina Rep. David Price has written a letter to CBP, asking that Dalia be allowed to cross the border to be with her child.
"You need look no further than the situation of 14-year-old Ixcell Perez, a U.S. citizen in Raleigh battling leukemia while separated from her mother in Mexico, to see that our immigration system is broken," Price said in a statement sent to Newsweek.
"In this heartbreaking case, I have asked immigration officials to use discretionary tools at their disposal—such as waivers and emergency humanitarian parole—to end this unnecessary suffering and reunite mother and daughter during cancer treatment."
While CBP did not immediately respond to a request for comment from Newsweek, in a statement to ABC11, an agency spokesperson said that "generally, applicants for admission into the United States could qualify for various types of benefits offered by the U.S. government."
"U.S. Customs and Border Protection (CBP) is not the only agency that issues paroles," they said, however. "And in this case, it could be appropriate for individual to reach out to Immigration and Customs Enforcement (ICE), and or U.S. State Department."
It is unclear whether Ixcell's family has tried to present her case to ICE or the State Department.
In a statement provided to Solidarity Now National Nurses United (NNU) Executive Director Bonnie Castillo weighed in on the case, saying "nurses know how important it is to have a loved one at your side when you struggle through a difficult treatment like this."
"By blocking her mother at the border, this Administration is causing harm and lasting trauma to both the child and mother," Castillo said. "The pain of Ixcell's illness is being compounded by the added stress of being separated from her mother. The last thing a child needs is this kind of toxic stress when she should be saving all of her physical and emotional strength to fight her cancer."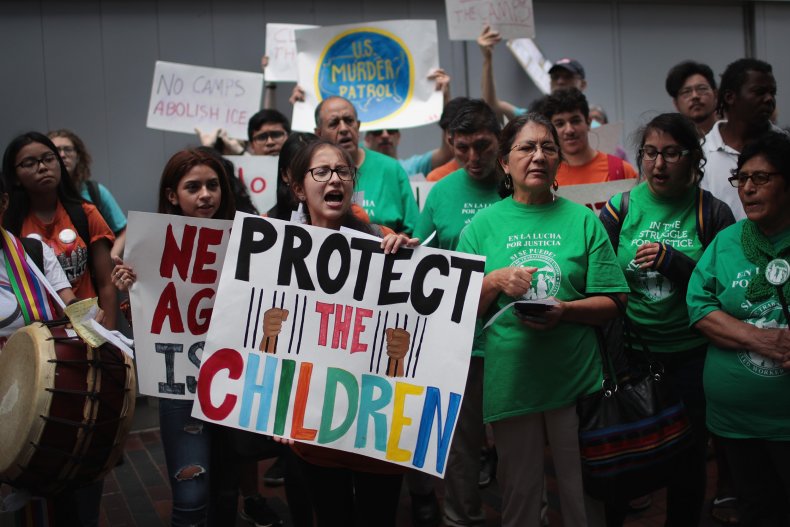 This article has been updated with a statement from Rep. David Price (D-NC).