U.S. and Canada Discuss Militarizing the Border Amid Coronavirus Outbreak
The Trump administration appears is considering the possibility of sending troops to its border with Canada to prevent people from crossing into the U.S. outside designated entry points amid the coronavirus outbreak.
Speaking at daily briefing on the coronavirus pandemic on Thursday, Canadian Prime Minister Justin Trudeau confirmed that the possibility of border militarization had come up in discussions between U.S. and Canadian officials.
Trudeau said that he his government had made clear to U.S. officials that Canada was against any militarization of what continues to be the "longest unmilitarized border in the world."
"It is very much in both of our interests for it to remain that way," Trudeau said.
In a statement sent to Newsweek, however, a senior Trump administration official said the government was "considering every option to help slow the spread of the virus, minimize health threats entering the country, and protect Americans while ensuring essential travel for workers, movement of goods, and security of supply chains are not impeded."
"That is why President Trump has taken comprehensive action with the Governments of Canada and Mexico to protect the health of all three nations as long-standing, trusted partners," the senior official said.
Despite the Canadian government's clear stance on border militarization, the official said the U.S. "continue to consider additional actions to ensure Federal law enforcement personnel at our borders have the resources and operational support needed to address the profound public health threat of uncontrolled cross-border movement during a pandemic."
"Protecting our border is a national security priority and without proper precautions, which can only happen through orderly, lawful entry at the borders, the virus could pose greater risk to migrants, travelers, law enforcement personnel, health care professionals, and all Americans," they said.
"Top U.S. healthcare officials understand that despite our respective guidance on social distancing and sheltering-in-place, the risk of further spread of the virus is too high not to respond in an appropriate and measured way," the official added.
Trudeau's comments and the Trump administration's response comes after Canadian broadcaster Global News first reported that White House officials had been actively considering the possibility of deploying troops to border regions in response to the coronavirus outbreak.
The effort would reportedly be aimed at preventing border crossers from making their way into the U.S. outside designated ports of entry amid the pandemic.
In addition to few people actually crossing from Canada into the U.S. outside designated ports of entry each year, the nation has also, so far, experienced significantly lower numbers of coronavirus cases than the U.S.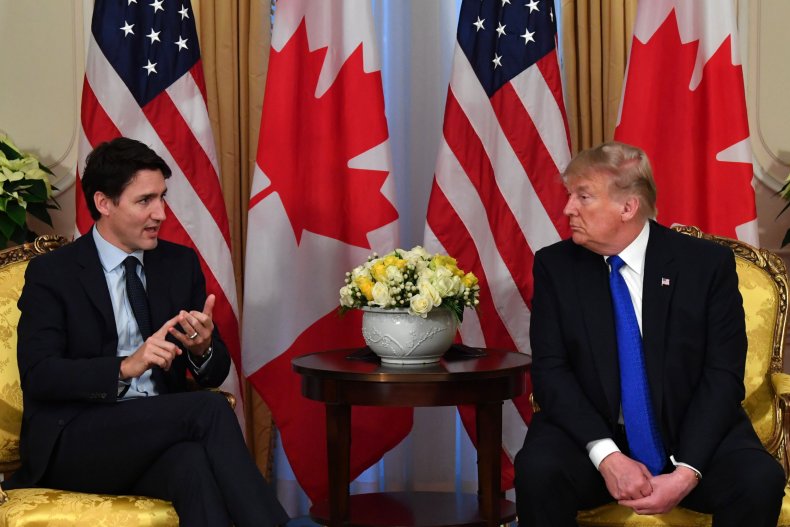 According to a live tracker maintained by the Johns Hopkins University, as of Thursday afternoon, Canada had seen 3,412 confirmed cases of coronavirus, with 36 of cases resulting in death.
Compared to the U.S., which had seen nearly 69,690 confirmed cases of COVID-19 by Thursday afternoon, with 1,049 cases resulting in the death, Canada's numbers appear to be relatively low. Trudeau said Canada "will continue to work with the United States to ensure that border measures we put in place are respected," with the prime minister noting that both countries had agreed to close the border temporarily to all but "essential travelers."
"We will continue to work with the American administration to ensure that we're doing everything we can to keep our country safe and to keep Canadians safe in our case," he said.
However, the Canadian leader said that his government had "highlighted that the fact that the Canada U.S. border is the longest unmilitarized border in the world is something that has benefited our two countries and... economies tremendously."
"And we feel that it needs to remain that way," he said.
This article has been updated with a response from a senior Trump administration official.