American business leaders from an array of industries asked the U.S. government to not impose additional tariffs on $300 billion of goods imported from China, saying that new import duties would harm manufacturer relationships established over decades.
President Donald Trump has threatened to levy additional tariffs on Chinese imports. He floated the possibility of implementing a tariff last month, when he tweeted that he would raise tariffs from 10 percent to 25 percent on $200 billion of products imported from China. Leaders from various sectors have since asked Trump to not levy new tariffs, as doing so would force them to raise prices, hurt their companies and impact consumers.
Since Monday, the United States Trade Representative has held public hearings about the possible implementation of new tariffs. The hearings will continue on Monday and Tuesday, but remarks from some of the more than 300 business and trade group representatives scheduled to speak have emphasized the centrality of Chinese manufacturing to U.S. businesses.
"Approximately 69 percent of all footwear is currently produced in China, and our supply chains cannot easily be shifted to other countries," Mark Schneider, the CEO of Kenneth Cole Productions, explained. "We have worked for many years to build a highly functioning and stable supply chain, and I am concerned with the potential impact on quality, delivery capabilities and value that our American consumer has grown to expect."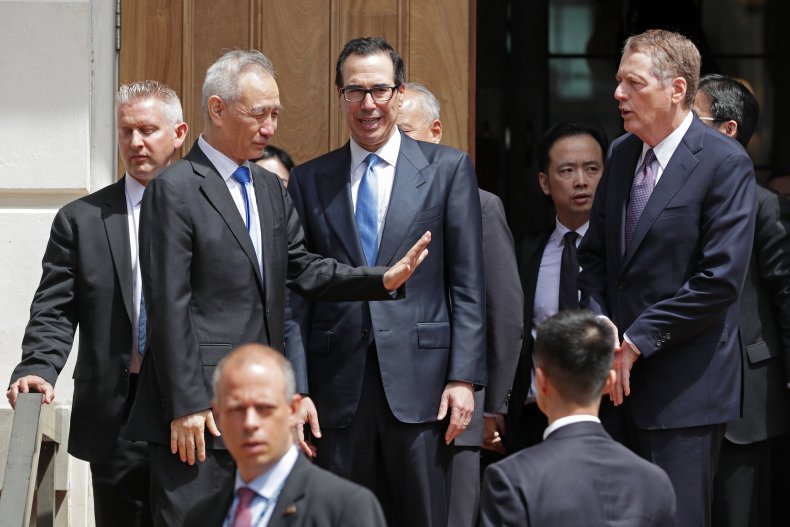 "Even if other manufacturing sources were available, it would take an estimated nine to 18 months to certify and approve new suppliers," said Karen Giberson, the president and CEO of the Accessories Council, a fashion accessory trade organization. "Our members have longstanding partnerships with their China factories who have developed specific skills to manufacture these products."
Speakers detailed the damaging impact that additional tariffs would have on industries ranging from baby products to sport fishing goods. Representatives repeatedly emphasized a point that the Trump administration has sought to deny: The cost of tariffs will be passed on to businesses and consumers.
Noting that the U.S. no longer had markets for certain types of labor, the speakers sought to emphasize that global supply chains for many industries had shifted away from the U.S. CNN reported in 2016 that the U.S. had lost 5 million manufacturing jobs since the turn of the century. A large proportion of these jobs disappeared due to automation, but while American industry suffered, China's blossomed. (The country's manufacturing sector has experienced troubles in recent months). Trump has blamed China for the loss of manufacturing jobs and offered impractical guarantees of reviving such industries, but the speakers at the public hearing attempted to convey that the tariffs would damage, not benefit, U.S. workers.
"American manufacturers may lose share almost immediately to foreign competitors whose products are not made in China and, therefore, not subject to price increases in the form of tariffs. This would include products such as smartphones, computers, and tablets," said Jason Bonfig the Chief Merchant Officer at Best Buy.