U.S. Has Fourth-Highest Number Of COVID-19 Cases After China, Italy And Spain
As of early Sunday morning, the United States appeared to have the third-highest number of coronavirus cases in the world, following only behind Italy and China, according to an online tracker maintained by the Johns Hopkins University. But by 9 a.m. EDT, Spain appeared to surpass the U.S., with the European country's number of confirmed cases on the tracker being updated from 25,496 to 28,572.
That rise pushes Spain's number of confirmed cases past that of the U.S., which, as of 9 a.m. EDT, had 26,747 cases confirmed.
As a result, the U.S. currently has the fourth highest number of coronavirus cases in the world, following only behind China, Italy and Spain, according to the Johns Hopkins University.
In recent weeks, the spread of COVID-19 has continued to expand across the country, with at least 340 of U.S. cases having resulted in death, with New York and Washington state sharing the brunt of those deaths from the new coronavirus, with 94 and 76, respectively.
The numbers represent a significant rise from earlier this week, with confirmed cases doubling since Thursday, when the U.S. had seen 13,000 people affected.
The surge in numbers could be connected to the expanded rollout of testing in the U.S., with President Donald Trump announcing on Wednesday that further steps would be taken to broaden testing services.
Officials had warned at the time that the expansion of testing could see more positive cases identified in the U.S.
New York Governor Andrew Cuomo was among those to warn Americans they would see a surge in numbers, with the governor saying at a press briefing on Thursday that the state had tested 22,000 people, with 7,500 of those being tested on Wednesday alone.
"Why are you seeing the numbers go up? Because you are taking more tests," Cuomo said, according to FOX News. "People see those numbers go up, they get nervous, they panic. 'Look at how many more people have the virus.' That's not how many more people have the virus, you're just taking more tests so you're finding more positives."
Still, the number of confirmed cases in the U.S. has raised alarm, with NYC Health Commissioner, Dr. Oxiris Barbot, warning that a daily death toll in the double digits could become a norm in the city.
"I wouldn't be surprised if we get to a day when we have double-digits new people dying every day," she said at a City Hall press conference on Friday.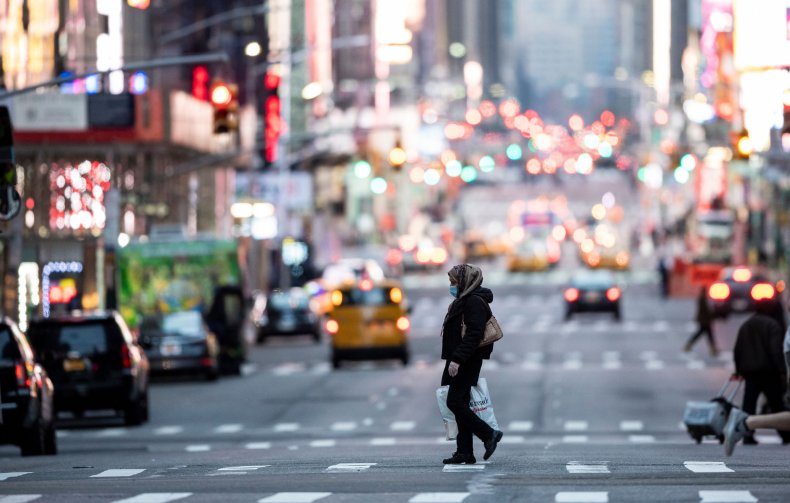 The growing spread of the virus has seen the U.S.'s number of confirmed cases surge past those in Germany, and Iran, which had also seen numbers soar in recent weeks. As of Sunday morning Germany had seen 22,364 cases, with 20,610 being confirmed in Iran.
The numbers of coronavirus-related deaths, however, are higher in Iran, with the country seeing 1,556 deaths. Germany, meanwhile has seen 84 people die as a result of the virus.
The U.S. is still tens of thousands of cases away from reaching the numbers seen in China and Italy, with China seeing 81,394 cases, with 3,265 of those resulting in death, while Italy has seen 53,578 cases, with a higher number of deaths: 4,825.
Globally, there have been at least 311,988 confirmed cases as of 9 a.m. EDT, with at least 13,407 confirmed dead.
This article was updated at 9:30 a.m. EDT
World Health Organization advice for avoiding spread of coronavirus disease (COVID-19)
Hygiene advice
Clean hands frequently with soap and water, or alcohol-based hand rub.
Wash hands after coughing or sneezing; when caring for the sick; before; during and after food preparation; before eating; after using the toilet; when hands are visibly dirty; and after handling animals or waste.
Maintain at least 1 meter (3 feet) distance from anyone who is coughing or sneezing.Avoid touching your hands, nose and mouth. Do not spit in public.
Cover your mouth and nose with a tissue or bent elbow when coughing or sneezing. Discard the tissue immediately and clean your hands.
Medical advice
If you feel unwell (fever, cough, difficulty breathing) seek medical care early and call local health authorities in advance.
Stay up to date on COVID-19 developments issued by health authorities and follow their guidance.
Mask usage
Healthy individuals only need to wear a mask if taking care of a sick person.
Wear a mask if you are coughing or sneezing. Masks are effective when used in combination with frequent hand cleaning.
Do not touch the mask while wearing it. Clean hands if you touch the mask.
Learn how to properly put on, remove and dispose of masks. Clean hands after disposing of the mask.
Do not reuse single-use masks.
Updated: This article has been updated to reflect new data on the spread of coronavirus.