Today America Marks The 47th Anniversary Of Roe v. Wade, But Experts Warn The Supreme Court Ruling Might Not Make It To 50
For abortion rights activists across the country, Wednesday's 47th anniversary of Roe v. Wade, the landmark Supreme Court ruling that established the right to abortion in the United States, comes as bittersweet.
While the protections afforded by the 1973 ruling are something to celebrate, Mary Ziegler, a professor at Florida State University's College of Law who specializes in the legal history of reproduction and the Constitution, told Newsweek, any celebrations of Roe v. Wade feel overshadowed this year by the possibility that the ruling may soon be overturned.
"I think about the anniversary every year. Most years, people are looking back at what the legacy has been," Ziegler said. This year, however, "there are genuine concerns about the long-term future" of Roe.
"So, instead, of taking stock of the legacy and people talking about it's legacy being good or bad, it's more about the future being uncertain," Ziegler said.
The uncertainty around the future of Roe, of course, is pinned on the Supreme Court's five-justice conservative majority following the confirmation of Justice Brett Kavanaugh, who joined the court despite his bid being mired in controversy by allegations of past sexual misconduct.
In the months following Kavanaugh's confirmation, Ziegler said, "I would have given [Roe] at least five years." However, with recent efforts across the country to try to push anti-abortion legislation forward, the reproductive rights expert said "it may be that Roe doesn't make it to 50."
'The closing of a chapter'
If Roe were to be overturned, however, Ziegler and other experts have said that would not necessarily spell out the end for protections for abortion access.
However, that responsibility, the Florida professor said, would fall to individual states, if were the Supreme Court ruling were to be overturned.
"If Roe is overturned, it's the closing of a chapter," Ziegler said. "But, it's just as much the beginning of an important story."
"If the U.S. Supreme Court overturns it, that wouldn't be the end of the debate," she said.
The argument is one that other reproductive rights advocates have made, with Andrea Miller, the president of the National Institute for Reproductive Health, recently telling Newsweek that losing Roe does not mean the battle for protection of abortion rights is lost.
"The Supreme Court matters. It matters a lot," Miller said, speaking to Newsweek earlier this month. "But, it does not have the ultimate last word." At the end, she said, that power will lie with states, which, in a world without Roe, would have more power to "do harm" or to "do good."
Over the past year, states across the country have raced to introduce new legislation that would either strengthen or weaken abortion access in the event that Roe is overturned by the Supreme Court.
'Patchwork of access'
While states like Alabama have sought to enforce stringent restrictions to abortion care, a study published by the NIRH found that there were also "a record 147 bills" seeking to protect and expand reproductive freedom in 2019."
In Illinois, New York and Vermont, to name a few, state leaders "enacted laws that codify a fundamental right to make reproductive health care decisions, including the decision to have an abortion," according to the NIRH's report. Meanwhile, "Nevada decriminalized self-managed abortion so that women do not risk prosecution for ending a pregnancy."
Already, Miller noted, there is a "patchwork of abortion access" from state to state, even with Roe in place.
"We already have people in many places for whom abortion access is completely difficult, if not completely out of reach," Miller said.
If states were to enforce anti-abortion laws if Roe were overturned, Ziegler said it would likely be the most vulnerable residents seeking abortion care who would suffer the most.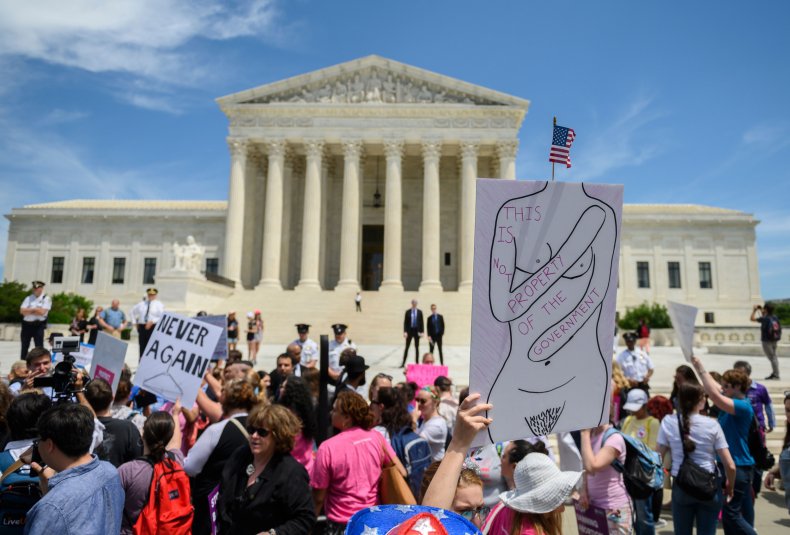 "If you're a very well to do woman in the state of Alabama," Ziegler said, for example, "it wouldn't be that hard for you to circumvent the rules. If you're low income...that's not going to be as true."
Further, she said, it would still remain to be seen whether states would consider "punishing women for traveling to states to [other] states to get abortions."
In a statement shared with Newsweek, Jenny Lawson, the Executive Director of Planned Parenthood Votes said: "Roe has never been more at risk than it is at this very moment."
"This isn't happening by accident, but by design—and we can put names and faces to the politicians who got us here with every abortion ban they supported and every extreme judge they confirmed," Lawson said. "For too long, anti-abortion lawmakers have ignored the calls of their constituents who support safe, legal abortion."
"It's time to hold the Trump administration and its buddies in Congress and state legislatures accountable for their shameless attacks on reproductive health and rights," Lawson said, before adding: "November is coming."
'There is no end point'
Ultimately, however, Ziegler said, even if Roe does end up being overturned, the abortion debate is one with "no end point."
Abortion rights activists would simply take up the space where anti-abortion activists presently stand, seeking to force the issue into Supreme Court once again in a bid to see abortion rights once again protected.
"If you think about how, here we are, however many decades later, still talking about the reversal of Roe, you would expect to see something similar[from abortion rights advocates if the ruling was overturned,] Zeigler said. "Two can play at that game."
"The Supreme Court as it is currently constituted won't last forever," Ziegler said. So, while today's Supreme Court may very well see Roe overturned, a future court could see the right to abortion protected once again.
"The clearest thing is that regardless of what happens to Roe, there is no end point," Zeigler said.
This article has been updated with a statement from Planned Parenthood Votes.