The Department of Homeland Security has seen a more than 20 percent decrease in U.S. Border Patrol apprehensions at the U.S.-Mexico border the second the month in a row since May's record-breaking levels.
DHS Acting Secretary Kevin McAleenan announced the drop in a press release on Thursday, asserting that while the situation at the border "is improving by every available metric" the U.S. is still seeing irregular crossings at "beyond crisis levels."
"Just two months ago, CBP apprehended or encountered 144,000 individuals crossing our border illegally or presenting without documents at Southwest border ports of entry—the highest monthly total in 13 years," McAleenan said. In July, that number was 82,000, a 43 percent decrease from May and a 21 percent decrease from the June numbers."
Still, the DHS chief maintained: "I want to be very clear that we remain at and beyond crisis levels in illegal crossings, even as our initiatives to address irregular flows and mitigate humanitarian conditions are making an impact."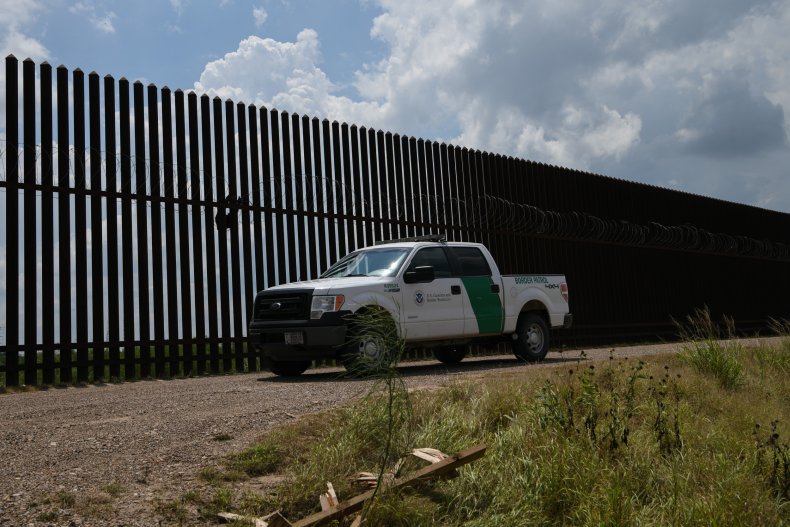 McAleenan credited the U.S.'s "partnerships" with countries in Central America's Northern Triangle, which is comprised of Guatemala, Honduras and El Salvador.
The DHS head specifically praised the U.S.'s controversial so-called "safe-third country" agreement with Guatemala, which requires migrants passing through the Central American country to seek asylum there rather than in the United States, for helping lower the number of arrivals at the southern border.
"Our partnerships with the countries of the Northern Triangle, especially Guatemala, have been increasingly effective at stemming irregular migratory flows," McAleenan said.
"We continue to see Mexico making a significant effort on their border between Chiapas and Guatemala, as well as on the transportation routes of human smugglers—and we need them to continue to sustain this," he added.
The graphic below, provided by Statista, illustrates how border apprehensions increased every month in 2019 until May's record-breaking levels. There has now been a decrease in border apprehensions for the second month in a row.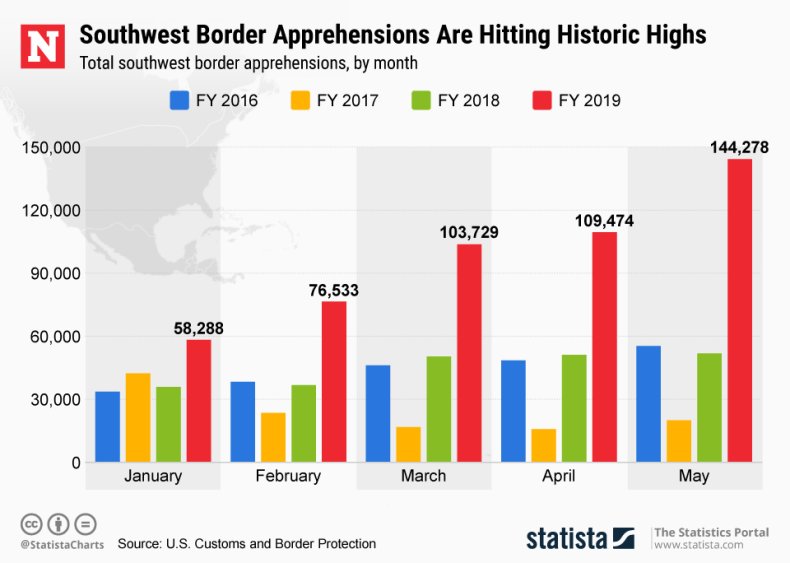 According to U.S. Customs and Border Protection data, the total number of July "enforcement actions" for people caught crossing the border from Northern Triangle countries decreased by 26 percent from June, with the most significant drop seen in migrants coming from Guatemala at a 41 percent decrease.
Meanwhile, U.S. immigration officials saw a 21 percent drop in those coming from El Salvador, as well as a 16 percent drop in migrants coming from Honduras since June. The number of people arriving at the border from Mexico also decreased by 11 percent from June.
The decline also saw a significant decrease in the number of unaccompanied minors and family units arriving at the border, with arrivals dropping by more than 50 percent from May to July.
"These reductions in flows, combined with the $4.5 billion dollars in emergency supplemental funding we requested on May 1st and received from Congress six weeks ago, have allowed us to dramatically mitigate the challenging overflow conditions in our border facilities," McAleenan said. "We have been able to eliminate long waits in border stations and reduce the number of children in custody at the border."
"While our efforts are working," the DHS chief said, however, "the volume of migrants crossing our southern border remain at crisis levels."
"To address this crisis, we will continue to collaborate with our international partners and seek the targeted fixes to our immigration laws from Congress," he maintained.