U.S. Sought To Promote Face Mask Suppliers Abroad in Mid-March, Despite Shutting Exports Program Down
The U.S. Department of Commerce continued to suggest that its Healthcare Team assist buyers in other countries with accessing U.S.-manufactured personal protective equipment, even after it shut down a program aimed at promoting U.S. goods to China over fears that the country might not be able to meet national demand.
Documents obtained by Rep. Lloyd Doggett (D-Texas) and reviewed by Newsweek suggest that Department of Commerce (DOC) officials told workers with its healthcare team, which is tasked with enhancing the global competitiveness of the U.S. health industry, to refer at least one buyer to a website promoting U.S. manufacturers of personal protective equipment (PPE) as recently as March 13.
In an excerpt from an internal Commerce Department email sent that morning, two days after the World Health Organization (WHO) declared the coronavirus outbreak a pandemic, a department official told the domestic healthcare team that "due to the ever increasing domestic demand and limited supplies, unfortunatly [sic], we are reluctant to promote export leads to our U.S. suppliers."
Instead of directly sending export leads to U.S. suppliers, the DOC official suggested that the healthcare team instead refer the buyer to ThomasNet, which the official described as a "searchable database" that "includes many U.S. suppliers that they could contact directly.
As far as Newsweek is aware, there was only one such instance of a DOC official referring an international buyer to ThomasNet.
The email would have been sent nine days after March 4, the day the DOC told Newsweek on Sunday that it had officially ended a program seeking to promote U.S.-manufactured PPE to China amid rising national demand.
As The Washington Post first reported, the program, titled the "CS China COVID Procurement Service," had been created as part of an effort pushing U.S. manufacturers to ship protective gear to China.
Documents reviewed by Newsweek show that the Commerce Department released a flyer on February 26, at a time when the global impacts of the coronavirus outbreak were becoming increasingly clear, outlining the "CS China COVID Procurement Service".
According to the flyer, CS China staff were tasked with consulting closely with U.S. companies to "determine sales opportunities," promoting companies to applicable officials, guiding U.S. companies "throughout" and even translating a "one page company introduction."
On March 3, the same program was touted once again, as an official at the U.S. Embassy in Beijing also appeared to promote the "new service" to colleagues in an internal email seen by Newsweek.
The program was shut down just a day later on March 4, with a senior DOC official telling Newsweek that senior leadership at the International Trade Administration (ITA) had ordered officials to stop the program.
Despite the program being shut down, however, the March 13 email obtained by Doggett suggests that the DOC continued to push for buyers abroad to be referred to U.S. manufacturers, even as national demand for PPE grew.
"Even though they may have retreated from this policy...they never sent forward a message as this heightened in March to discourage those exports," Doggett told Newsweek in a phone call. "All they said was 'accomplish it another way.'"
Noting that March 13 was also the day when President Donald Trump declared that he did not take "responsibility at all" for the U.S.'s slow rollout of coronavirus testing, Doggett added in a separate statement that he was disturbed to discover that "on the same day that Trump declared, 'I don't take responsibility at all,' his Administration apparently paused its promotion efforts, while suggesting other ways to continue exports."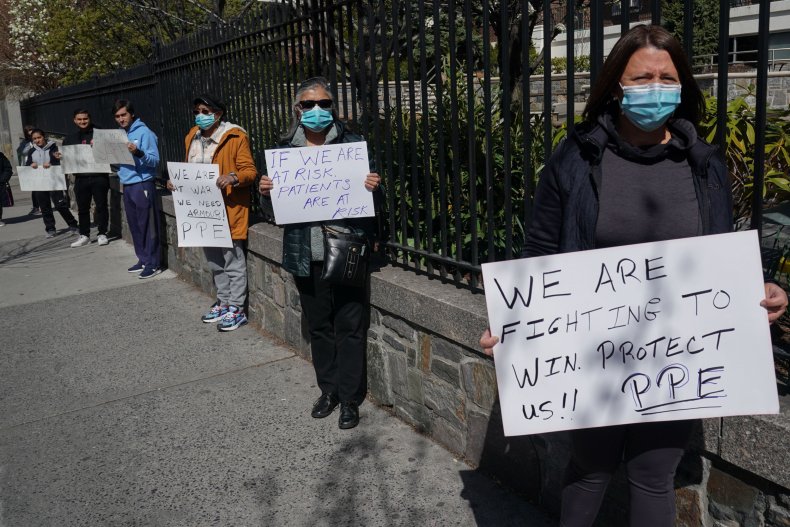 "Instead of preparing to protect Americans, the Trump Administration actively promoted greatly increased export of the very medical gear that our health care professionals and first responders have so desperately needed and the lifesaving equipment that our hospitals lack," the Texas representative said.
Doggett said he was also not convinced that the DOC did not do enough to make clear that its program promoting U.S.-manufactured PPE had been shut down in the weeks following its closure or that exports of PPE were not being encouraged.
An excerpt from an email sent out on the afternoon of March 23, however, does appear to relay to the fact that the domestic Healthcare team "has been advised to stand down on proactively promoting export leads to our U.S. clients."
"As you can imagine, this is due to quickly increasing number of U.S. COVID-19 cases and growing domestic demand for equipment," the excerpt states. "Furthermore, we are confronted with questions on whether the USA has enough supply to meet these demands—let alone the surplus to export."
"I understand this puts us at odds with our mission to promote the exports of U.S. products and services," the email excerpt adds. "However with the U.S. moving into total lock down there is still a lot of uncertainty surrounding the situation."
With the U.S. having sold tens of millions of dollars' worth of PPE to China in January and February, Doggett said he feared that March's export data would reflect similarly high numbers.
"While the March export data has yet to be released, there is every reason to expect it will show even more was shipped abroad," Doggett said. "And the huge increase in exports of essential protective gear and lifesaving equipment in January and February shows that the Trump promotion worked."
In weeks since the outbreak began in the U.S., the country has struggled with a shortage of face masks and other personal protective equipment amid a surge in the number of confirmed cases and deaths across the country, with 40,702 coronavirus cases in the U.S. resulting in death.
In recent days, Doggett said, "Trump has tried to shift responsibility to states and localities for getting the same equipment that his administration still wanted to send abroad [in mid-March.]
"This is hardly an America First policy, just another one of his multiple failures that are costing American lives," he said.
Newsweek has contacted the DOC and the White House for comment.
Correction (5 p.m. ET): This headline and body of this article have been corrected to remove suggestions that the March 13 Commerce Department email was related to exports to China, as had been relayed to Newsweek. The March 13 email was related to a country abroad.