U.S. 'Totally Unprepared' to Deal With Recession Warns Union Bank Chief Economist As Budget Deficit to Exceed $1 Trillion in 2020
As speculation mounts that the U.S. could soon find itself in the grips of a recession, economists warn the federal budget deficit is plotting an "unsustainable" course.
The director of the Congressional Budget Office (CBO) has said the estimate for the 2019 deficit has spiked by $63 billion since May, the month of its last projections.
Long-term deficits are expected to be larger than previously projected, the office noted in a report published yesterday, as its economists confirmed that the projection of the cumulative deficit over the 2020–2029 period is now predicted to be $809 billion larger than it was in May.
The federal budget deficit is the shortfall of government income, and occurs when the nation's expenses exceed its revenue. At the basic level, a recession is a sustained period of economic decline when economic activity significantly shrinks over two consecutive quarters.
Federal debt held by the public is now projected to grow from 79 percent of GDP in 2019 to 95 percent in 2029, the highest level since just after World War II. By the next fiscal year, which starts October 1, the deficit will exceed £1 trillion, CBO reported.
The federal budget deficit averages $1.2 trillion between 2020 and 2029 and, over the coming decade, deficits will "fluctuate between 4.4 percent and 4.8 percent of gross domestic product (GDP)," the CBO report notes. That figure is well above the average over the past 50 years.
"The nation's fiscal outlook is challenging," said CBO director Phillip Swagel, the same day as president Trump continued to play down recession fears via his Twitter profile.
"Federal debt, which is already high by historical standards, is on an unsustainable course, projected to rise even higher after 2029 because of the aging of the population, growth in per capita spending on health care, and rising interest costs," Swagel continued.
"To put it on a sustainable course, lawmakers will have to make significant changes to tax and spending policies—making revenues larger than they would be under current law, reducing spending below projected amounts, or adopting some combination of those approaches."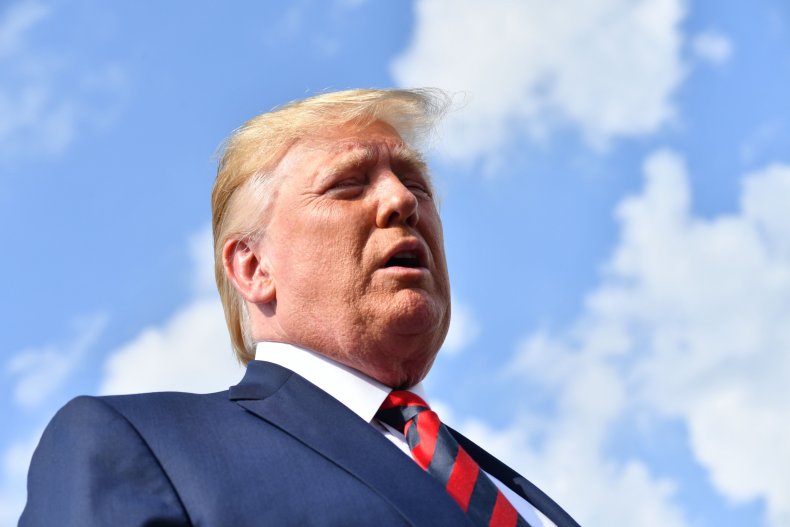 As financial experts mull over America's economic destiny, the chief financial economist at MUFG Union Bank, Chris Rupkey, told The Washington Post that Congress and the Federal Reserve would be unable to combat a recession if it were to take hold. "Both sides are out of bullets," he said. "I've never seen a situation where there's a recession cloud on the horizon but Washington is totally unprepared to deal with a downturn in the economy."
As reported by CNBC, there have been mixed messages emerging from the White House on the topic of the economy. Earlier this week, Trump lashed out at the Federal Reserve and its chair Jerome Powell while accusing the media of attempting to "'create' a U.S. recession."
The president wrote: We are competing with many countries that have a far lower interest rate… Wake up Federal Reserve. Such growth potential, almost like never before!"
Trump made similar remarks to reporters in New Jersey over the weekend, saying that he was "prepared for everything" before adding: "We're doing tremendously well."
Conflicting with optimism, CNN reported Monday that financial experts believe that the potential of a recession is "real and growing." Despite a still-solid economy, experts cite the trade war with China and stock market volatility as indicators of concern.
Earlier this month, Bank of America's economics chief Michelle Meyer wrote in a note to clients: "Our official model has the probability of a recession over the next 12 months only pegged at about 20 percent, but our subjective call based on the slew of data and events leads us to believe it is closer to a 1-in-3 chance." The predictive note was first reported by CNBC.