Mike Pompeo Says Britons Died from COVID-19 Because WHO 'Bought' by China
The U.S. Secretary of State Mike Pompeo has told Members of Parliament that the reason British COVID-19 victims died was because the director-general of the World Health Organization (WHO) was "bought by China".
Pompeo was on a two-day visit to the U.K. to discuss what he described as "shared security challenges" and has already met with U.K. Foreign Secretary Dominic Raab and Prime Minister Boris Johnson to discuss rising tensions with China as well as 5G telecommunications and a potential U.S.-U.K. trade deal.
At a private meeting with members of parliament (MPs), organized by the Henry Jackson Society, Pompeo is reported to have told them: "This is a political, not a science-based organization.
"When push came to shove, when it really mattered most, when there was a pandemic in China, Dr. Tedros, who was... bought by the Chinese government, I can't say more, but I'm saying this on a firm intelligence foundation, a deal was made... and when push came to shove, you get dead Britons."
The extraordinary attack on Director-General Tedros Adhanom Ghebreyesus comes after rising tensions between the U.S. and the WHO during the COVID-19 pandemic, with President Trump withdrawing from the body over its handling of the pandemic and for being too close to China.
The U.S. decision to withdraw from the WHO comes at a time when it has more than 3.8 million COVID-19 cases and more than 140,000 deaths.
Responding to the claims, the WHO said in a statement: "WHO is not aware of any such statement but we strongly reject any ad hominem attacks and unfounded allegations.
"WHO urges countries to remain focused on tackling the pandemic that is causing tragic loss of life and suffering."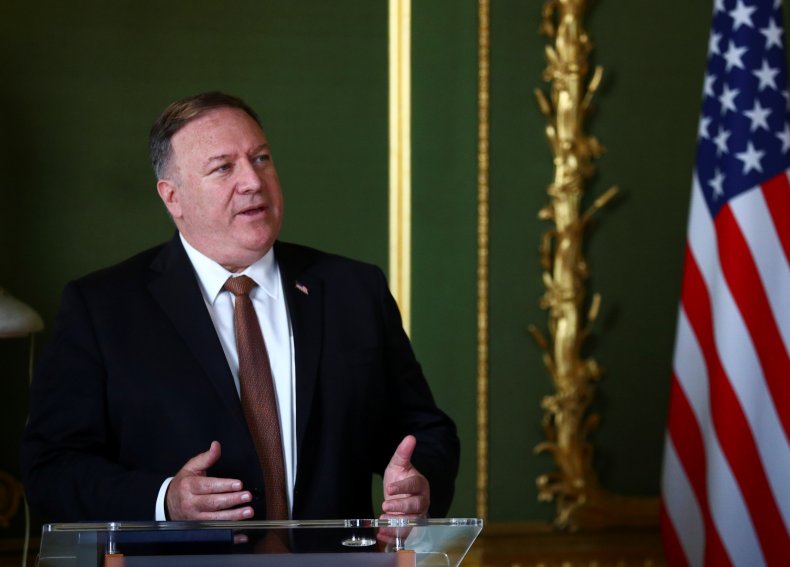 Meanwhile, Raab has denied claims that the U.K. has been "strong-armed" by the U.S. into adopting a tougher approach towards China after deciding to ban Huawei from the country's 5G network.
Raab told a press conference: "I don't think there is any question of strong-arming. Mike and I always have constructive discussions."
The U.K.'s decision over Huawei was welcomed by Pompeo who said the country had taken a sovereign decision over the technology company.
Pompeo said: "I want to take this opportunity to congratulate the British government for its principled response to these challenges.
"I think the United Kingdom made a good decision, but I think that decision was made not because the United States said it was a good decision, but because leadership here in the United Kingdom concluded the right thing to do was to make that decision for the people of the United Kingdom."