U.S. Planning to Use ICE Deportation Flights to Bring Stranded Americans Home
The U.S. government is expected to use deportation flights to bring Americans stranded in Latin America back home amid the coronavirus outbreak, a senior State Department official has said.
Speaking on background at a media briefing on Monday on efforts to support Americans who have requested the State Department's help to come back home, officials said they were aware of some 13,500 U.S. citizens abroad seeking assistance.
Some of those, one senior official who was not identified said, are seeking help returning to the U.S. from Latin America, where deportation flights continue to fly out from the U.S.
Those deportation flights, chartered by the U.S. Immigration and Customs Enforcement (ICE) agency, will likely be used to bring Americans back home.
The senior State Department official made the assertion while discussing the various ways that Americans were being brought back home from abroad.
One way, the official said, was by using the "K Fund," a special fund authorized by Congress for use in unexpected emergencies. Already, the official said, the U.S. has organized a number of flights using the K Fund, with more flights expected to take place this week.
The official later said the State Department was working with the Department of Homeland Security, which they said was still flying planes into Central America and was preparing to bring Americans back on those aircraft.
After being asked by a journalist to clarify whether that meant flights that are deporting migrants back to Latin American countries would be used to bring stranded Americans back to the U.S., the official confirmed that was accurate.
The Department of Homeland Security and ICE Enforcement and Removal Operations unit, which oversees arrests and deportations, they said, had shown a willingness to use deportation flights to bring U.S. citizens home.
It is unclear if ICE deportation flights have already been used to bring Americans back onto U.S. soil.
To date, the senior State Department official said, the U.S. has helped bring some 5,700 people back to the country.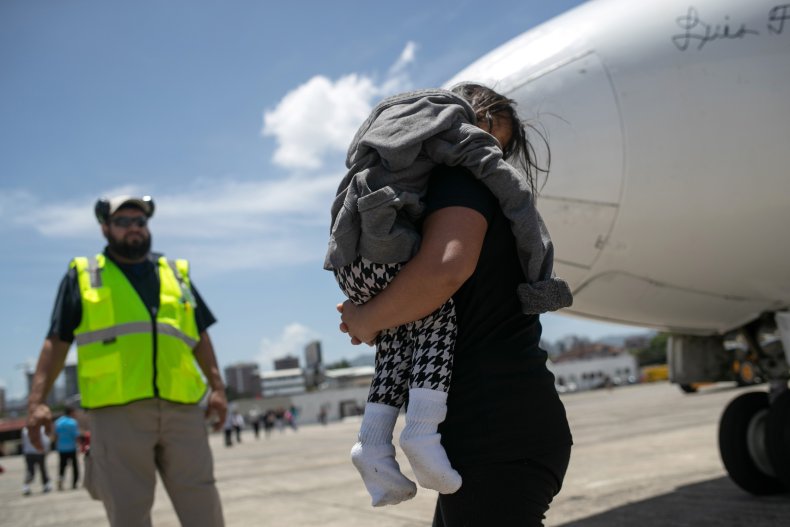 As many as 1,200 were brought back from Morocco last week, they said, while more than 800 had been brought back from Wuhan, China, in late January and some 300 had been brought back from Yokohama, Japan.
The official said that some Americans had also returned from Central America, though it is unclear exactly how many.
They could not say how many countries people had been flown back to the U.S. from at the time of the press briefing.
Newsweek has contacted the DHS and the State Department for further comment.