UA Flow Velociti Wind Review: Running Shoes That Are Both Smart and Fast
Under Armour's latest running shoes, the Flow Velociti Wind, do away with outsole rubber on the bottom in favor of shedding that extra weight. The Flow midsole foam does double duty on both cushioning and traction. The company is even confident enough in the performance of the Flow Velociti Wind shoes to promise extra grip.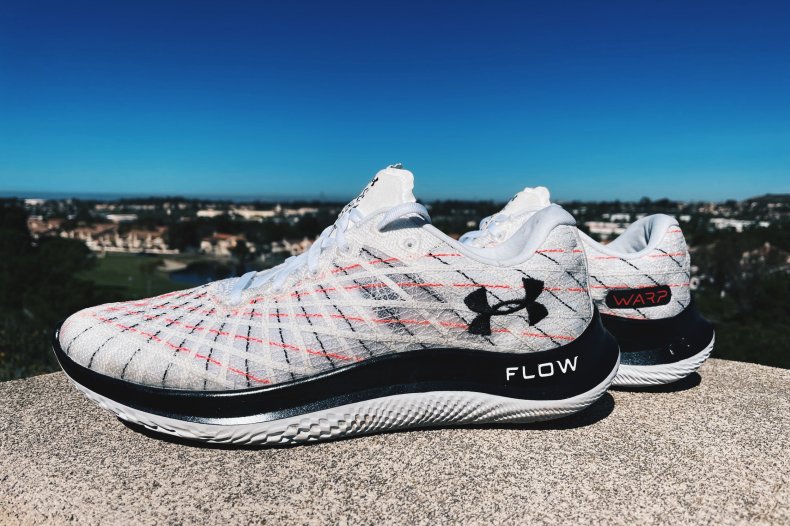 If you're a runner looking for new, lightweight, fast shoes, this one should surely pique your interest. It probably brings up at least a few questions, too, not least of which is, If running shoes can be made without outsole rubber, why do most other running shoes still have it? I had the same question, among others.
In trying out this new running shoe, I took it on a dozen runs of varying speeds and various lengths. I personally have some quibbles with it around sizing—most people should probably order a half size up from normal—but on the whole, it delivers what Under Armour says it will. So maybe more shoes will continue this trend of doing away with the outsole in the future.
Design and Fit
I wore the white color, which has a black line across the midsole area and features reddish pink lines throughout the upper. It's not my style exactly, but I think it's a fun color choice. There are safer colors available, like black and blue, but there's also a bold Venom Red on offer at launch among men's options. The women's models include teal and pink colors, in addition to black and white.
The fit of the Flow Velociti Wind is my single biggest disappointment. I typically wear a U.S. 10.5, but in that size, in these shoes, I constantly felt cramped in the toe box. I tried re-lacing the shoes and adjusting them multiple times, but nothing changed that smashed-toes feeling. After the first 15 miles or so, the shoe did stretch out a little, but still not enough to alleviate pressure on both big toes. Beyond that size concern, which can be solved by going up a half size, the overall fit felt really nice.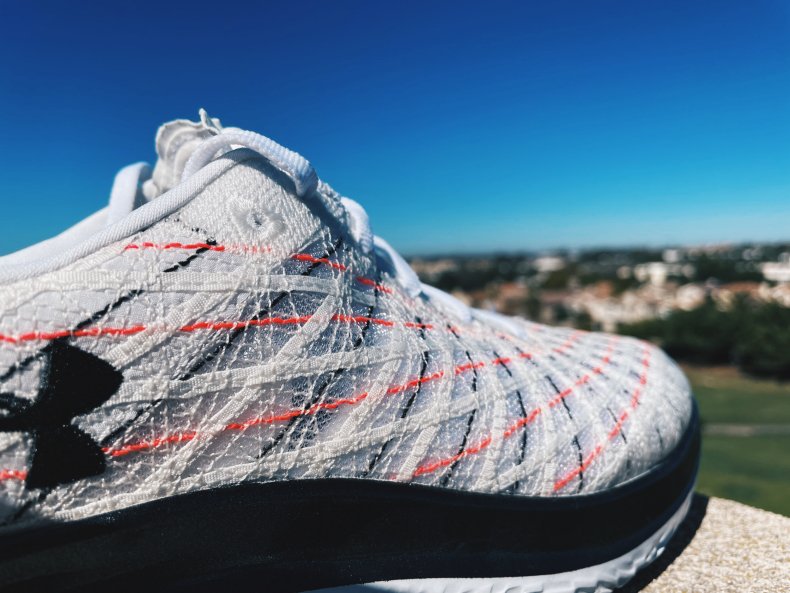 The heel was snug and plush around my ankle. The upper never seemed sweaty or too constrained, but it felt very secure, like a wrap-around hug. Because they fit so close and are lightweight, the Flow Velociti Winds felt close enough to being a second layer of skin. I don't have much experience in barefoot shoes, so I can't say how comparable they are there. But the Flow Velociti Winds felt incredibly nimble, quick and aggressive.
I think it's worth noting that the laces are really nice. Laces can easily be replaced, so they probably shouldn't ever be a deal breaker for a particular shoe, but it's welcoming when both the shoes and laces are equals. In this case, the laces have a touch of padding, no unnecessary stretch and lock tight when knotted.
Features and Specs
UA Flow Velociti Wind's advertised features and specs:
Offset: 8 mm
Weight: 8.5 ounces
Tracks and analyzes your running metrics with Bluetooth technology
Warp upper
One-piece Flow midsole
The outsole material increases ground traction
Performance
The big headline with the UA Flow Velociti Wind is the midsole and outsole foam, so I didn't initially realize these shoes feature an embedded Bluetooth tracker, as well. UA has used this Bluetooth tracking technology on other shoes, but it was new to me. I was very excited to see if it could help uncover any data I could use to improve my runs.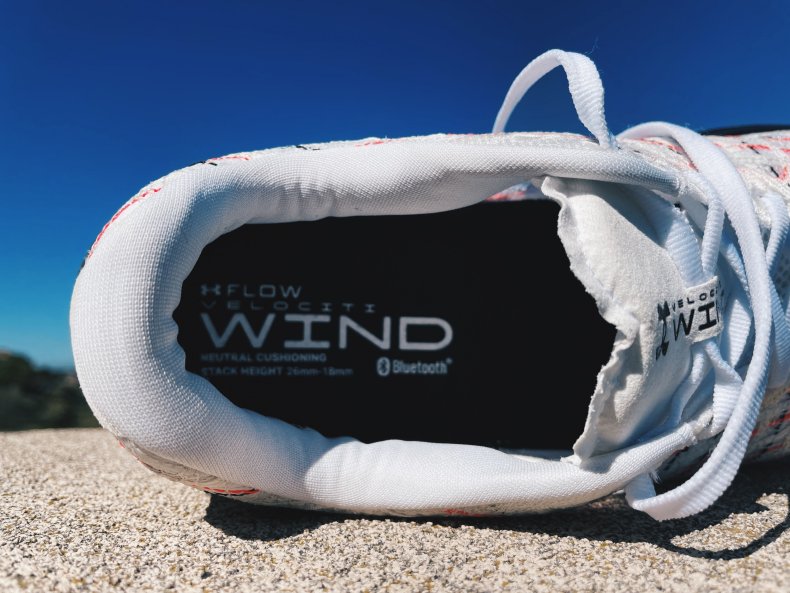 Once you pair the shoes with UA's Map My Run mobile app, you'll see synced stats and coaching recommendations based on your data. There is real-time coaching available if you bring your phone on your runs, but I never bring my phone, so I didn't experience that coaching feedback. I did, however, scour the information it provided when I returned home. Apple Watch provides accurate information around pace, heart rate and cadence, so that information was less interesting, but the shoes have a unique insight into your running form.
The app specifically calls out things like ground contact time and foot strike angle. I'm interested in casually improving my running, as I suspect many people are, and this type of insight is the perfect way to do that. Even just knowing my foot strike angle and ground contact time were being tracked helped motivate me in the middle and at the end of my runs. The information in the app also helped explain what these things were and why they were important. Under Armour did a good job with this shoe-tracking feature.
There's a Bluetooth accessory embedded in the right shoe that does the tracking and communicates with its mobile app counterpart. It's a very passive feature with no controls—not even an on and off button. I also couldn't find any place where it said how long the Bluetooth chip would work. There are no batteries to replace and plug to charge them. Would it stop working at some point? I'm not sure. Still, the Bluetooth addition is really cool and gets a big thumbs-up.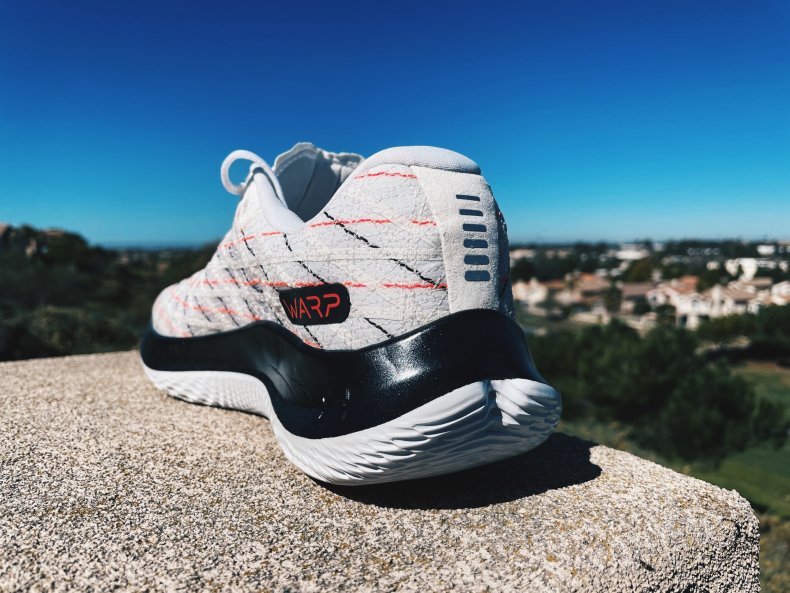 On the shoe performance side, I was able to head out after it had rained to see how the traction held up. I never slipped or had any moments that the shoes didn't feel grippy, even on the puddle-filled sidewalks. Of course, I haven't really slipped or slid around in past similar weather conditions in more traditional running shoes, either. In everyday dry conditions, the Flow Velociti Wind gave the push-off grippiness I was looking for and expected.
Heading up hills is when I appreciated the unique aspects of the Flow Velociti Wind shoes the most. The lightweight and nimble feel paired with some energy return felt noticeable in conquering rising elevation.
The bottom of the shoes wore better than I expected. I've tried out other lightweight shoes that showed much more wear in less time. I'm thoroughly impressed by the mid- and outsole construction. It appears to be durable and doesn't immediately show signs of excess wear. I can see more brands trying similar strategies for reducing the weight of their running shoes in the future.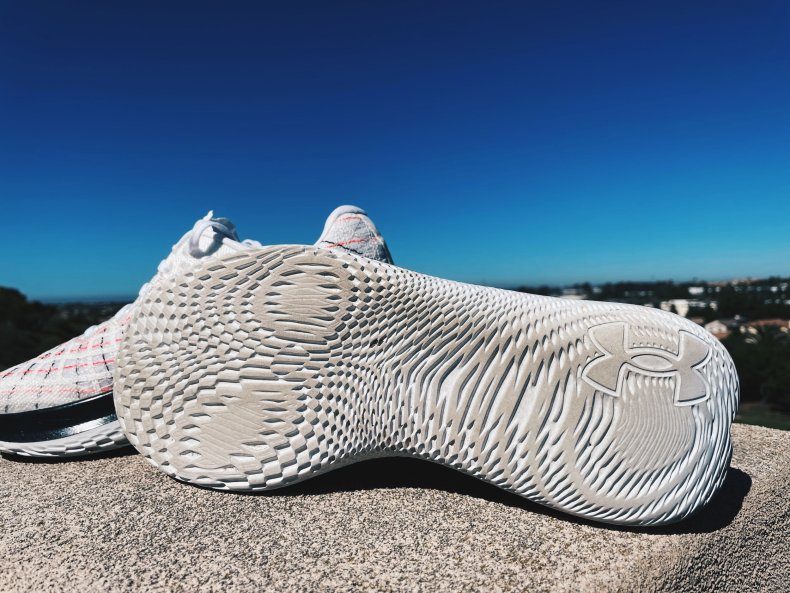 I had no problem with these shoes hurting my feet on 10K runs. I'm not sure how they would do for a half-marathon, but I suspect they'd do OK into the double-digit range on a single run. They're certainly on the firm and stiff side, but I also didn't encounter any immediate soreness or aches on the bottom of my foot as I might have expected. You might experience less bounce than the Reebok Floatride Energy 3 or even Nike's Pegasus 36, but the Flow Velociti Wind always felt supportive.
Should You Buy the UA Flow Velociti Wind Shoes?
This is an excellent firm running shoe meant for speed and up-tempo training. The addition of Bluetooth tracking and coaching is neat and actually useful, but since it's available in other UA shoes, it probably shouldn't be the sole reason for purchasing.
The reason to buy these shoes is all about the sole: specifically, how it cuts the weight and makes them versatile. In addition to faster speed runs, these could easily be used for other types of training and fitness workouts. They have a minimal sensibility to them, from their single piece of foam to their locked-down breathable upper. The Flow Velociti Wind shoes are a great workout partner.
Buy at Road Runner Sports, Amazon and Under Armour.
Newsweek may earn a commission from links on this page, but we only recommend products we back. We participate in various affiliate marketing programs, which means we may get paid commissions on editorially chosen products purchased through our links to retailer sites.