UAE Halts Printing of New York Times Over Damning NYU Labor Article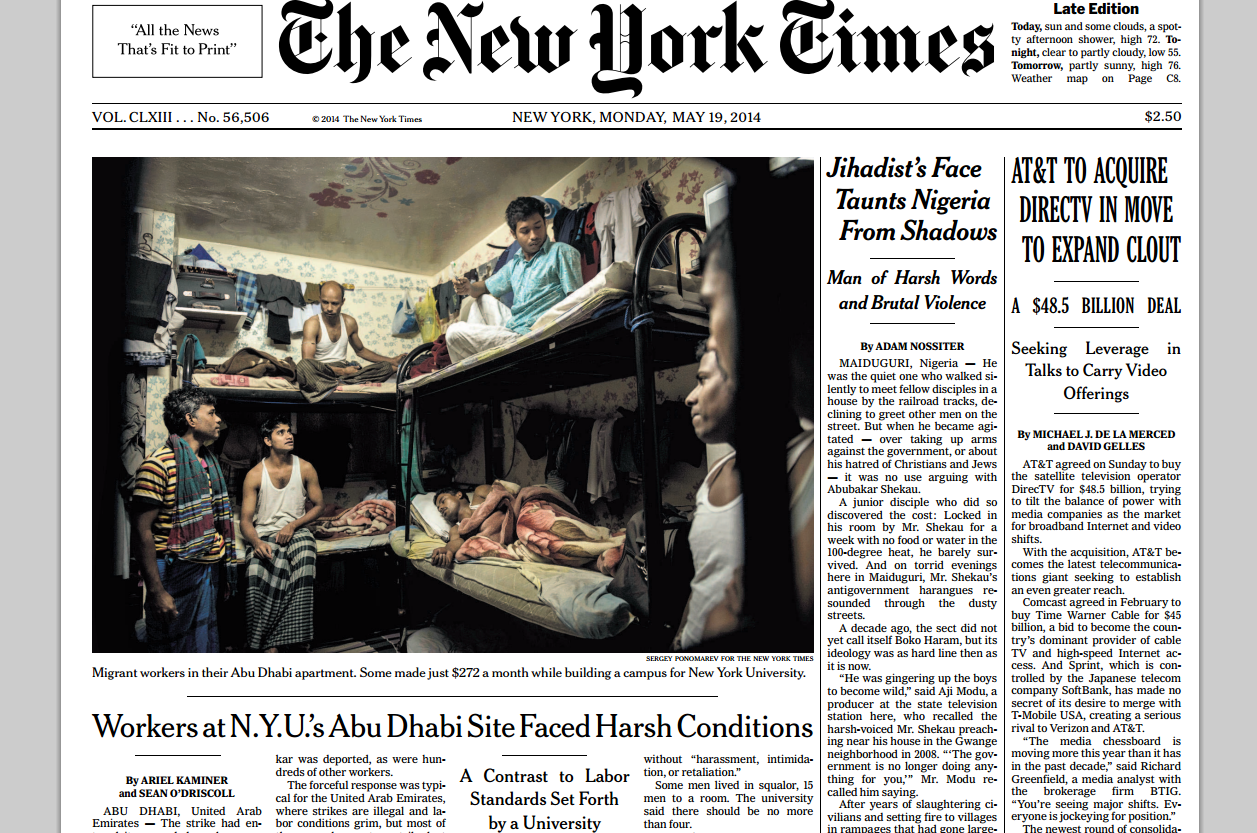 Today's edition of the International New York Times, which carries an investigative report detailing the extremely harsh conditions of workers building New York University's campus in Abu Dhabi, will not be printed in the United Arab Emirates because a distribution partner determined the paper was "too sensitive for local printing."
The INYT emailed subscribers to announce that the printing was stopped by the Khaleej Times, the paper's distribution partner in the region, which is partially owned by the prime minister of the UAE. It noted that the full edition of the paper would still be available on the INYT website.
Just last month, NYU announced that its state of the art Abu Dhabi campus was finally finished. The Times report unveiled that the migrant laborers who built that campus worked brutally long hours and lived in squalor, and some were beaten and deported for participating in a protest strike. After a report on the mistreatment of laborers working on construction on Saadiyat Island in Abu Dhabi, where NYU's campus is housed, the university published a raft of labor reforms that it said would be monitored by a third-party agency. The Times report published online Sunday found actual conditions on the construction site to be "starkly different from the ideal."
John Beckman, NYU's vice president for public affairs, initially told the Times that the university wasn't aware of the violent subduing of a workers' strike on its campus and was "working with our partners to have it investigated." One day after the Times report was published, Beckman issued a lengthy apology, which was followed by a statement from NYU President John Sexton that echoed those sentiments, calling the workers' mistreatment, "if true as reported, troubling and unacceptable." Both apologies can be read in full here.