UAE Has 'Become a Knowledge Hub' for Renewable Energy: Mariam Almheiri
The United Arab Emirates (UAE) has "become a knowledge hub" for climate change and renewable energy, according to Mariam Almheiri, minister of the UAE's Ministry of Climate Change and Environment.
Almheiri discussed the country's approach to climate change, as well as to food and water security, for a recent episode of Newsweek's The Diplomat podcast. The podcast is hosted by Jason Greenblatt, former White House envoy to the Middle East during former President Donald Trump's administration.
Almheiri's conversation with Greenblatt was released on Monday, just three weeks after the United Nations (U.N.) shared a report on climate change that said the world is on a "fast track" to a climate disaster. The international organization warned that, "unless governments everywhere reassess their energy policies, the world will be uninhabitable."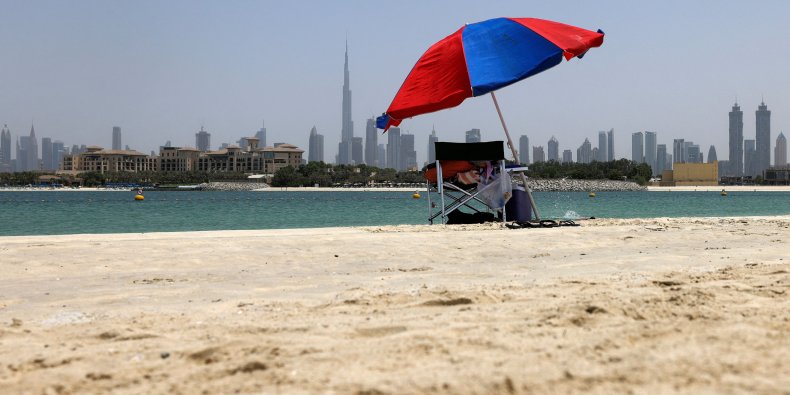 The ministry Almheiri leads launched in 2016 as a replacement for the UAE's Ministry of Environment and Water. Its creation "represents an important milestone in the UAE's journey" because it "formalized national efforts to address climate change," Almheiri said. Though the ministry is relatively new, Almheiri said the UAE "started our journey on diversifying away from oil and gas" about 16 years ago, at which time she said the country's leaders "saw the writing on the wall."
As of 2020, the UAE was among the top 10 largest oil producers in the world. The country's prominent role in the oil industry has led some to question its goals in terms of climate change policy development.
When asked about these concerns, Almheiri told Greenblatt there is still need for oil and gas in the "transition" process toward clean energy.
"Producing the materials you need for the renewables and clean sector, you need oil and gas to do that," she said. "You cannot just switch off oil and gas. We need to be very realistic that this is a transition."
Last fall, the UAE announced a goal to reach net-zero emissions by 2050. The announcement made the UAE the first country in the Middle East to set such a goal.
"By 2050, we want to reach 50 percent clean and renewable energy in our energy mix," Almheiri said.
At the moment, the UAE is operating three solar parks that are the world's "largest in capacity, lowest in cost," the minister said.
"We've also invested a lot—not just in the country, but also outside of the UAE in over 70 countries—in renewable energy facilities," Almheiri said. "We've really become a knowledge hub for the renewables."
The UAE is "ramping up" its clean and renewable energy sector by using the money coming in from oil and gas. The country is simultaneously working to decarbonize oil and gas, Almheiri added.
"We're taking a two-pronged approach," she said. "We're ramping up our clean and renewables, we're decarbonizing our oil and gas, and eventually going to move away from it."
In the meantime, "as long as the world needs oil and gas, we will supply it," Almheiri said.
"But we are taking very responsible steps and investing heavily in decarbonizing as much as possible, and also investing in clean and renewables, and also helping other countries with certain funds that we've set up to help them in this energy transition that we all are working towards under the climate agenda," she added.
Almheiri reiterated the move toward clean and renewable energy is a "transition" that requires both "responsible steps" and a "realistic" approach.
"It's really important to understand that every country is at a different level," she said. "And we need to support each other, but we need to be realistic and pragmatic about it."
The UAE announced its net-zero emissions goal around the time of the U.N.'s annual climate change conference, known last year as COP26. While COP27 is scheduled to take place this November in Egypt, the UAE is on deck to host COP28 in 2023.
Almheiri, who was appointed to her role with the ministry shortly before COP26, said she is "really excited and honored" that the UAE will be hosting the 2023 event. The UAE wants COP28 to be "inclusive," she said, with youth "at the heart" of it.
"We want to make sure this is a solutions-based COP, and really showcase to the world that, yes—as an oil and gas country, we are committed. We are committed to this journey," Almheiri said. "We see this as a journey of opportunity, and we see this as a journey of responsibilities that we have to do."