As the clock struck midnight, members of the United Auto Workers (UAW) union walked out at three different plants in the union's first wave of its strike against the "Big Three" U.S. auto manufacturers.
UAW negotiators have been working with the top three automakers—Ford Motor Company, General Motors and Stellantis—for months on a new set of contracts for its employees, bringing to the table a list of demands including double-digit pay raises, increased paid time off and enhanced benefits.
But after accord could not be reached, UAW President Shawn Fain announced that its members were prepared to "stand up and walk out" as contracts expired at 11:59 p.m. Thursday.
During a Facebook Live presentation roughly two hours before the deadline, Fain called on members at the Ford assembly plant in Wayne, Michigan, the Stellantis assembly complex in Toledo, Ohio, and the General Motors plant in Wentzville, Missouri, to leave their production lines at midnight.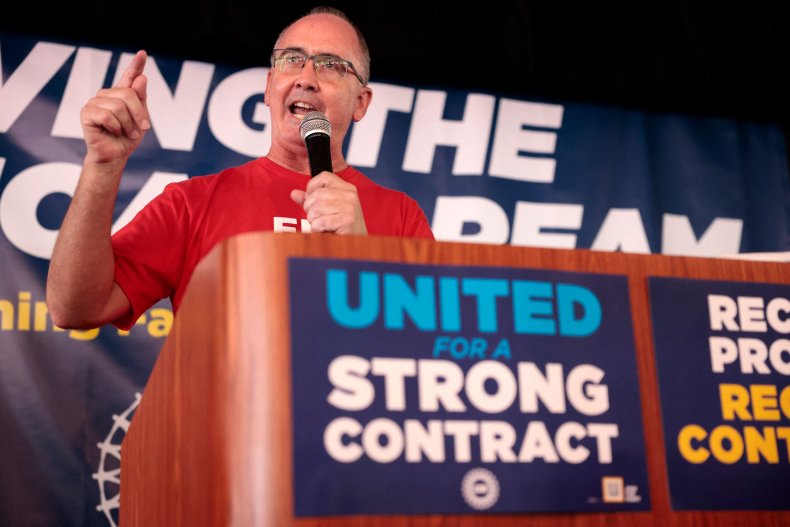 "This is our generation's defining moment," Fain said during the presentation. "The money is there, the cause is righteous, the world is watching. And the UAW is ready to stand up. This is our defining moment."
Fain said that workers who were not yet called to join in on the limited strike are to continue working under their expired contract agreements, although the president assured employees that they cannot be "fired or disciplined for no reason" by their local management. The union president also encouraged members to continue to rally and show their support for those who are striking.
"This strategy will keep the companies guessing," Fain added. "It will give our national negotiators maximum leverage and flexibility and bargaining and if we need to go all out, we will."
Jordyn Grzelewski, auto reporter for the Detroit News, shared a video of the picket line outside of Ford's Michigan assembly plant roughly 30 minutes before the midnight deadline. In the clip posted to X, formerly Twitter, a small group of protesters can be seen holding signs and chanting while drivers passing by honk their horns in support. Grzelewski said that the plant's parking lot had begun to empty out "en masse."
Friday marks the first time in UAW's 88-year history that members are going on strike against all three major U.S. automakers. The union represents roughly 150,000 employees across Ford, General Motors and Stellantis.
The New York Times reported that UAW's limited strike has the potential to make a major impact on the companies, as the plants involved are in charge of producing some of the automakers' more profitable vehicles, such as the Ford Bronco sport utility and the Chevrolet Colorado pickup truck.
Among UAW's requests to manufacturers include a 40 percent pay increase over the next four years, cost-of-living adjustments, the elimination of wage tiers and heightened retirement benefits for all employees.
All three manufacturers made offers in recent weeks that included up to 20 percent pay increases and improved benefits. Ford CEO Jim Farley said that UAW's wage demands are unsustainable for the company's growth.
Stellantis shared a statement with Newsweek early Friday morning, saying that the company was "extremely disappointed by the UAW leadership's refusal to engage in a responsible manner to reach a fair agreement in the best interest of our employees, their families and our customers."
"We immediately put the Company in contingency mode and will take all the appropriate structural decisions to protect our North American operations and the Company," the statement continued.
Ford spokesperson Jessica Enoch told Newsweek on Thursday that the company also had "contingency plans" in case of a work stoppage. Only assembly area and paint shop workers at the Ford plant in Wayne have been called to go on strike.
Newsweek reached out to General Motors' press team via email on Thursday for updated information regarding negotiations.