Uber Boss Says Self-Driving Cars Are Like Student Drivers
Uber's commander in chief compared the safety of self-driving cars to student drivers.
Last month, Uber's self-driving car tragically killed 49-year-old Elaine Herzberg in Arizona in what was the first case of an autonomous road vehicle fatality. Despite there being a human at the wheel, the car ran Herzberg down as she walked her bicycle across the street.
Uber CEO Dara Khosrowshahi said the company was still "absolutely committed" to driverless cars but admitted it was still learning. "Ultimately, self-driving cars will be safer than humans," Khosrowshahi said on the Today show on April 12. "But right now, self-driving cars are learning. They're student drivers."
Uber was trialing driverless cars in U.S. cities including Phoenix, Pittsburgh and San Francisco. All trials have since been suspended as Uber continues investigating the fault that led to Herzberg's death. Her family settled with Uber out of court.
Khosrowshahi also announced that Uber's app had been redesigned to include a 911 button. If a passenger is in distress, he or she can hit the button to automatically call emergency services. The emergency button forms part of a "safety center" which details Uber's community guidelines and the driver screening process.
Passengers also will be able to assign five friends to share their location during each ride. "We were not perfect," Khosrowshahi said about Uber's previously lax focus on safety. "Anytime you're growing as fast as we were growing… But that's not an excuse, and sometimes you get things wrong. But our intent now is to get things right."
Uber is still appealing a ban in London after it was announced its license would not be renewed following safety concerns. Transport for London rejected Uber's request for an extension to its license on grounds that the company was not a "fit and proper" operator. London Mayor Sadiq Khan said the company needed to "play by the rules, particularly when it comes to the safety of customers."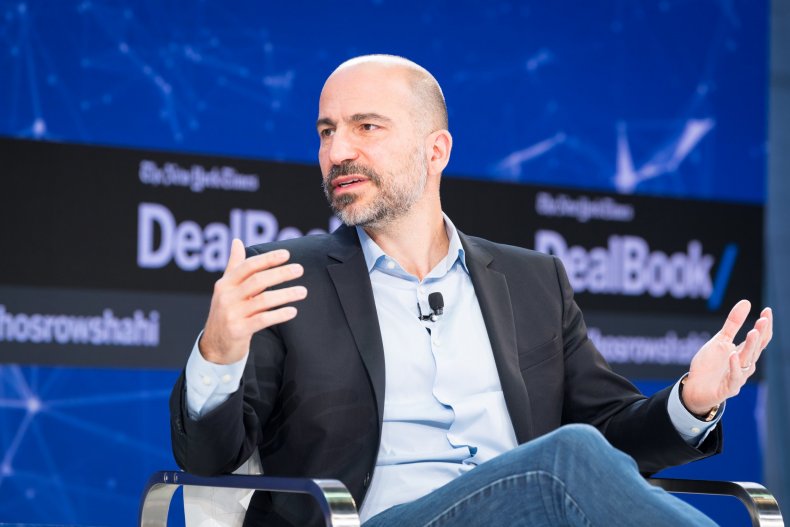 Khosrowshahi weighed in on the Facebook-Cambridge Analytica data mining scandal, saying Uber did not profit from user data. "I think early on, these technology companies were fairly idealistic for the right reasons, building these platforms," he said.
"But the fact is, human beings are sometimes good and sometimes not. Silicon Valley is understanding that with building these platforms comes a responsibility to make sure that those platforms are being used for good. The old days are over; you have to take this responsibility seriously and invest behind it.
"We don't try to monetize it [Uber user data]. We don't sell that data."