Uber CEO Dara Khosrowshahi Seeks Early COVID Vaccine Access for Drivers, Bashed on Twitter
Uber boss Dara Khosrowshahi has been criticized after asking for his contract-based drivers to get early access to COVID vaccines.
The CEO of the ride-hailing and food delivery giant confirmed on Thursday that he sent letters to the governors of all U.S. states asking them to classify his drivers as essential workers, meaning they would be higher up the priority list of vaccine recipients.
While distribution is largely being handled at a local and state level, officials have said that healthcare workers and those in higher-risk categories will be first in line.
In a letter to Florida governor Ron DeSantis seen by Reuters, Khosrowshahi pitched the drivers as a "lifeline to their communities" and encouraged the politician to "recognize the essential nature of their work" while drawing up state distribution plans.
In a tweet on Thursday that has since been widely bashed on the social network, the CEO said: "These frontline workers should get the vaccine before people like me."
His appeal did not go down too well, with Khosrowshahi facing a barrage of comments blasting his company's efforts to keep drivers as contractors, not staff.
"You can't pay a living wage, while you, [executives] and early shareholders make more than enough to offset shot costs. But you can ask for shots so you all can ensure the minions keep that revenue going," wrote Twitter user Michael DeKort.
"Hey remember when you spent many, many millions of dollars to avoid giving those same EMPLOYEES health insurance? It was last month," said user @T_nels.
In November, an Uber-backed lobbying campaign against a ballot measure in California called Proposition 22 ended with voters passing a motion that exempts ride-hailing and app-based delivery companies from classifying their drivers as full employees.
App firms including Uber, Lyft and DoorDash—who would have faced a radical shake up of their business model if California voters decided they had to stop classifying drivers as contractors—helped to pour more than $205 million into "Yes on 22" efforts.
As reported, independent drivers enjoy flexibility but are not entitled to benefits such as healthcare, unemployment insurance, minimum wage and overtime pay.
As expected, a majority of the responses to Khosrowshahi's tweet focused on his firm's treatment of its drivers, which has helped to sustain the "gig economy" industry.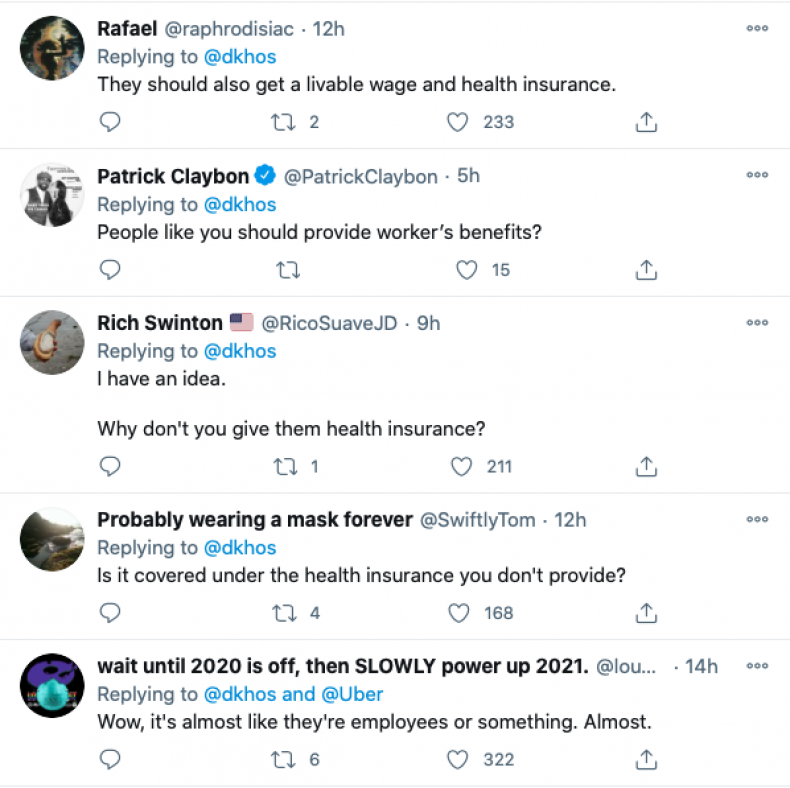 Uber—which has a market capitalization of more than $95 billion as of today—has been contacted by Newsweek for comment about the vaccine request letters.
The company has around 236,000 drivers working in Florida amid the COVID pandemic. The state has over one million licensed healthcare professionals and expects to initially secure between 500,000 to one million doses of a vaccine.
According to WJCT, Khosrowshahi wrote in his letter to state governors: "Over the last nine months, these workers have been a lifeline to their communities.
"They have transported healthcare workers to hospitals, delivered food to people socially distancing at home, and helped local restaurants stay in business.
"As you finalize your state-level allocation and distribution plans, I encourage you to recognize the essential nature of their work. I want to ensure these individuals can receive immunizations quickly, easily and for free, and I offer Uber's assistance."