Uber announced Thursday that its employees must be fully vaccinated as the rideshare company plans its return to the office for this October.
The announcement comes a day after other Big Tech companies, including Google, Twitter and Facebook said their employees must receive the vaccination in order to enter the office.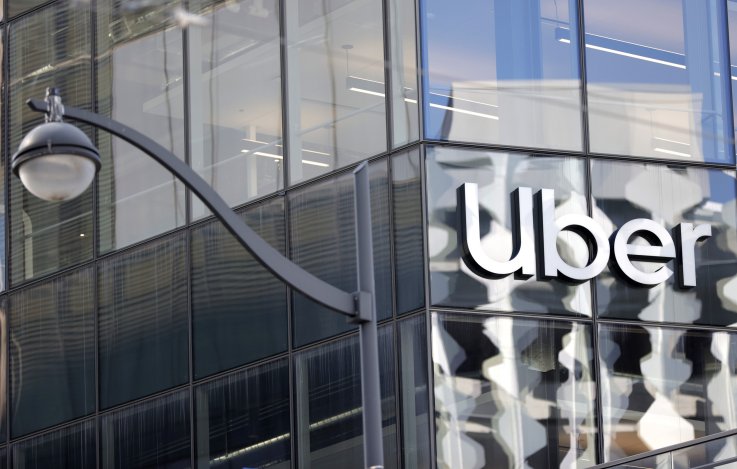 Planning to return employees to the office this October, Uber announced its plans to enforce a vaccine requirement. Here, the exterior of the Uber headquarters on March 29 in San Francisco, California.
Justin Sullivan/Getty
On its website, the U.S. Equal Employment Opportunity Commission stated that federal law does not bar employers from requiring their employees to receive vaccination in order to return to the office.
With the enforcement of these requirements, Big Tech joins the federal government in its push to enforce Coronavirus-related workplace restrictions. President Joe Biden also announced today that all federal employees and contractors must be vaccinated or submit to regular testing and mitigation requirements.
These measures come as the contagious Delta variant continues to spread across the U.S. According to the CDC's latest seven-day moving average of daily new cases, the U.S. saw 40,246 new instances of COVID, a 46.7 percent increase from the previous seven-day average.
"This is an American tragedy. People are dying—and will die—who don't have to die. If you're out there unvaccinated, you don't have to die," Biden said in a speech at the White House. "What is happening in America right now is a pandemic—a pandemic of the unvaccinated."
This is a developing story and will be updated as more information becomes available.
About the writer
Alex J. Rouhandeh is the congressional correspondent for Newsweek whose previous writing has appeared in Vice News, The American Prospect, and a number of regional publications. Alex is credentialed with both the Capitol Periodical Press Gallery and the U.S. Department of Defense. He is also a member of the National Press Club in Washington, D.C. and the Investigative Reporters & Editors (IRE) organization.
Email him at a.rouhandeh@newsweek.com and follow him on Twitter at @AlexRouhandeh.