Uber London Ban: Travel Options, Taxi Alternatives When Visiting U.K. Capital
Uber is no longer licensed to operate in London, the capital of the U.K., following passenger safety and security risk concerns raised by Transport for London (TfL), the body regulating transport in the city.
TfL has rejected the latest application for a private hire operator's license made by the ridesharing app, which is said to be used by more than 3.5 million locals in London (according to Uber), following a "pattern of failures" and "several breaches," identified by TfL.
"TfL has identified a pattern of failures by the company including several breaches that placed passengers and their safety at risk," TfL noted in a statement.
"Despite addressing some of these issues, TfL does not have confidence that similar issues will not reoccur in the future, which has led it to conclude that the company is not fit and proper at this time."
"Safety is our absolute top priority. While we recognize Uber has made improvements, it is unacceptable that Uber has allowed passengers to get into minicabs with drivers who are potentially unlicensed and uninsured," Helen Chapman, director of licensing, regulation and charging at TfL, said in the statement.
Uber now has 21 days to appeal the latest decision, during which the company is allowed to operate as usual.
However, Uber will be closely monitored by TfL during these periods and will need to meet the 20 conditions set out by TfL in September, when it was granted a 2-month license while more information was required around the issues raised at the time, including "a change to Uber's systems allowed unauthorized drivers to upload their photos to other Uber driver accounts," TfL said in the statement.
"This allowed them to pick up passengers as though they were the booked driver, which occurred in at least 14,000 trips - putting passenger safety and security at risk.
"This means all the journeys were uninsured and some passenger journeys took place with unlicensed drivers, one of which had previously had their license revoked by TfL.
"Another failure allowed dismissed or suspended drivers to create an Uber account and carry passengers, again compromising passenger safety and security.
"If they do appeal, Uber can continue to operate and we will closely scrutinize the company to ensure the management has robust controls in place to ensure safety is not compromised during any changes to the app," Chapman said in the statement.
Last year, the U.K. was reported to have 37.9 million visitors from abroad, half of which visited London and 10 percent of which were visitors from the U.S., according to the latest tourism report by the UK parliament.
This year, the country is expected to welcome a total of 38.9 million visits by the end of December, according to VisitBritain.
Taxi Alternatives When Visiting London
While not having access to Uber might be annoying for tourists who are not familiar with the city, there are plenty of other similar (and in many cases cheaper) apps available to use instead, such as these:
ViaVan
This rival app to Uber pools commuters heading in the same direction together at one pickup and drop off point, allowing them to share a ride to help reduce congestion and carbon emissions. With rides in London priced from £3.95 ($5.10), ViaVan claims to offer the lowest fares in London.
"With the lowest prices in the city, ViaVan aims to 'close the gap,' serving as an affordable extension of the public transit system," the company says on its website.
"This enables ViaVan's system to transport a high volume of passengers while using a fraction of the number of vehicles utilized by taxis or on-demand car services," it adds.
Bolt
Another app claiming to offer the most affordable prices due to having the "lowest commission in town" at 15 percent, Bolt also includes an added safety feature in the form of an in-app virtual "panic button" which both riders and drivers can activate to contact London's Metropolitan Police.
Kapten
This new French-owned riding app formerly known as Chauffeur-Privé relaunched in May and offers journeys from £5 ($6.45). It guarantees "year-round low prices," according to the Kapten website, and a loyalty scheme that allows you to earn points to win free journeys with every ride you take with Kapten. Rides are reportedly around 20 percent cheaper than competitors.
TaxiApp
For those who want to have an authentic traditional London cabbie experience, TaxiApp is the app for you. The service is operated solely by officially licensed black cab drivers in London. The UK's unique black cabs have been in service for nearly 400 years and all of its drivers rely on The Knowledge, the famed rigorous training course on London's driving routes that every black cab driver must pass, rather than GPS.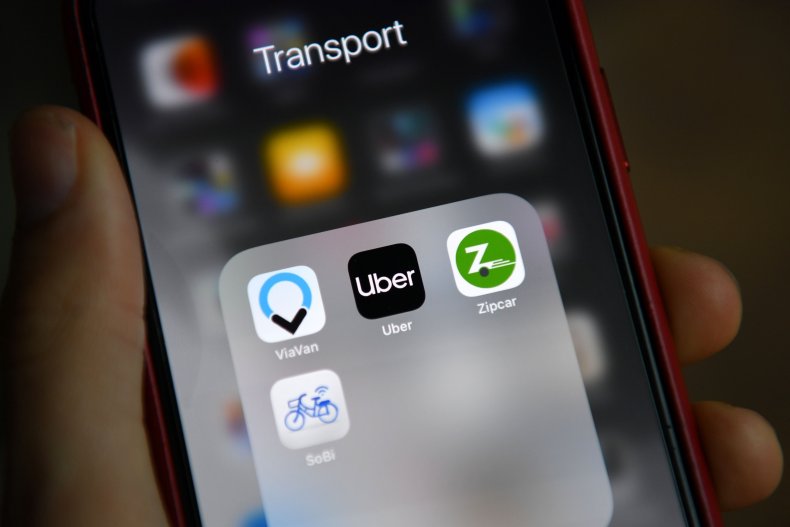 Physically hailing a black cab in London, especially in the tourist-heavy areas of the city, can be a pain as well, so ordering on through the app can be handy.
London Lady Chauffeurs
As its name implies, London Lady Chauffeurs is aimed at female travelers who feel safer driven by a female driver. The company was launched in response to women who shared "concerns about safety when traveling in London and the surrounding areas, especially the risks brought about by potentially illegal minicabs," the company notes on its website.
"In response to their concerns we decided to set up our professional female driven taxicab service, designed to give peace of mind to our female passengers. The chauffeur service is driven by professionally trained female drivers, with a choice of luxury cars and is open to women only," it adds.
Other Travel Options
There are plenty of other ways to get around the city than cars, such as these:
London Underground: The Tube dates back to 1863 and was the world's first underground railway. It is an efficient way to travel in London, with 11 different lines that carry nearly 5 million passengers a day across 9 different zones in the city.
London buses: The famous doubledecker buses are an iconic part of the city and a cheaper way to get around, with journeys costing £1.50 ($1.93) per ride.
Santander Cycles: London's official bicycle rental scheme offers rides from £2 ($2.58) from various docking stations dotted around the city. Users can download the app to locate the nearest bike station.
Jump: Uber's bike rental program offers pedal-assisted electric bikes that allow you to go faster. The bikes cost £1 ($1.29) to unlock the bi and costs £0.12 ($0.15) per minute to ride. After your journey, the bike can be left anywhere within a parking zone and locate your nearest one using the app.
Lime: The rival app to Jump offers the same concept, with its bikes costing £1 ($1.29) to unlock and around £0.15 ($0.19) per minute to ride.