Uber Chief Vows 'We Will Keep Going' After Losing London License Due to Unauthorized Drivers
Uber's chief executive has pledged to fight on after the ride-hailing company was denied a new private hire operator's licence for the city of London.
CEO Dara Khosrowshahi spoke out in defense of his firm today as Transport for London (TfL), the local government body responsible for the transport system in the U.K. capital, blasted a "pattern of failures" that allegedly included thousands of passengers being taken on journeys by unauthorized people who uploaded their photos to legitimate driver profiles.
"We understand we're held to a high bar, as we should be. But this TfL decision is just wrong," the Uber chief fumed via his Twitter account.
His statement, alongside the company's official response shared with Newsweek via email, gave a clearer indication of Uber's next steps.
"We have come very far—and we will keep going, for the millions of drivers and riders who rely on us," Khosrowshahi pledged in his tweet.
Under U.K. legislation, Uber has 21 days to appeal the TfL ruling. Drivers can continue to operate pending the outcome of an appeal and throughout any future appeal processes. Uber management can seek to make changes to show it is fit and proper by the time of the next U.K. court appeal hearing, officials said.
There are roughly 3.5 million people using the service in London, served by 45,000 licensed drivers. Uber said it had strengthened driver ID systems in recent months, in response to the claim from the regulator that 14,000 trips had been helmed by unauthorised drivers.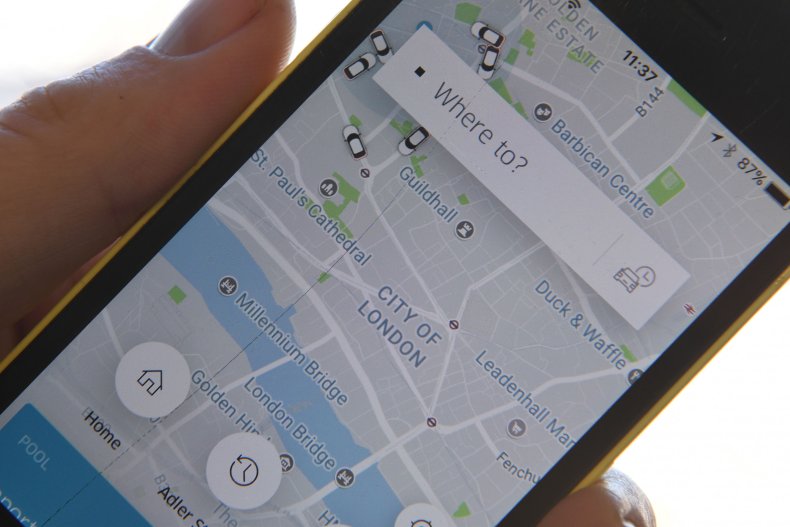 Jamie Heywood, Uber's General Manager for Northern & Eastern Europe, said the license decision was "extraordinary and wrong" and confirmed the firm would file an appeal.
"We have fundamentally changed our business over the last two years and are setting the standard on safety. We will continue to operate as normal and will do everything we can to work with TfL to resolve this situation," Heywood said, echoing the claim of no immediate changes.
"Over the last two months we have audited every driver in London," he added. "We have robust systems and checks in place to confirm the identity of drivers and will soon be introducing a new facial matching process, which we believe is a first in London taxi and private hire."
If the appeal fails, it is likely that driver contracts will be put at risk. Until then, users will continue to be able to search and order car rides across the busy capital. Uber's top five sales markets are London, Los Angeles, São Paulo, New York City and San Francisco, the BBC reported.
Uber was previously rejected for a license in London in 2017 over safety concerns and driver background checks, the BBC reported. In June 2018, it won an appeal and was granted a short-term license under condition of a 15-month probation period. In September, it was granted a further two month extension, which came to an end with the regulator's decision today.
According to TfL, investigators also found "insurance-related issues" that highlighted "the potential safety risk to passengers of weak systems and processes" used by the app.
"It is clearly concerning that these issues arose but it is also concerning that we cannot be confident that similar issues won't happen again in future," said Helen Chapman, TfL director of licensing, regulation and charging, noting that driver ID issues were "unacceptable."
"If they choose to appeal, Uber will have the opportunity to publicly demonstrate... whether it has put in place sufficient measures to ensure potential safety risks to passengers are eliminated. If they do appeal, Uber can continue to operate and we will closely scrutinise the company to ensure management has robust controls in place to ensure safety is not compromised."