Uber, Lyft Drivers Are Quitting Rideshare Apps Amid Gas Price Surge
Drivers for ridesharing apps Uber and Lyft are quitting their gigs due to the recent surge in gas prices, while those who are still working say they're driving less in an effort to cut down costs.
A survey conducted by The Rideshare Guy, a blog focused on the gig economy, found that 15 percent of drivers have quit over the high gas prices and that 38 percent say they are driving less as a result of the increase.
Drivers who are cutting back on their hours also said they're avoiding picking up long trips entirely, only driving when the apps offer promotions, and have seriously considered buying an electric vehicle or hybrid for the future.
Gas prices reached record-highs over the last week as the U.S. and other NATO allies moved to ban Russian oil in response to Russian President Vladimir Putin's invasion of Ukraine.
In states like California and Nevada, drivers are paying more than $5 a gallon, according to the American Automobile Association (AAA). The national average for a gallon of gas is currently $4.305.
On Wednesday, Uber will begin charging American and Canadian customers a fuel surcharge of either $0.45 or $0.55 per trip in an effort to help its drivers offset their expenses. There will also be a surcharge on Uber Eats deliveries.
All surcharges will continue for at least two months, and 100 percent of those monies will go to drivers.
Lyft said their $0.55 surcharge will launch next week and will also go for 60 days with all monies going to their drivers.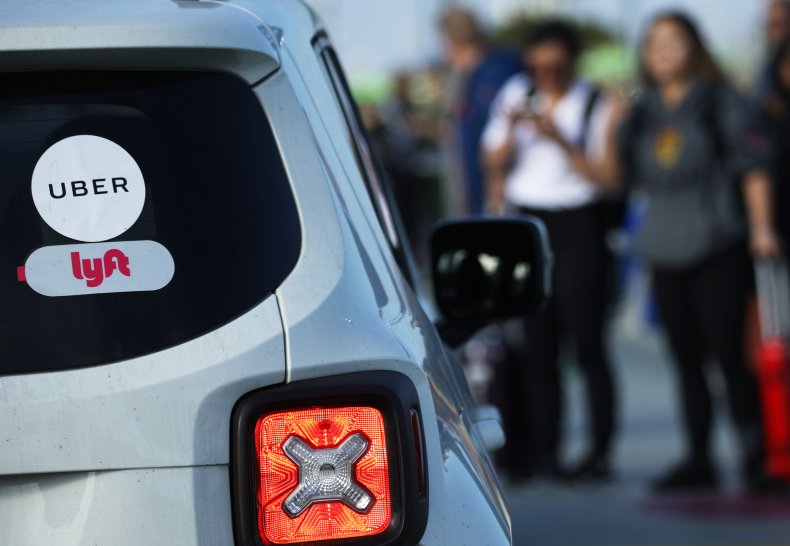 Harry Campbell, founder of The Rideshare Guy, said that while the surcharge is better than nothing, he wishes the companies acted quicker when gas prices began escalating.
"As the leader in the rideshare and mobility space, they should be taking a proactive approach to issues like this instead of reactive," he said in a statement shared with Newsweek.
"I imagine companies like Lyft and DoorDash will follow suit shortly and while the fuel surcharge is a nice gesture of goodwill, the one complaint we've heard is that it's not enough for longer trips," Campbell added. "The fuel surcharge will be a nice addition for short trips but on 20-30-mile trips, drivers will still be hurting."
Doing the math, Campbell said the surcharges will likely help most drivers cover the bulk of the increase, but a full-time driver in California may still end up having to pay an additional $13 a week due to the hike in gas prices. Those estimates may be even higher for drivers with cars that have higher miles per gallon or complete longer trips.
"The extremely high price of fuel makes every Uber X trip not worth it. After a few hours of driving, I have to drop at least $60, which eats over 60 to 70 percent of what I earned in the driver app," Randall Leach Jr., an Uber driver from California who recently quit the app, said, as quoted on The Rideshare Guy. "It's very disappointing that the companies aren't helping drivers with these high prices when they already take 60 percent of the fare."
An internal analysis from Lyft found that while drivers are spending more on gas now than they were a year ago, the average driver should still be making more per hour than last year, even with the high gas prices.
American drivers who work for Lyft can also apply for a debit card that would give them an increased 4 to 5 percent cash back on gas through June.
Uber is trying to incentivize drivers to purchase battery electric vehicles by offering an extra dollar per trip—as well as discounts on electric vehicles, home charges and installations.
Update 3/16/22, 1:35 p.m. ET: This story has been updated with additional information from Lyft.