Uber came under fire on Tuesday after several customers noted that prices on the ride-sharing app increased significantly following a shooting at a subway station in the Brooklyn borough of New York City.
The incident, in which at least 10 people were shot and 16 were injured, caused major disruptions to several New York City subway lines. The shooting occurred in the Sunset Park neighborhood during the Tuesday morning rush hour, forcing New Yorkers to seek other modes of transportation to get to work, school or home.
As a result, several Uber customers noted on Twitter that the demand for rides caused prices to increase by nearly 10 times the typical rate.
"@Uber turn off surges in sunset park. People are scared, let them get out safely," one person tweeted, while sharing an image of standard-sized Uber in the area costing over $68.
Another user shared an image of an $85 ride, while writing: "Fare increased 10x by@Uber after a Terrorist Attack in a Subway Of Brooklyn, NewYork. What a Shame."
Others called for a boycott against Uber, while another user said the surge pricing was "depressing" and likened it to a dystopia. Other ride-sharing apps, such as Lyft, also came under criticism for having increased prices.
"Another shooting and Uber and Lyft are raising their rates for people seeking to leave Sunset Park. We live in a world where companies profit from gun violence," wrote one user.
In response to the complaints, an Uber spokesperson told Newsweek that the company worked to quickly disable surge pricing in the area.
"Our hearts go out to the victims of this morning's terrible shooting in Sunset Park. Following the incident, Uber disabled surge pricing in the vicinity and capped pricing citywide. As always, Uber strives to be a resource for New Yorkers aiming to get around New York City. If anyone on our platform experienced unintended charges during this emergency, we will work to get them refunded," Uber spokeswoman Freddi Goldstein said on Tuesday.
Uber's prices automatically increase when the demand for rides goes up. This may occur due to bad weather, special events or rush hour, according to the company's website. However, in the case of emergency situations, Uber told Newsweek that it works to cap price surging and help individuals avoid incurring unnecessary costs.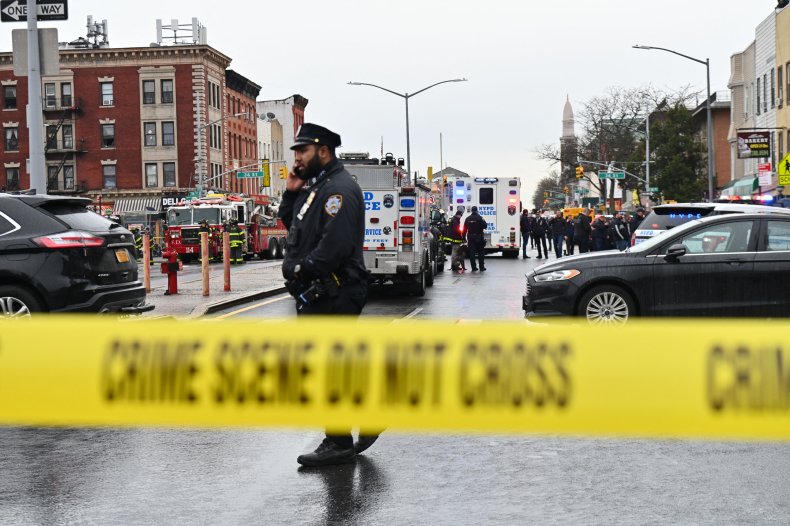 Tuesday's shooting occurred at the 36th Street subway station in the Sunset Park neighborhood. Police said a male suspect—who remains at large—was wearing a gas mask and opened a canister inside the subway car, filling it with smoke as it pulled into the station. He then opened fire, striking at least 10 people and injuring several more. Five people are in critical, but stable condition, according to the New York Police Department (NYPD). There have not been any reports of fatalities or life-threatening injuries.
"We will not allow New Yorkers to be terrorized, even by a single individual," New York City Mayor Eric Adams said in a video message on Tuesday. "NYPD is searching for the suspect at large, and we will find him."
Follow Newsweek's live blog to receive the latest updates on the shooting.