Uber Surge During Sydney Siege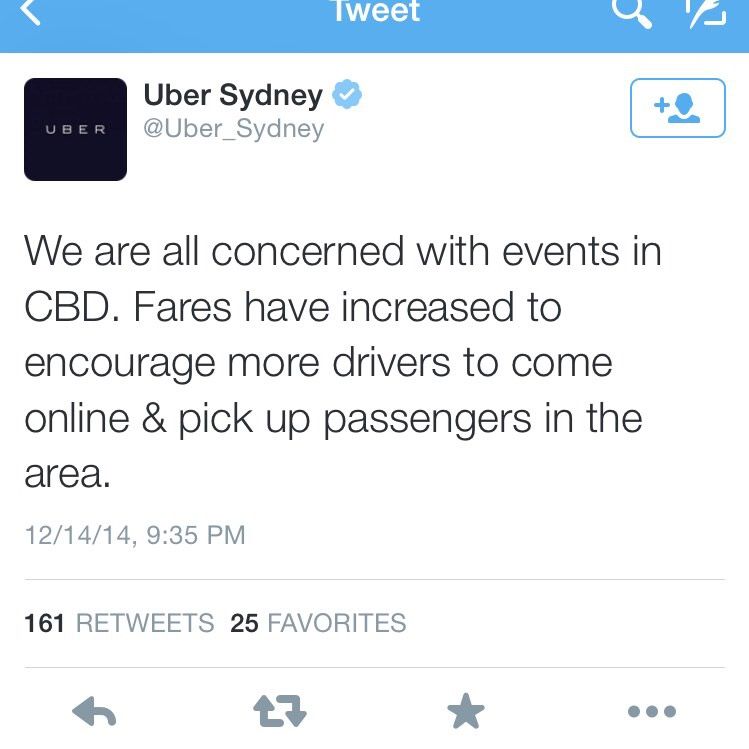 As Sydney faced a hostage situation, Uber jacked up prices as much as four times the norm in the area. The company tweeted, "We are all concerned with events in CBD (Sydney's Central Business District). Fares have increased to encourage more drivers to come online and pick up passengers in the area."
One rider reported the minimum fare was $100 when attempting to book a car, and another saw a minimum of $65, 2.6 times the normal fare.
A fare to go to the airport from Sydney was quoted at $145 to $184 when the siege was underway.
Surge pricing is generally implemented by the company when there is a lack of drivers or an influx of passengers, such as during rush hour and in bad weather. As thousands were evacuated from their businesses due to the hostage situation, customers complained and criticized Uber for seemingly profiting on a dangerous situation:
Soon after, Uber cracked and offered free rides, issuing this statement:
We are all concerned with the events happening in Sydney. Uber Sydney will be providing free rides out of the CBD to help Sydneysiders get home safely. Our thoughts are with those affected and the NSW Police Force. We are in the process of refunding rides. If you have been charged during these hours leaving the CBD please email supportsydney@uber.com. Please note that surge pricing only remains in place to encourage more drivers to come online and pick up passengers from the area.
Uber faced a similar situation in New York state during Hurricane Sandy when surge pricing skyrocketed to eight times the norm. Attorney General Eric Schneiderman investigated whether this type of surge pricing during a dangerous or emergency situation was similar to price gouging and the company agreed to put a limit on surge pricing during emergencies in the United States.