Uber Drivers Have Privacy Problems Too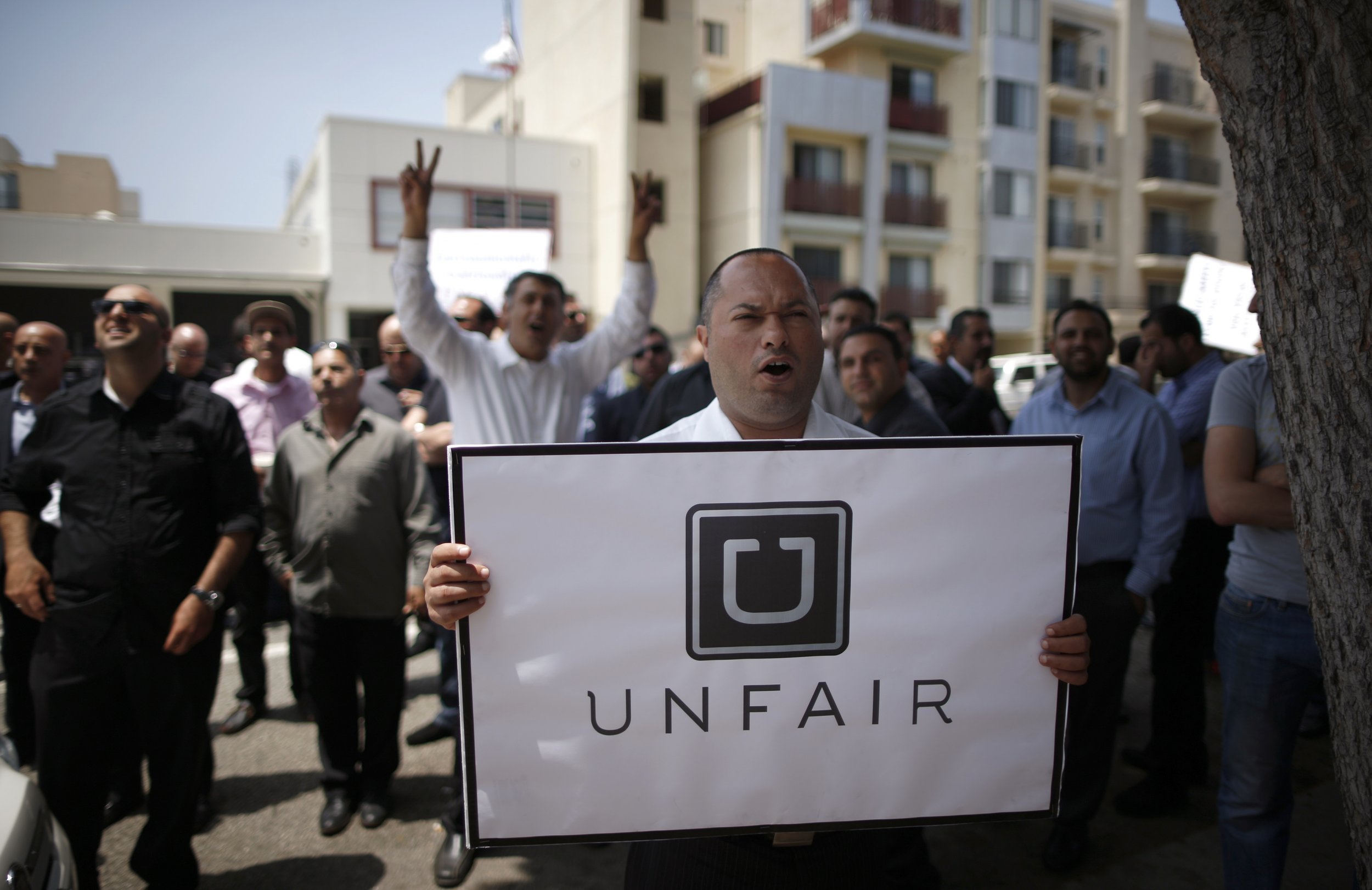 If you regularly use Uber, you might have been alarmed to read this week how easy it is for company employees to look up exactly where you've been. But what about the drivers? Some of them are concerned that customers are able to call their cellphones long after the ride is over, despite a system of dummy numbers meant to avoid giving away such personal information.
Uber came under fire this week after one of its senior executives discussed the possibility of digging up dirt on journalists who criticize the brand and another, Josh Mohrer, the company's director in New York, looked up the personal profile of a female journalist to track two of her Uber trips. As a result, the company changed its privacy policy to say: "Uber has a strict policy prohibiting all employees at every level from accessing a rider or driver's data. The only exception to this policy is for a limited set of legitimate business purposes."
While this might prevent executives or angry public relations staff from mucking around with the profile of a reporter, it does not address the issue of identification data swapped between drivers and riders.
As part of its service, Uber allows its drivers and riders to communicate through "dummy" numbers, essentially a forwarding number, designed to block the true caller ID of both the driver and passenger. Say the driver's dummy number is 867-5309: the passenger can text and call to 867-5309, a number visible in the app after the ride request begins, and when the driver receives this call or text from the passenger, the caller ID also displays 867-5309, as if they were calling themselves. This means neither party's real phone number is exchanged. In the event the user forgets an item in the car, he or she can also find the dummy number after the ride by pressing "Leave something behind? Track it down" on the emailed receipt.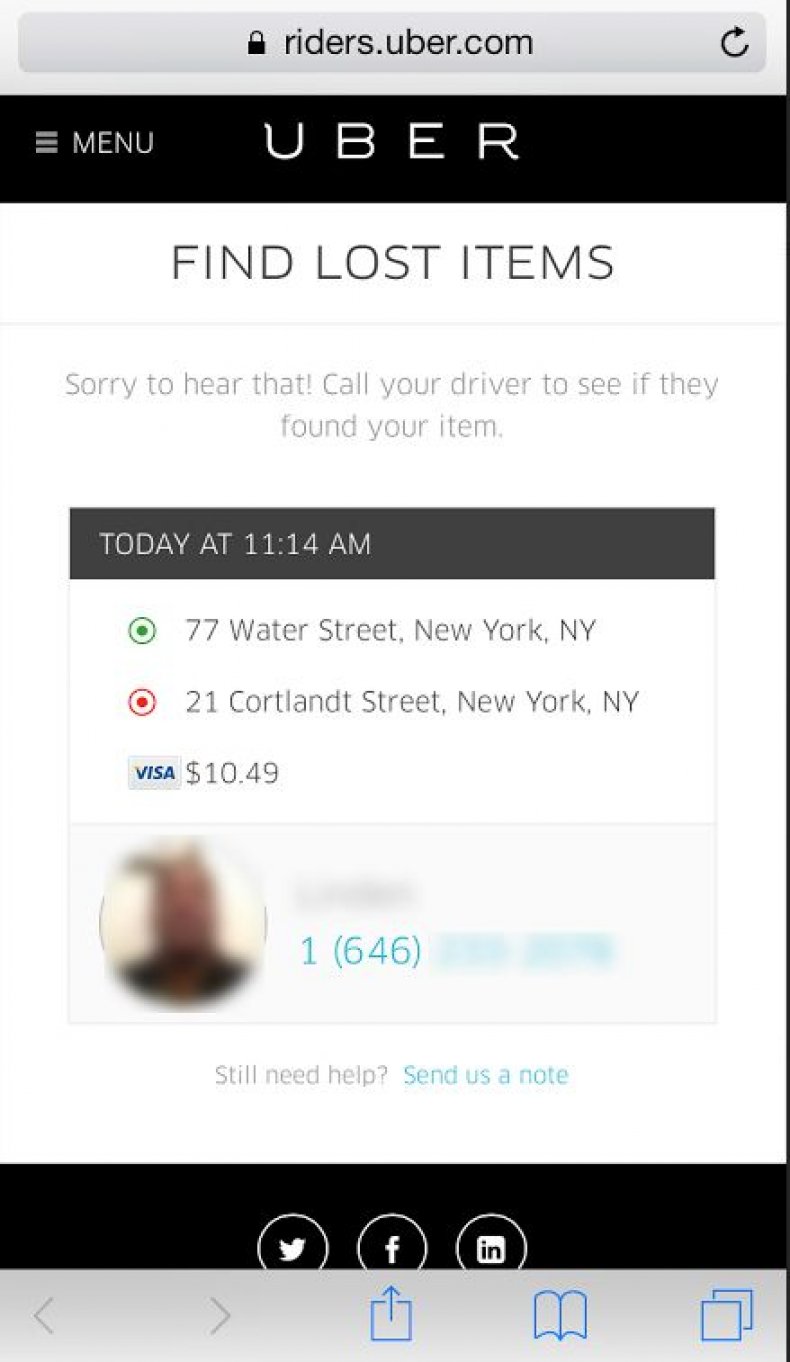 This system is designed to prevent drivers from contacting the riders against their will. A representative for Uber told Newsweek, "Rider phone numbers are anonymized to the driver from the time the trip is accepted until the driver accepts another trip or approximately 30 minutes after the trip has concluded—whichever happens first."
The system has flaws, though. In some cases, the rider may cancel a trip, and the driver has time to text them before accepting a new trip. A woman who said she was a cancer patient named Alexandra Craiglie described her experience on Twitter, posting a screenshot of text messages she said she received from an Uber driver when she canceled after realizing she had left her headscarf in the hospital after treatment.
According to her account, the driver took offense at the cancelation, which occurred only a minute after she booked the car, and texted her that she "[deserved] what happened" to her. Because he had not yet accepted a new ride nor had 30 minutes passed, the driver still had the ability to contact the passenger. Uber said it had "zero tolerance" for such abusive behavior and it had taken action immediately against the driver.
Uber drivers in New York, and several other large cities, are required by law to see the passenger's full name on the trip record. Speaking about New York specifically, an Uber representative explained, "The [Taxi and Limousine Commission (TLC)] requires rider first and last names on what is commonly called a waybill or trip record. Uber provides waybills to drivers so that they can comply with those regulations (an example would be when a regulatory entity asks to see the required waybill during a trip). The waybill is visible to the driver within the app until the next trip request is accepted." While a user's Uber profile only shows the first name and a small picture, the driver does have access to the full name as soon as the ride is ordered. Showing the full name opens up a number of issues, such as drivers Facebook messaging their riders or finding their homes, but Uber is unable to anonymize this unless the TLC changes its regulations. One driver explained that even when she has to cancel a ride, she still sees the passenger's name, location and dummy phone number, meaning if a driver really wanted to, he or she would be able to track passengers to their home (if the address displayed was their home address) without ever having driven them.
While it is a clever trick to prevent real phone numbers from being passed, the system clearly isn't perfect when it comes from preventing unwanted interactions between riders and drivers. The driver is limited to a half hour for contacting the passenger, but the passenger can contact the driver indefinitely, at least by phone. "Driver phone numbers are anonymized to riders starting when a trip is accepted and remain active to facilitate the return of lost items. Riders' ability to text message a driver ends approximately 30 minutes after the trip concludes," an Uber rep explained to Newsweek. When Newsweek attempted to text a driver's dummy number after 30 minutes, we were met with this text message: "We're unable to connect you with your driver by text after the trip. Please call this number instead to contact your driver."
Uber stressed the customer service factor of allowing a rider to have access to the driver's dummy number indefinitely, noting that many of their drivers have given the company positive feedback about the system because they are more quickly able to return lost items. Regardless, not all drivers are enthused, especially not female drivers.
A female driver recently told Newsweek she was concerned about flirtatious male passengers contacting her by phone after the ride was over. She provided us with her dummy phone number, and we were able to contact her immediately, even though we had never taken a ride in her car. She had been under the impression that her dummy number changed with every trip, rather than remaining constant. Uber clarified to Newsweek that while the number does not automatically change, a driver can contact the driver operations team to have it manually changed.
Several other drivers also discussed the dummy number issue with Newsweek. One driver was unaware that the communication did not expire, he assumed it ended after 30 minutes for the rider as well. When asked how he felt about being able to be indefinitely contacted, he described the existing system as "creepy."
Another driver expressed frustration at the system because in several cases, customers contacted him by phone to complain about the fare. He had to refer them to Uber's customer service team, but the frustrated customers (all of the customers who called him had been charged "surge pricing") insisted on discussing the fare amount with him first. He was worried about hanging up on them or not being able to help further, thinking it could affect his Uber driver rating (riders rate their driver after the ride, if a driver's rating drops too low, Uber can suspend them.)
Newsweek also found a Reddit thread dedicated to drunken Uber riders calling past drivers, both by accident and on purpose. One Reddit user, an Uber driver who confirmed his job through a video and two audio recordings, said he faced a particularly unpleasant interaction when an angry passenger left him two extremely unpleasant voicemails.
Uber has been working to anonymize communication between riders and drivers for nearly two years, and while the current system allows for lost items to be returned more easily, it also allows for the occasional unwanted, and uncomfortable, interaction, both on the part of the rider and driver.