Uber Users Will Have to Take Face Mask Selfies to Order New Rides
Uber users who have previously been reported by a driver for not wearing a face mask will now be required to take a selfie in order to verify that their faces are covered when requesting a new ride, the company announced on Tuesday.
"If a driver reports to us that a rider wasn't wearing a mask, the rider will be required to take a selfie with their face covered before they're able to take another trip with Uber," the company said in a blog post. "With the addition of this new feature, one driver's feedback can help ensure the safety of Uber for the next driver."
Since May, Uber has required riders to wear face masks and confirm their faces are covered before ordering a ride, but enforcement of masks will now be stricter.
The ride-sharing app had already required drivers and delivery people on Uber Eats to take selfies when the face-mask detection technology was first developed in mid-May, but the same safety measures will expand to include passengers as well.
"To date, more than 3.5 million drivers and delivery people have completed more than 100 million mask verifications," Uber said. "We firmly believe that accountability is a two-way street. That's why we're expanding the same technology to riders, too."
In a statement sent to Newsweek, the company said that the framework for the new feature has existed in the driver app for years but not in the rider app.
"We have spent the last few months developing the technology on the rider side to help ensure they are adhering to the mask policy," Uber wrote.
The feature is expected to roll out to the U.S. and Canada by the end of September, and then across Latin America and other countries after that.
The majority of health experts and the Centers for Disease Control and Prevention have said that face masks are an effective way of slowing the spread of COVID-19.
However, mixed messages from federal, state and local governments have made it difficult to implement a universal mandate for face coverings.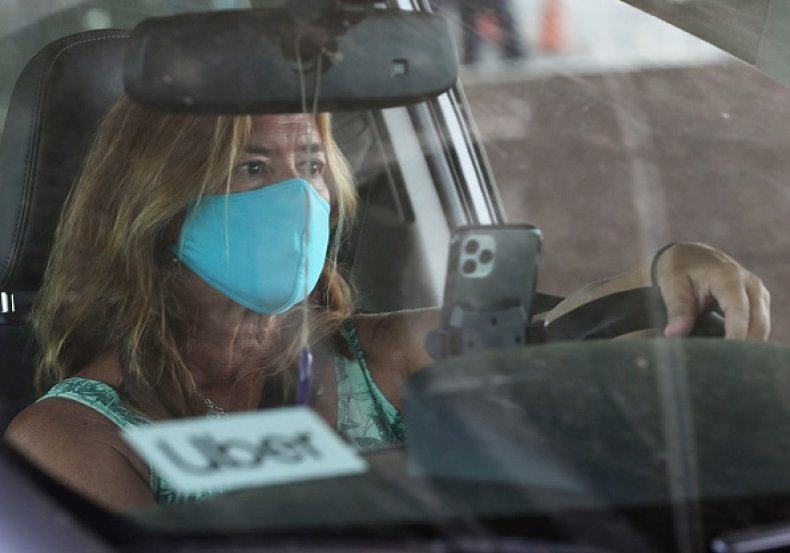 The ride-hailing service has suffered financially during the coronavirus pandemic. Gross bookings have remained 75 percent down from last year's figures, according to the company's latest financial report.
However, the company's food-delivery service Uber Eats have seen gross bookings more than double in the second quarter.
The company said that $50 million has been allocated to cleaning supplies and protective equipment for drivers, including face masks, disinfectant sprays, wipes and hand sanitizers, at no cost to the drivers.
Uber said they have encouraged "drivers to cancel trips without penalty if they don't feel safe, including if the rider isn't wearing a face cover."
Uber also said that it is launching a comprehensive, coronavirus safety education campaign as people begin returning to work and school in the fall.
The company has partnered with the National Parent Teacher Association and the International Association of Campus Law Enforcement to get the information out to students and teachers in the U.S. and Canada.
Update 01/09/20 11:20 a.m. This story was updated with comments from Uber.