Amid Mounting Complaints, UC Berkeley Vows to Fix Campus Sexual Harassment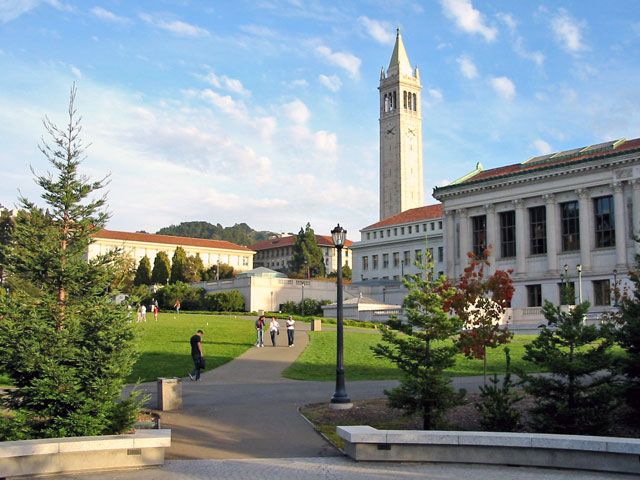 On April 5, the University of California, Berkeley, revealed a report of a male custodian in a student residence who allegedly watched a woman shower. The school also disclosed the case of a male disability specialist who sent sexual emails to a female student. In previously revealed reports, an astronomy professor allegedly grabbed the crotch of a graduate student, and a law school dean at the prestigious school had admitted to regularly kissing his assistant as a way of "thanking" her.
The list of employees at UC Berkeley who have undergone sexual harassment and misconduct investigations in recent years is lengthy, and last week the university released hundreds of pages of documents from investigations into some of these incidents as it announced new initiatives to combat harassment and help those affected by it.
But on Monday, two graduate students who also work at the university initiated the process of filing complaints with the California Department of Fair Employment and Housing alleging that the school failed to adequately handle their reports against faculty member Blake Wentworth, who they say made lewd and suggestive comments to them and touched them inappropriately. One of their lawyers says the university's newly announced initiatives are insufficient.
Erin Bennett and Kathleen Gutierrez, Berkeley graduate students who hold jobs at the university, say that Wentworth, an assistant professor in the Department of South and Southeast Asian Studies, harassed them and created a hostile work environment. They first complained to the school in March 2015, according to their complaints, and as the university investigations continued to drag on, they decided to file with the state.
"It seems like most of the attention…has focused on the student-on-student situation of sexual harassment or sexual assault, but there's not enough attention focused on the faculty members engaging in sexual harassment," says R. Michael Flynn, one of the lawyers for Bennett and Gutierrez. "It's a rampant problem, a failure to hold professors accountable for sexual harassment."
In her complaint, Bennett says the alleged harassment began in fall 2014 and has since led her to take medical leave from her studies. "Dr. Wentworth's conduct began by subjecting Ms. Bennett to conversations of a sexual nature and sexual innuendos, which then escalated to inappropriate touching," the complaint says. He suggested she join a one-on-one class with him and allegedly said learning the Tamil language, its subject, would be "better than sex." Wentworth had also allegedly placed his hand on hers and on her shoulders and another time and "alluded to things he would do if Ms. Bennett were his wife."
Bennett says she reported the behavior to the school in March 2015, and in June 2015 Wentworth apparently signed a no-contact directive at Bennett's request. But she disagreed to the terms because it apparently did not say how far away he needed to keep from her. So she did not sign it. In October, according to the complaint, the university issued a report saying Wentworth's behavior was "unprofessional and exhibited poor personal boundaries" but did not constitute sexual harassment.
Gutierrez, who worked in Wentworth's department, says he subjected her "to conversations of a sexual nature and sexual innuendos" and "inappropriate touching and proposals for dates." He allegedly made comments about a lewd sexual practice, doing drugs, his divorce and "visiting a strip club and doing drugs off a stripper's body."
"I could lose my job over this," he allegedly told her. "I would tell you, but I'm just so attracted to you." Gutierrez says she tried to discuss the comments with him, but he would not listen and his response was to seemingly threaten her career. One of those conversations left her feeling "numb and awful for days" and affected her work, she says.
In March 2015, Gutierrez complained to the university. In October 2015, according to the new complaint, the school said in a report that Wentworth had "made unwelcome, sexual advances (or alternatively a verbal comment), sufficiently severe to constitute behavior of a 'sexual nature,' that affected and interfered with [Ms. Gutierrez's] work and education." But the school did not discipline him.
"We would like to see the university take sexual harassment and sexual violence seriously," Bennett said at a press conference and protest on Monday. "This means that the process of reporting becomes survivor-centered. This means that the university demonstrate concern for the survivor by responding quickly. This means that those who are responsible for handling cases of sexual harassment and misconduct are trained."
Gutierrez called on others impacted by the school's "culture of intimidation, harassment, silence and fear of retaliation" to come forward and speak out against abusive faculty.
Wentworth—who holds a doctorate from the University of Chicago and is an expert on Tamil literature, and whose résumé includes stints at Yale, Cornell, Northwestern, the University of Chicago and the University of Wisconsin–Madison—has previously denied the allegations. He did not respond to Newsweek's email seeking comment.
Bennett and Gutierrez are calling for UC Berkeley to "hold accountable the perpetrators of sexual harassment on campus with consistent and proportional penalties" and demanded the school immediately fire Wentworth.
In a statement following the news of Monday's filings, UC Berkeley made assurances of its commitment to creating a "welcoming, safe, respectful and inclusive community." The university also said it had reassigned Wentworth's classes to other instructors and ordered him to "avoid proximity" to at least one of the complainants. "The case" remains under investigation, the school said, and could result in Wentworth's dismissal, though a spokeswoman could not confirm which of Wentworth's cases that referenced.
Susan Kaplan, a New York–based lawyer who specializes in workplace sexual harassment and has represented respondents in Title IX cases, says that in sexual harassment cases involving two students, "you're dealing with people who are social equals in a way. You don't have the disparate age differential or influence differential."
However, when the harassment involves a student and faculty member or a student employee and an employee who is senior, she says, a complainant often worries, "What if I don't have sex with him, or what if I don't play along even if it's not aggressive, overt sex? What if I don't play along with his flirtations? Will I lose standing or my job?"
"The student is very vulnerable to the structure and hierarchy of the university, and your next job, your first job possibly, is very dependent on what happens within that incubator," Kaplan says. "This is a career or a pre-career planning stage. You can't jeopardize it."
Other high-profile cases have thrust UC Berkeley into a national spotlight regarding sexual harassment recently. Last fall, BuzzFeed made public sexual harassment allegations that four women made between 2001 and 2010 against renowned astronomer Geoffrey Marcy, then a professor at the school. Though he denied some of the allegations, he said in December, "I never intended to cause distress and I apologize deeply for having done so." Marcy retired in December, a decision he has said "was not triggered by the allegations" but was intended to "relieve the pressure on his astronomy colleagues…created by the social media firestorm."
Then in March, Sujit Choudhry resigned as dean of UC Berkeley School of Law after his former executive assistant accused him of sexual harassment. His behavior allegedly included "unwelcome touching and kissing," according to an investigation report. Choudhry admitted to hugging, kissing and touching the woman as a way of "saying thanks." The university found he had violated the school's sexual harassment policy, but the school says he remains a faculty member there because of tenure policy.
The trove of reports that the university released April 5 names 12 employees, including Alan Wong, a massage therapist; Jeffrey Topacio, the general manager of an on-campus café; Howard D'Abrera, a statistics lecturer; and Nori Castillo, an employee at the school's startup accelerator, SkyDeck. Seven more employees are named in previously released reports. The 17 total reports involving 19 employees date as far back as January 2011 and resulted in only four firings. The rest involved resignations or other disciplinary sanctions or remain pending.
Email records obtained by the university investigators show that Scott Anderson, a disability specialist, wrote to a student that she should "get your weary-stapled ass outta bed, put on the fishnets and make some money." Another time he wrote, "I knew it was a bad idea to take Levitra before I read your email," referring to the erectile-dysfunction medication, and told the student in the same email she'd "be good at" being a "dominatrix." When the student once emailed him saying she was wearing a miniskirt, he asked for photographs and responded, "no sex as you could not handle me." He also emailed her a Wikipedia page for a sexual act, according to the records.
According to the university's investigation report for that case, the student told investigators she had played along because she did not want an issue between her and Anderson, who told the investigators he had intended for his emails to be "casual banter" and attempts at humor. The school found him in violation and informed him that it intended to dismiss him. He resigned days later.
Flynn, the lawyer, says the 19 employees named in the documents could be "only the tip of the iceberg" for sexual harassment at the university, as survivors are often afraid to come forward and file reports.
Flynn also says the problem is not unique to Berkeley. Indeed, the University of California, Los Angeles, and Wesleyan University are among the schools reportedly dealing with similar claims. "It's a pervasive problem in our society and too many workplaces," Flynn says. "But you'd think a public institution like UC Berkeley—especially an institution that has a history for being a bastion of progressive movements and forward-thinking movements towards equality and civil rights—that they would have systems in place to prevent this and be a leader in changing the culture."
UC Berkeley says it is trying to be that leader. Earlier this year, it announced initiatives to address sexual harassment on campus, and last week it said it was forming a Chancellor's Committee on Sexual Violence, Harassment and Assault to review the university's policies about sexual violence and harassment and issue recommendations by October 15. It also recently launched a website to help survivors find information and resources. The school also said its survivor support services would add required education and training for freshmen and transfer students.
"We have an obligation to promote a campus culture in which sexual harassment, sexual violence, stalking and any abuse of power are neither tolerated nor ignored, but proactively prevented," University Chancellor Nicholas Dirks and Executive Vice Chancellor and Provost Claude Steele said in a statement in March.
Janet Gilmore, a school spokeswoman, tells Newsweek that the newly announced initiatives are unrelated to the new Gutierrez and Bennett complaints. "[They] were an outgrowth of campus leaders meeting with experts, frontline staff, survivors and others and asking what could be done to make a meaningful impact in addressing sexual assault and sexual harassment matters on campus, including education, survivor resources and improved disciplinary processes."
The wider UC system also implemented new sexual harassment policies in January, the UC Berkeley spokespeople say, including a new adjudication model and new online training for graduate students, faculty and staff. UC President Janet Napolitano also formed a task force to review the disciplinary process for faculty members, the findings of which are due later this month.
Flynn says the school's promises do not go far enough. "Despite the UC's claims that they have taken effective measures to end the sexual harassment problems on campus, the new announcements of policy changes are not sufficient to address the lack-of-accountability issues around harassment by faculty members of students and graduate students," he says.
"They came out with this new policy without a consultative process with the people affected—here meaning the students and graduate students that have experienced and suffered from sexual harassment on campus," he says. The school said in March it had met with survivors when working to design its initiatives.