California Republicans Propose Firing UC Davis Professor Over Anti-Police Remarks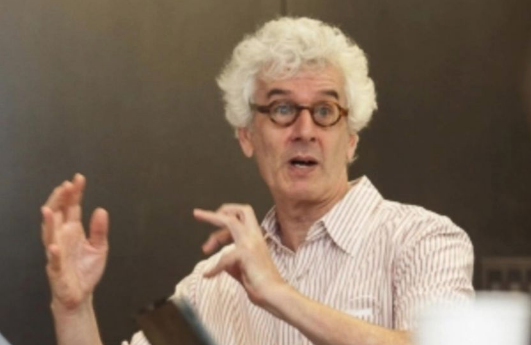 California Republicans introduced legislation calling for University of California, Davis, to fire an English professor who called for the death of police officers in 2014 and 2015.
GOP congressman James Gallagher of Yuba City, California, introduced H.R. 22 to the California legislature on March 12. The bill calls for the dismissal of University of California, Davis, professor Joshua Clover over several remarks he made about killing police officers several years ago.
Clover made multiple anti-police comments on Twitter and to local publications, including how he's "thankful that every living cop will one day be dead." The professor stood by his remarks after they were unearthed last month, but the university issued a statement condemning his statements and noted the January shooting death of a young officer in downtown Davis.
Because UC Davis is a publicly funded institution and the professor's comments, according to the bill's supporters, "incite violence," the Republican state assembly members argued his "incitements to violence are not protected free speech" under the First Amendment.
However the university issued a statement saying, "Only the UC Board of Regents can dismiss a tenured faculty member. This must be done by a vote of the board upon recommendation by the University of California president, following consultation with the chancellor."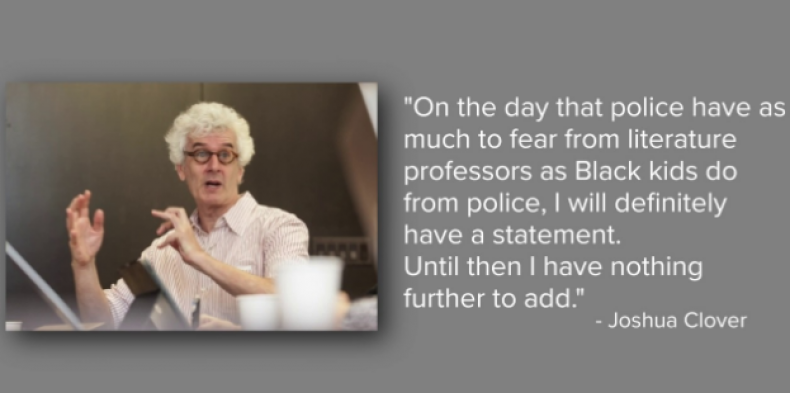 Clover has repeatedly declined opportunities to offer an apology for his comments, telling Newsweek in an email statement Thursday, "On the day that police have as much to fear from literature professors as Black kids do from police, I will definitely have a statement. Until then I have nothing further to add."
UC Davis Chancellor Gary S. May asked the campus legal team to place Clover's conduct under review after Republican legislators produced more than 10,000 signatures delivered Wednesday to UC Davis from an online petition to fire Clover.
The region was recently rocked by the slaying of Davis police Officer Natalie Corona, who was killed January 10 after responding to a traffic accident in downtown Davis. Additionally, only a short drive away, in Sacramento, the district attorney earlier this month declined to file charges against two Sacramento police officers who shot and killed 22-year-old Stephon Clark, an unarmed African-American man, in his grandmother's backyard.
Despite several calls for comment, Gallagher's office did not respond to Newsweek regarding the free speech and First Amendment questions raised by his legislation.
However, an individual in Gallagher's office said the assemblyman is awaiting a potential Rules Committee discussion of the proposal but said the primary intention was to "send a message" about tenured professors being untouchable.
Representative Gallagher and an all-Republican group of California assembly members, including Steven Choi, Phillip Chen, Vince Fong, Tom Lackey, Devon Mathis and Jay Obernolte filed the bill March 12, writing, "Peace officers put their lives on the line daily for the sake of the public's safety and liberty, and the murder of peace officers is a crime against all of society.... Remarks made by Professor Clover endanger the lives of all peace officers. Incitements to violence are not protected speech under the First Amendment and the First Amendment does not entitle a person to teach impressionable students at a taxpayer-supported university."
"I am thankful that every living cop will one day be dead, some by their own hand, some by others, too many of old age #letsnotmakemore," Clover tweeted in November 2014. "I mean, it's easier to shoot cops when their backs are turned, no?" he tweeted in December 2014.
In a 2015 interview with SFWeekly magazine, Clover remarked, "People think that cops need to be reformed. They need to be killed." In interviews since the uncovering of his old comments Clover did not back down, telling the California Aggie, he would "direct any further questions to the family of Michael Brown," an unarmed black Ferguson, Missouri, teenager killed by police in 2014.
Police Chief Ronald Lawrence of Citrus Heights, a Sacramento County city 30 miles from the UC Davis campus, told Campus Reform: "As an American citizen, I enjoy free speech like everyone else, but as a police chief, I have a responsibility and accountability for what I say. In other words, I can say what I want to, but not hold the position I do without accountability. Why should a university professor have more protections to exert their violent opinions than any other person in a position of trust, such as school teachers, doctors, or police officers?"
UC Davis gave a statement to Newsweek last month, after Clover's comments were revealed. The university condemned his words but did not announce any potential dismissal.
University of Chicago professor Geoffrey Stone, who has been embroiled in his own campus free speech controversies, told Newsweek that public universities such as UC Davis "are subject to the First Amendment restriction about what they can censor" while private universities have broader freedom. But no current court rulings demand action against tenured professors who have made provocative statements.