UCLA Confirmed Measles Case: College Campuses Are 'Perfect Setting' for Outbreak, Doctor Says
A confirmed case of measles in Los Angeles County involved a student at the University of California­–Los Angeles (UCLA), heightening concerns about the prospect of the disease spreading on college campuses.
The Los Angeles County Department of Health announced Monday the county had five cases of measles, including the college student, largely involving people who were unvaccinated. UCLA said 500 students, faculty and staff may have been exposed and the 127 people who weren't cleared were quarantined. Some may consider it a superfluous measure, but Dr. Michael Morgan with Novant Health Infectious Disease Specialists in Winston-Salem, North Carolina, told Newsweek a college campus is the "perfect setting" for a measles outbreak.
College campuses often have lots of people in small spaces, Morgan pointed out, which aids the rapid spread of the virus. The disease can move easily through the air, and the doctor explained a person unknowingly infected can spread measles for days before experiencing symptoms.
"I worry about the potential student who maybe was unable to be vaccinated due to an underlying medical problem, such as people with immune deficiencies," Morgan said, adding that those people have the highest mortality rate with the measles virus.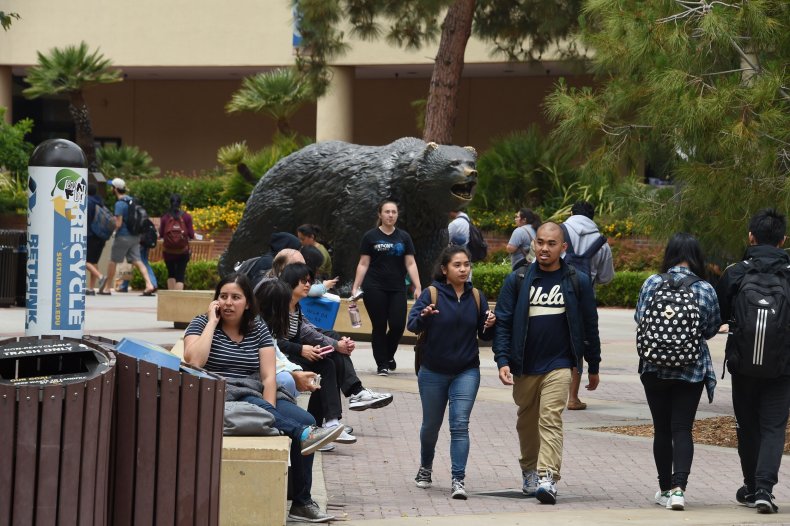 Measles is preventable with the MMR vaccine, which is administered in two doses. The first is often given to those who are between 12 and 15 months old and the second dose is administered when children are between four and six years old.
However, Morgan noted that it's not too late for college students to get vaccinated and encouraged them to do so. Instead of administering the doses years apart, college-aged people can receive the second dose as soon as 28 days after the first was administered.
The unnamed student at UCLA only entered two buildings while contagious, Franz Hall and Boelter Hall, on three days, which the school identified as April 2, 4 and 9.
"Considering the time that has elapsed since the last possible exposure to the individual with measles on April 9, the highest risk period for developing measles has already passed — and the period during which symptoms may appear is nearing the end," UCLA said.
Symptoms of measles include fever, cough, runny nose and conjunctivitis, and begin between seven and 21 days after a person is infected, according to UCLA's student health center. Two to four days after a person starts experiencing symptoms, a red, raised rash appears.
Areas across the United States experienced measles outbreaks, prompting some, such as New York City, to issue emergency declarations. UCLA acknowledged the concern surrounding the virus but assured the community they had the resources necessary for prevention and treatment.
UCLA encouraged anyone who has measles symptoms to stay home, drink fluids and take a fever reducer.